Top 50 films for architects: Spirited Away
11: Spirited Away
Hayao Miyazaki, 2001
It's easy to forget that this fantastical Japanese film is a cartoon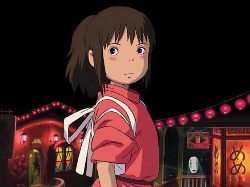 This is one of a continuing series of animated features by a Japanese team. It follows a little girl, Chihiro, unpleasantly whiny at first but changed into a paragon by her ordeal.
Her comically conventional family is looking for their new house in the suburbs but gets lost and ends in an abandoned theme park. Chihiro loses track of her parents as night falls
and a gang of mythical creatures troops over a bridge to a towering temple that's actually a bathhouse.
Various threatening figures become friends but there's always a further threat lurking somewhere in the vast building, full of precipitous spaces which Chihiro is sometimes pushed or pulled through at frightening speed. The best bits occur in scaling the outside of the tower, skidding down roofs or rickety stairs over a yawning void with a tiny train moving far below.
From collapsing stairs she jumps to a flimsy pipe snaking across the wall, which immediately begins to separate from the building. How is it that we completely forget it's only a drawing? Partly it's the speed with which things happen, partly the propulsion provided by the little heroine, partly the wealth of superfluous detail.
Settings are full of beautiful jokes on old standbys of Japanese art, like folding screens. The witch who rules the bath has rooms sheathed in menacing landscape screens in smouldering colours, and corridors lined with huge vases we whip past at top speed. There are other subversive themes too, including bold assaults on the Japanese fear of dirt.
Top 50 Films for Architects