Top 50 films for architects: Nil by Mouth
8: Nil by Mouth
Director: Gary Oldman, 1997
The constant fear of violence is more wearing in Oldman's film than the thing itself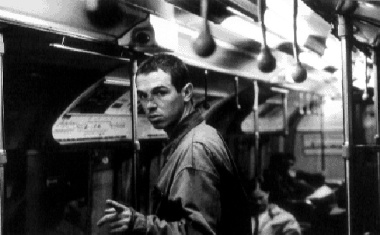 At the centre of this powerful work is a dysfunctional family living on two south London housing estates. We're not immediately comfortable in their London of seedy launderettes and dank underpasses. And it takes time to sort out the generations and who is living with whom.
We work our way in, then everything's blasted open by the horrific beating by big Ray of a young man we think is his son. The boy is kicked out, and visits the abyss before ending up back with his mother.
Oldman's style of filming boxes us in, trapping us in the confines of the characters' view. Much is shot in handheld close-up, done on the run,
often beautiful in a weird way because of obscure lighting and muted colours, in green-lit corridors and underground parking garages, on bridges between one oxblood-brick block and the next.
There are the scenes of Billy shooting up, once in the backseat of his mother's van, otherwise in dim nowheres. There is the constant fear of violence, more wearing than the thing itself.
Following an electrifying self-analysis by the monster before the mirror, it ends in a lull more horrifying in a way than the storm. There has been a temporary reconciliation, and now the perpetrator and his victims can join each other in crude laughter about the disfigurement the boy has suffered in prison.
Top 50 Films for Architects