The Architects by Stefan Heym
The Architects
By Stefan Heym
Daunt Books, £9.99
4/5 stars
Will WIles hails a long-unpublished novel from an East German dissident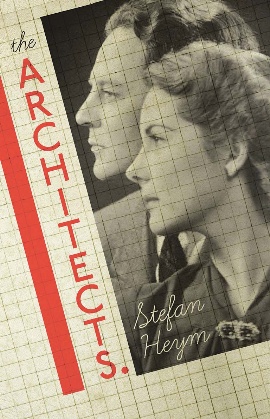 "A good architect must be a master psychologist," says Arnold Sundstrom, architect, near the start of this novel. "Under capitalism, that is… under capitalism. In a socialist society, the relationship between the architect and his client is entirely different. The client is the people!" There's no need to second-guess the intentions of a wealthy patron in the workers' state of East Germany, 1956. The cause of the architect is in harmony with the masses — the methods are pure, scientific, Marxist.
Sundstrom has survived the ideological earthquakes of 1930s, 40s and 50s Europe and come out on top as men and women around him have been ground to nothing. He has a young and beautiful wife, Julia. His studio has been given a national prize, and he preens with personal pride as he stresses how very collective the honour is. And they are collectively at work on World Peace Road, an imagined socialist triumphal avenue not unlike Berlin's Karl-Marx-Allee.
As Sundstrom basks in his achievements, he hears that Daniel Wollin is alive. Wollin had been a friend and colleague since they trained together at the Bauhaus in the 1920s; he was believed killed in Stalin's purges. But he was freezing in the gulag, and has now been released as part of the post-Stalin thaw. Far from being elated, Sundstrom is deeply troubled to find a witness to those times on his way back to Berlin. Wollin saw things, including the arrest of their friends the Goltzes, leaving eight-year-old Julia Goltz in the care of her "Uncle Arnold". Julia is now Arnold's wife.
Heym wrote The Architects in the mid-1960s, but this is its first publication in the UK. Too critical to ever be published in his native German Democratic Republic, it has long been in danger of being forgotten. In 1965 Heym was denounced by GDR premiere Erich Honecker; under constant Stasi surveillance, he remained a critic of the regime until its fall. He died in 2001.
As well as holding an unforgiving mirror up the the GDR, Heym also offers a sharp reflection of architecture itself. Characters in books and films are often architects, but the profession rarely serves as anything more than a scenic backdrop, an opportunity to have the hero or heroine doodling creatively or taking charge in a hard hat. Here, architecture is woven into the plot and the message. And there are far fewer differences between capitalist and socialist architecture than Sundstrom would like to believe. The World Peace Road is not the flowering of his talent but its graveyard, where it is being buried under compromises and the interference of Party bigwigs: "The authorities want World Peace Road to look like a cross between the Kremlin wall and the Parthenon, with some Baroque thrown in?" he rages.
It's not its resemblance to the Kremlin wall that starts to stir Julia's doubts, but its similarity to the designs of Hitler's architect, Albert Speer. And Wollin, who has spent years building peacefully and without compromise in his head, further wrecks her belief in what she is doing with her husband, as well as pointing to an alternative.
The Architects is sometimes prone to tendentious passages, its concerns have been somewhat alienated by time and history, and the police-state danger that surrounds its protagonists is too subtly encoded, sapping some tension. But it remains a splendid find, a compelling drama, and that wonderfully rare thing: a book about architects that actually talks about architecture.