Annual Architecture lecture: Steven Holl
Royal Academy of Arts, London W1
June 25
Steven Holl brought a visual poetry to his RA talk
Steven Holl kicked off this devastatingly charming talk by assuring his audience that, however he might have been introduced, he didn't actually view himself as an American architect. He had been a student at the University of Washington but transferred to the AA in its Boyarsky-led heyday. "If I hadn't," he told us "I don't know what I'd be doing: probably shingle buildings in the north-west."
Having heaped praise on former tutor and audience member Peter Cook, recalled fellow student Zaha Hadid's struggles under the tutelage of Leon Krier and reminisced about stuffing shillings into his gas meter through the winter of 1976, Holl set off on a breakneck journey through 15 projects.
His talk followed the structure of his recent book Scale, organising the projects from the positively gargantuan — a 100ha cultural and business district for the new Chinese city of Tianjin — all the way down to the smallest, a recently completed guest house for the Daeyang shipping company in Seoul.
A familiar presentation technique soon emerged, focused on the dreamy watercolours plucked from Holl's fetishistically maintained 5 by 7 inch sketchbook. Describing a world where technical and programmatic considerations scarcely intrude, these were offered to us as a pure enquiry into space, form and light.
His verbal description of each project proved just as condensed and suggestive: "So the idea is, it's like a stone with a feather" (Kansas City art gallery); "The concept was seven different bottles of light in a stone box" (St Ignatius Chapel, Seattle); "So the concept is a vessel within a vessel, within a vessel" (Maggie's Centre at Barts Hospital).
While his nominal subject may have been the issue of scale, it soon became apparent that both these diminutive paintings and haiku-like metaphors serve as very effective means of suspending any such consideration. Holl's real concern, lay with the architectural effects of ambiguous scale or scalelessness.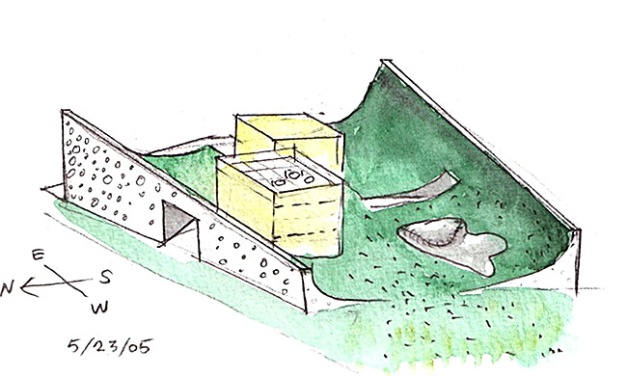 The vast MIT student housing block employs a grid of miniature windows so as to disguise the dimensions of the stacked dorm rooms. The Glasgow School of Art extension is clad in a sheer wall of obscured glass, offering a "complementary contrast" to Mackintosh's opposing facade. Certainly absent from his presentation was any building that attempted to strike a congruent relationship to the scale of the buildings that neighbour it. For all its undeniable beauty, one was left wondering how much of an urban sensibility underpins the work.
Nonetheless, this was a highly seductive presentation. If Holl's description of the poetic conception of each project impressed for its pithiness, the completed buildings were clearly anything but reductive, demonstrating a level of craft and formal invention that places Holl among the front rank of architects — American or otherwise — working today.