Prince Charles leads Chinatown revolution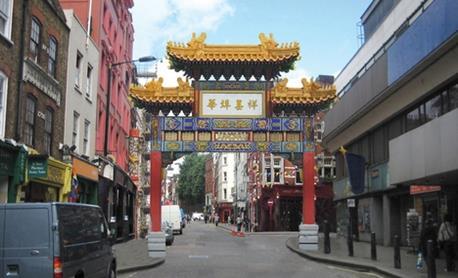 Move to remodel London's Chinese quarter seen as way of making amends for Olympic snub
Prince Charles is promoting traditional Chinese architecture and craftsmanship as a way of courting the country's government ahead of this summer's Olympics.
The prince, who is not attending the opening ceremony in a move interpreted as a snub in support of Tibet, has instructed his Foundation for the Built Environment to remodel London's Chinatown in partnership with Westminster City Council and wealthy Chinese businessmen.
As heir to the throne, the prince is believed to be concerned that his political stance is damaging relations with China. According to a source close to the initiative — intended to make the Soho district more authentically Chinese — he is using it to "mend bridges".
At the same time, the Prince's Foundation is working on preserving Beijing's hutongs — narrow lanes of traditional one-storey houses.
Robert Davis, Westminster council's cabinet member for planning, revealed that the prince had approached the council to discuss his ideas, which he hoped would be emulated by Chinatowns across the globe.
Davis said: "He doesn't think Chinatown is very original in appearance, and wants to work with the Chinese community in Westminster to improve the public realm so it becomes a more genuinely Chinese environment."
In January, a planning application for a new 12m-high steel and concrete gate at the border with Leicester Square, designed by a Chinese-based architect with Rolfe Judd, failed to impress the planning committee, although the architect claims the design enjoys a high level of support within the Chinese community.
Davis said the prince wished to see a more authentic design along with more "appropriate" street furniture built by Chinese craftsmen.
"If we can take a lead here, other Chinatowns in Britain and round the world, in New York and San Francisco for example, will act in a similar way," he said.
The Prince's Foundation will lead a two-day ideas workshop on the Chinatown plans later this month, to which the Chinese embassy has been invited.
Prince's Foundation design director Ben Bolgar said: "We'll bring together the strands of what's already planned for the area — the supplementary planning guidance, for example —and have technical briefings with the local community about taking the ideas forward.
"We would like to see more craft applied to the public realm design — China has an incredible tradition of woodworking skills — but we also want to consider what
Chinatown's aesthetic says to the local community, and what it says to tourists."
A spokesman for the Chinese embassy in London said: "The embassy is pleased to hear about these efforts."
Promoting chinese tradition

Prince Charles has already spoken of his desire to promote timeless Chinese architecture and workmanship.
In a visit to Chinatown last November, he told the London chinatown Association such changes would provide "real enhancement" in the area.
Photo Credit: Alex Lentati/PA PHOTOS