New books on sustainability
A selection of reading for architects on designing sustainable buildings

Designing Zero Carbon Buildings Using Dynamic Simulation Methods
By Ljubomir Jankovic
Routledge, 316pp, £35
This book develops a structured method for zero-carbon design and demonstrates that it is perfectly possible to design new or retrofit zero-carbon buildings today, using existing technologies.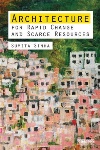 Architecture for Rapid Change and Scarce Resources
By Sumita Sinha
Routledge, 320pp, £24.99
Architects, development practitioners and designers are working in a global environment and issues such as environmental and cultural sustainability matter more than ever. This book provides a blueprint for developing architectural practices based on reciprocal working methods.

Adaptive Thermal Comfort: Principles and Practice
By Fergus Nicol, Michael Humphreys, Susan Roaf
Routledge, 186pp, £23.99
In a world where fossil fuels are becoming ever scarcer, the challenge of designing buildings requires a new approach. This is the first in a trilogy that aims to explain how we stay comfortable by using our bodies, minds, buildings and their systems to adapt to indoor and outdoor conditions.

Vitamin Green, (sustainable design)
Phaidon, 352pp, £45
Featuring more than 100 buildings, landscapes and products nominated by an international roster of influential architects and designers, as well as critics, curators and writers, this book offers a definitive survey of sustainable design and architecture from around the world.