Dirk Somers 'I love the exotic side of the everyday'
The director of Antwerp-based practice Bovenbouw on school headmasters, Tokyo and urban aspirations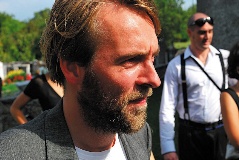 What got you started?
I remember being sent out of math class for drawing houses when I was 12. Surprisingly the school headmaster showed great interest in the floor plans. This must have been a first encouragement.
Who was your most inspiring tutor?
Giorgio Grassi's studio in Milan was an experience. His design teaching was unnerving but his fields of interest and his way of thinking still resonates.
Which architect have you learnt from the most?
Palladio and Schinkel. These great men provide me with an essential vocabulary that proves useful every day.
What part of the design process do you most enjoy?
The moment when the large scale meets the small scale, when details draw their meaning and relevance from urban aspirations.
Which house would you most like to live in?
Asplund's Villa Snellman, but also the Palazzo Farnese in Rome because of its splendid location.
What is your favourite city?
I would mix Tokyo's scale and energy with London's typological diversity and situate it in Barcelona.
What building would you most like to see demolished?
In the UK, I think John Soane's Bank of England should not have been taken down so I would "undo" the current Bank of England.
What would be your dream commission?
The last few years we have been working on police stations, school buildings, hangars, fire stations and recycling parks. I love the more exotic side of the everyday. Dream commissions are so much nicer if they engage in everyday life.
What is your favourite architectural book?
I cherish a first edition of Heinrich Tessenow's Hausbau und Dergleichen. It has a charming old-fashioned layout and many beautiful drawings.
Is it getting easier?
Things are changing rapidly. In the near future thermal and ecological requirements are going to affect our profession to a greater extent than now. This fills me with curiosity and anxiety simultaneously.
Postscript:
Dirk Somers is the founding director of Antwerp-based practice Bovenbouw