Bernard Khoury 'I don't like architecture books'
The founder of DW5 on Damascus, converting the Vatican and the B018 music club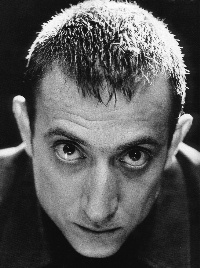 What got you started?
My first attempt to get to my father's architecture studio beneath our family apartment. That was in 1971. I was on my tricycle and I broke my clavicle going down the stairs as I didn't have the required skills to perform the stunt.
Who was your most inspiring tutor?
The man in charge of the studio downstairs.
Which architect have you learnt the most from?
That same guy, who happened to be my father.
Which living architect do you most admire?
I don't have a particular admiration for any living architect that is worth mentioning.
What is your best project?
The one I am working on.
What part of the design process do you most enjoy?
Usually the first night.
Which house would you most like to live in?
The roof apartment I am building for my family.
What is your favourite city?
The one I chose to be my base.
What building would you most like to see demolished?
Most buildings designed by corporate Anglo-Saxon firms and erected in the last 15 years in the Arabian Gulf region.
You can work in any city at any time — where and when?
Probably Damascus… Right before Bashar al-Assad gets toppled.
Who is your favourite client?
My first client.
What would be your dream commission?
The conversion of the Vatican into the largest shopping mall in the world.
What is your favourite architecture book?
I don't like architectural books.
What is your favourite novel?
I don't read novels.
What are you listening to?
Playlists prepared for me by the founder of the B018 music club.
What have you sacrificed for your career?
Time away from my little daughter.
What does your family think of your work?
They are fed up.
Your child tells you they want to be an architect. What do you tell them?
Forget about it…
Is it getting easier?
I hope not.
Postscript:
Bernard Khoury is founder of DW5