Film review: Eames: The Architect & The Painter
Eames: The Architect & The Painter
Documentary
Directed by Jason Cohn and Bill Jersey
Narrated by James Franco
UK release:  August 3
Running time: 83 minutes
4/5 stars
Misty-eyed anecdotes and creative anarchy go hand in hand in a film bursting with the energy of the Eames office
"We weren't sure quite what he was," remembers an old colleague of Charles Eames. "Was he an architect, as designer, a film maker? What we was, obviously, was something we all wanted to be."
This is one of many such misty-eyed anecdotes told in the new documentary, by Jason Cohn and Bill Jersey, that charts the life and work of the multidisciplinary husband and wife team of Charles and Ray Eames, and makes a convincing case for their place as the most influential American designers of the 20th century.
The film bursts with the colour and energy and ideas of the Eames office, with a rich, fast-paced collage of objects and people and stories that conveys the sense of excitement of working in the Californian dream factory.
"It was like walking into a circus" remembers one designer, who came from an architect's office full of drawing boards and grey-faced men, recalling his immersion into a whirlwind of creative anarchy. But it was a controlled circus, in which Charles was most definitely ringleader and choreographer. "Take your pleasure seriously," he would say.
The directors do not pull their punches in revealing all the sides of this dominant man, painting a picture of a charming tyrant, furious when others received public credit for their work. All products would display his name alone. Former employees recall how "very handsome and charismatic" he was, "particularly to the ladies", and the documentary does not skim over this weaker side of his character, revealing his infidelity and the strain it put on his and Ray's creative partnership in later years.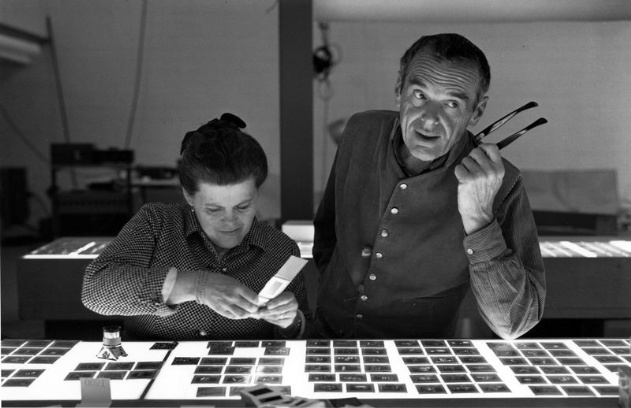 Source: © 2011 Eames Office LLC
Thankfully, the importance of Ray is thoroughly championed, set against the prevailing sexual politics of 1950s America. One contemporary voiceover patronisingly describes her as "a delicious dumpling in a doll's dress," while an excruciating appearance on the "Home" show reveals quite how far she was forced to play second fiddle and stand in the shadows behind her celebrity husband.
As contemporary letters make clear, Charles was entirely reliant on Ray for choices of colour and detail. A painter by training, she also brought the quirky life and wit, and crafted the iconic images of their products – adding the famous bird nesting in the mass of wiry seat legs and dressing their sets with exotic ephemera.
It was a partnership of mutual dependence, in which Ray was equally reliant on Charles for the bigger picture, losing interest in their later ideas-driven projects, and almost cripplingly obsessive over minutiae – leading employees to nickname her "Crazy Rayzie", forever fussing over trinkets in her nest-like office.
Perhaps the film's most important contribution, besides exploring the fascinating personal lives of this dynamic duo, is in displaying quite how influential and far-sighted they were beyond the realms of the chairs for which they are best known.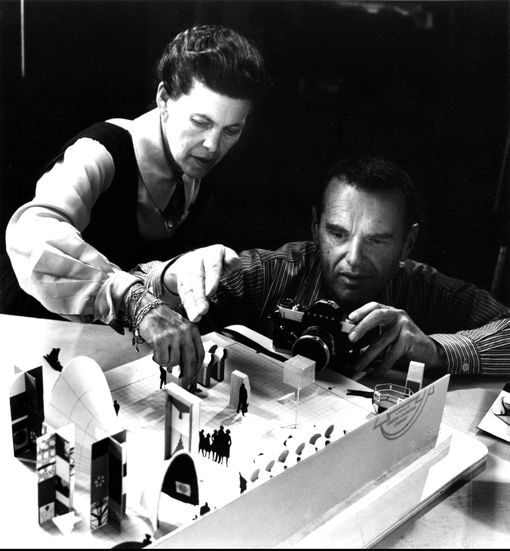 Source: © 2011 Eames Office LLC
Their film making, which began as a hobbyist's diversion, soon evolved into a lucrative branch of the office, winning commissions from IBM, Boeing and Polaroid to develop ways of communicating their brands to the public. They "humanised the computer" for IBM, turning frightening room-sized machines into a friendly cartoon, and went on to build a vast pavilion for the computer giant at the 1964 New York World's Fair, filled with a multi-screen sensory experience. They were no experts, but "sold their ignorance", in a way that prefigures much brand consultancy today.
It is also striking just how far their Powers of Ten animation, a hypnotic zooming in and out from the universe to the proton, anticipates Google Earth by some decades. Beyond bending plywood, the Eameses were early champions of interaction design – even developing a touring exhibition that employed a nested structure of hypertext, if only in physical form.
But, above and beyond all their physical achievements in the sphere of design, the ultimate effect of the documentary is to reveal – as once commentator concludes – that "the greatest Eames design of all was the image of Charles and Ray."