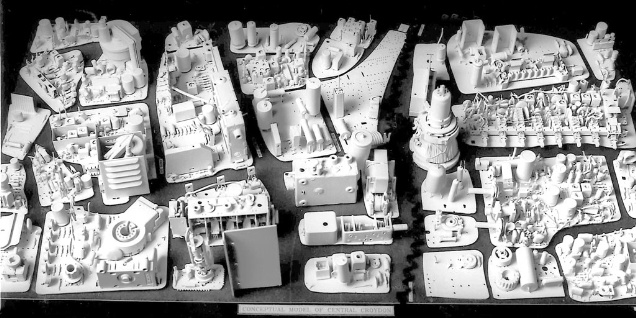 Source: Geoff Beeckman
Date 1992
Architect Sarif Easmon-Dura
Location Royal Academy Summer Exhibition
In a week when we present Assemble's public square in the London borough of Croydon, we look back to 1992 when this conceptual model of Croydon town centre by Sarif Easmon-Dura was shown at the Royal Academy Summer Exhibition.
Built of old transistor radio parts and spray-painted white, the model was produced by Easmon-Dura as part of his diploma studies at South Bank University, where he studied under Lilian Stephenson.
Easmon-Dura's project was for a library and civic centre to be located alongside the railway that runs through the centre of Croydon. The trainline (right of centre) is depicted as a zig-zag strip of metal, indicating the vibrations that Easmon-Dura's design attempted to mitigate.
He was working part-time in Croydon while studying at South Bank and now runs his own practice, SED Associates, based in Purley, which primarily undertakes domestic work.