We look back at the new mayor's rejected plans to redevelop Bristol's Temple Meads station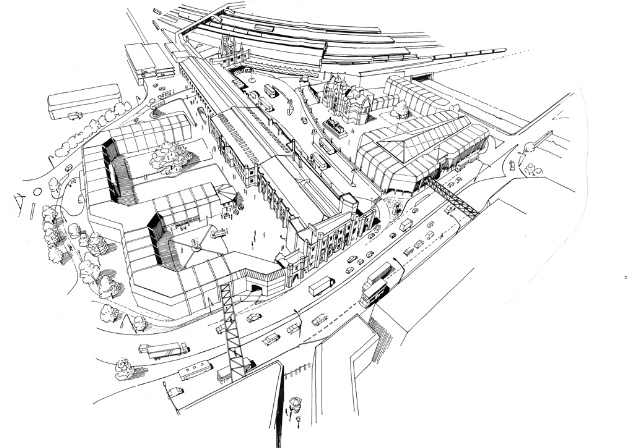 Architect Ferguson Mann
Location Bristol

In the week that architect George Ferguson has been named the new mayor of Bristol, we look back at an unrealised project for the city from 1982 by his practice Ferguson Mann Architects.
The practice proposed a comprehensive redevelopment of Bristol Temple Meads Station. Designed by engineer Isambard Kingdom Brunel, the station opened in August 1840 as the western terminus of the Great Western Railway from London Paddington.
In 1982, Ferguson Mann, commissioned by Sir Robert McAlpine & Sons, proposed improvements to the working station, the formation of a new covered concourse within an old train-shed and the development of 12,000sq m of offices around two courtyards. A second scheme was produced for an atrium building of around 10,000sq m to the right of the station entrance.
The scheme was never built, and in 1989 a second £1 billion scheme by local architects Richard Hemingway & Partners was also rejected. The Bristol Development Corporation proposed the complete reorientation of the station to make Brunel's original building the backdrop to a square, incorporating a mixed development with offices, retail and leisure.
In 2009, convinced that Temple Meads was a better place for an entertainment arena proposed at Ashton Vale, Ferguson drew up a new plan. A 14-acre derelict site near the station was earmarked for an arena, but the plan eventually fell through due to lack of funding.
Currently, Network Rail, along with the West of England Local Enterprise Partnership, is developing a strategy to transform Bristol Temple Meads. A feasibility study has so far been drawn up… with a vision study of the enterprise zone by Ferguson Mann Architects.