Architecture is a star of Edinburgh's International Book Festival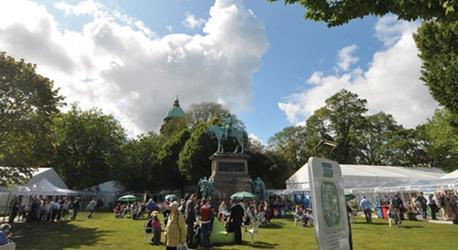 Architecture and design are too often overlooked, but this year top commentators, including Deyan Sudjic and Dan Cruickshank, were invited to contribute to the culture series
Edinburgh in August is always an uplifting experience. Everyone gathers to savour a bewildering barrage of shows, plays, readings, recitals, concerts and exhibitions, which coalesce to create this unique festival spirit.
This heady cornucopia of events often colonises unused, unexpected corners of the city. For a few weeks each year, a dowdy church hall or staid residential vestibule can be temporarily transformed by subtle lighting, poetic licence and the suspension of disbelief into a magical cauldron of ideas teasing the limits of one's imagination and, at times, testing the limits of one's patience.
It is remarkable how this stolid World Heritage city can adapt to accommodate such a plethora of unconventional performance venues. Indeed, such interventions in the city's built fabric often confound tourists' expectations of Scottish sobriety. Perhaps the most popular addition to the roster of New Town venues is in Charlotte Square, the apotheosis of Robert Adam's grandiloquent vision for 18th-century Edinburgh.
Garden party
The square's central garden provides a lively fulcrum for the annual International Book Festival, and spawns a colourful caravanserai comprising a string of tents, yurts and marquees scattered among the trees and statuary.
Established in 1983 with a modest 120 writers, it has grown year-on-year but remains committed to the interchange of ideas between author and audience.
This year some 750 events attracted more than 210,000 visitors between August 15 and 31. The programme cover transposed a fairground attraction and promoted the promise of "pleasure". Skimming the pages revealed myriad choice, but the convenience of colour coding facilitated some differentiation between writers dealing in "crime" from those dabbling in "politics" — although these categories are perhaps interchangeable?
Sadly, architecture and design are often overlooked. This year, however, no fewer than four commentators were invited to contribute to the "culture" series. Even the squally weather failed to deter visitors and each talk was a sell-out. Perhaps this enthusiastic response will encourage the organisers to prioritise architecture next year?
Deyan Sudjic, although distracted by a Proustian moment, reminisced about his six years as an architecture student, before conceding that, without the necessary patience and unwavering self-belief, it was his "duty" not to practice. He is a consummate communicator, of course, and presented a polished précis outlining the new paperback edition of his book, The Language Of Things.
The biggest draw, however, was Dan Cruickshank who benefited from a rapt audience as he bumbled through a sequence of diverse images from Greenland to Yemen.
These "holiday snaps" were plucked from his latest world tour, for which he is indebted to the licence payers' largesse. His popular BBC series, Adventures in Architecture, has afforded him unrivalled access to numerous remote corners of the globe. Everyone was gripped by his tales of daring do in Afghanistan to record the Minaret of Jam.
Slide after slide was accompanied by yet another pithy anecdote and dervish-like whirling arm gyrations. He was engaging and entertaining but little attempt was made to tailor his talk to the context of a learned literary festival.
Cruickshank's crown
It seems Cruickshank has been rent from academia to play the role of personality pundit and now carries the sobriquet of "Architecture's David Attenborough".
Another potential contender for this crown could be Edward Hollis, who teaches Interior Architecture at Edinburgh College of Art.
He has just published a quixotic tome, entitled The Secret Lives of Buildings', published by Portobello. It is quite unlike any other recent book on architecture and a worthy nominee for the Guardian's First Book Award.
Hollis highlights the capricious nature of buildings and weaves a fascinating tale from the Parthenon to the Vegas Strip. It's a fairytale journey that shifts seamlessly between edification and revelation.
Original print headline - Bound for buildings