People like old houses for a reason, Alain
Alain de Botton's comments perpetuate the rift between the public and designers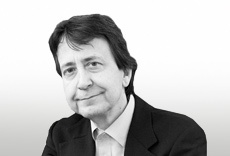 Alain de Botton is to be congratulated for his new venture building holiday homes, and I hope the publicity he has received attracts people to stay at Living Architecture's one-off buildings in the country. I am particularly attracted to the Essex house with Grayson Perry and Fat for which he has just secured planning approval. It looks as if it will be charming, fun and well made.
But I think the underlying theme of his campaign may perpetuate rather than heal the rift between the British public and designers. For at the core of de Botton's approach is a belief that it is the job of architects and critics to educate the public in matters of style.
As he said in a recent article in the Telegraph, "The salvation of British housing lies in raising standards of taste." He argues: "For too long in Britain, our buildings have suggested that the past is the only worthy realm, that we have to dress in the clothes of yesteryear and that technology is bad and the future terrifying." This is the old "zeitgeist" cant from the middle of the last century dressed up for the iPad era, and it is terribly condescending. Very few people can afford to commission an architect to design them a detached house, so the choice is generally between older homes in established neighbourhoods and newer houses by the volume builders.
'De Botton sounds frustrated that the public hasn't bought the ideals he embraces'

Hank Dittmar
People tend to value historic homes more than new ones because they are adaptable, gracious and comfortable. Indeed, the RIBA and Ipsos Mori's research for the recently released Future Homes Commission report found that people preferred Victorian and Georgian homes because they offer more space, light and flexibility — exactly what de Botton markets in his new holiday homes.
The idea that the past is verboten belies the fact that most of us like both old things and new things, and that the present really faces both ways. Most people see no problem with vertically proportioned doors and windows, roof pitches that shed rain, and wall surfaces that use natural materials. Nor is living in a traditional home inconsistent with wireless streaming of music and TV, working from home or dressing in skinny trousers.
He seems to think the answer lies in bespoke houses with open plans and floor-to-ceiling glass by signature architects in stunning locations. Actually, what people consistently say they want is privacy from their neighbours, the kind of floor-to-ceiling heights and room sizes found in older houses, storage space, and light, airy rooms. For the most part, I fear that people will have a hard time extrapolating from Living Architecture's country homes to streets in Reading or Ipswich as these are fundamentally not homes meant to form neighbourhoods.
De Botton sounds frustrated that the public hasn't bought the ideals he embraces. Hence the conviction that we must herd the British people towards the light.
This misses the target, which is that improving the quality of British housebuilding has little to do with taste and a lot to do with organising the home-buying public into an effective consumer lobby so that new houses — of whatever style — have the same characteristics we value in older houses.