Stirling Prize needs new remit
The strangest part of the RIBA Awards is that the EU is included in the Stirling Prize rather than the Lubetkin Prize.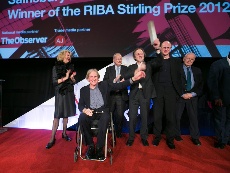 Source: Jonty Wilde
The change to differentiate between international fellows and UK chartered architects only serves to blur the boundaries further (Leader October 19).
Since its remit is for the "greatest contribution to British architecture in the past year", I think the Stirling Prize should be for a building in the UK by an RIBA member, which would mean that all of this year's shortlist would be eligible but previous winners, such as Stuttgart Music School, Maxxi, Barajas Airport, and the Museum of Modern Literature in Marbach, would not.
Instead they would have been eligible for the Lubetkin Prize, which should be awarded for a building outside the UK by an RIBA member. It seems entirely arbitrary that you can win the Stirling Prize for a building in Germany but not for one in Canada.
Thomas Corrie
via bdonline
Postscript:
Email letters to buildingdesign@ubm.com including your postal address. We reserve the right to edit all correspondence