Just a bunch of rich kids?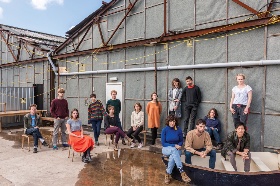 Source: Gareth Gardner
I don't doubt their abilities, but their privileged position gives them the space to "act out" in order to look cool, while ultimately being insulated from the constraints of the real world.
They are being allowed to build a hinterland for themselves (one that is documented and trumpeted by the national and specialist press) that will stand them in good stead in the future. Their much poorer contemporaries, whose mummy and daddy aren't paying the rent, are forced to find jobs as waiters or whatever to get by, and won't look nearly as "dynamic" and "go-getting" as this lot when competing for the same jobs.
Croydon Council awarded the contract to this group. At risk of sounding like a frightful bore, what is their insurance situation? For all the council knows they could have been a load of con-artists that could have slipped into the shadows had anything gone wrong. They still could have got in a mess acting with all good intentions. Was the word "Cambridge" all they needed?
Perhaps they weren't placed at the disadvantage of having to consider such "dynamism-killers" as wages (how crass) and business costs (how square) in their fee bid.
I understand they were able to blag materials from the Olympic Park for one of their projects. If they chanced upon some AstroTurf, then sheathing their next construction in it would perhaps be a true expression of their work.
Thomas Price
Sheffield
Postscript:
Email letters to buildingdesign@ubm.com including your postal address. We reserve the right to edit all correspondence