Is Scotland set to repeat the mistakes of Kickstart?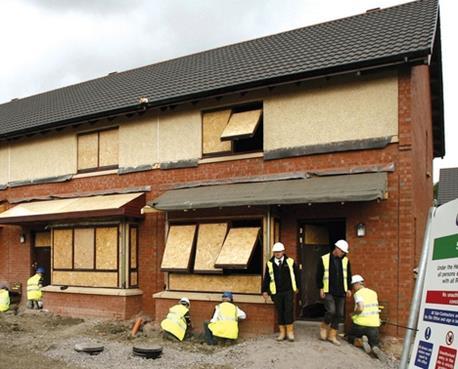 Yes, says Malcolm Fraser of Malcolm Fraser Architects; no, argues housing minister Alex Neil, it's vital for the nation
'Yes'

Our banking and housebuilding industries are intertwined, and went down together when the weight of their hubris burst their helium-filled credit bubbles.
Public money bailed out the banks, but the government did not require them to improve or reform, simply begged them to take our money and go back to business as usual. Now it's doing the same for housebuilding, through Kickstart and, in scotland, the National Housing Trust.
It's a bailout, with public money going to the housebuilders to re-start "shovel ready" schemes. Such schemes, of course, will take the two standard forms: diddy-boxes, car-dependent and decorated by "gob-ons" (the industry term for pediments and half-timbering); or urban-lumpen flats with bolt-on G&T cages.
As products they are very poor. But the wee flurries of criticism, of poor design and the sidelining of our design quangos miss the point: yes, Cabe and, in Scotland, A&DS are there to try to make building a bit less rubbish; but, as it's our public money, why should we tolerate rubbish in the first place?
While I take it that Scotland's response will be a bit fluffier, with some less-profit bits, the point remains: if government borrows money on behalf of the community it should invest it with the community's interest put first, not the housebuilders'. This means public homes — council housing — properly commissioned, and designed by our best architects with the full involvement of the communities they are to build for.
'No'

Despite serious financial constraints, the Scottish government is determined to increase the supply of affordable housing at a time when there is a shortage of such homes in many parts of Scotland.
We and the Scottish Futures Trust are working closely with several Scottish Councils to boost construction on mothballed housing sites and deliver around 1,000 new homes through a radical new National Housing Trust (NHT) initiative.
A key priority will be to ensure that homes delivered through the trust are affordable and offer good value for taxpayers' money. But this initiative is about more than that. We are not in the business of supporting developers financially to build poor quality homes.
We are discussing with councils what their requirements will be for homes in their area to agree criteria for assessing bids from developers. These criteria are likely to require that all proposed homes meet, at the very least, the 2007 Scottish building regulations to ensure that space and energy efficiency standards are sufficient.
Homes will only be acquired by the initiative once they have been completed to the agreed standards.
Also, by having a medium-term interest in sites that they bring in to the NHT, developers will have a strong interest in ensuring homes are well designed as they are taking the majority of the risk if tenants do not want to live in the homes or if there are difficulties in selling them after five to 10 years.
What do you think?