Home and away
The row over the title of architect spreads to New Zealand, a house is transported from Italy to India and the winner of the RHSP cake competition is revealed
'Crackpot' kiwis
Arb might take comfort from the news that its Kiwi counterpart is also engaged in a battle for protection of the title "architect". Estate agents in New Zealand have just won the right to describe a house as "architect-designed"… when it's not. Paul Jackman, head of NZ's Registered Architects Board, branded the decision "dangerous and illogical".
"They've flipped around and said, 'You're an architect unless your building falls down' — and that's crackpot," says Jackman. "Misrepresenting the designer of a house as an architect is fraudulent and is done to talk up the price in order to enrich the agent and the vendor."
Boots only wishes Arb's newly muzzled staff would speak so candidly.
Life of the party
Critic Robert Maxwell was at the Work Gallery this week to promote his new book. Among those in the audience were James Stirling's partner Michael Wilford, Stirling's wife Mary, and Tony Fretton. Not that Maxwell seemed impressed.
"Why have you all come? To a gallery no one's heard of, to a book launch by a publisher no one's heard of?" Nothing like the hard sell. The book, by the way, is A Few Years of Writing, published by Artifice.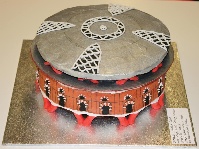 Icing on the cake
Congratulations to Holly Harbour, who has swept the board at the annual RSHP cake competition with Las Arenas — a chocolate fudge cake.
Contestants had to fabricate an RSHP building in sponge, but prefabrication was allowed. The runner-up was Leadenhall, aka the Cheesegrater, made of Kipling's fondant fancies.
Koolhaas is coming …
Fresh from the "finissage", Boots can confirm that Rem Koolhaas has now signed up to curate the 2014 Venice Biennale — and if his lecture last week at the RIBA is anything to go by, it will be rural in theme.
…Cool house is going
Now that recycling outfit Re-biennale is no longer in operation and an arcane piece of legislation prohibits anything from being sold on, this year's Venice exhibitors are wondering how to dispose of their work.
Finding the costs of landfilling in Italy prohibitive, Anupama Kundoo, who built a house in the Arsenale, is shipping the entire exhibit back to her native India.