All in a day's work
An exclusive bus journey to a high-brow museum and then to a much-loved pub
I've got a bus pass …
Affluent architects with a passion for networking are in luck this month. The kind people behind the Portland to Portland cycle ride have put together a very special Routemaster Bus tour with high-flying developers including Steve Norris, chair of Soho Estates, and Simon Silver, head of regeneration at Derwent London. Driven by none other than Peter Hendy, commissioner of Transport for London, the bus will tour central London and the guides will describe their own developments along the way. Tickets are a cool £1,000 each.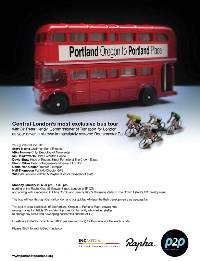 Bowl her over
The ceramicist Clare Twomey is participating in an exhibition at the Soane Museum in March for which she urgently needs BD readers — or at least the men among them — to help.
Entitled Everyman's Dream, the artwork is set to comprise 1,000 bone china bowls, each of which will be inscribed with an individual man's hopes of a personal legacy. Any man who can help should head to http://tshams.polldaddy.com/s/new-survey
Boozer blues
A petition against David Chipperfield Architects' planned demolition of the Marquis of Lansdowne pub, as part of its Geffrye Museum development, has so far clocked up 596 supporters.
Perhaps one solution to the problem might be to move the Lansdowne to west Cambridge, where Boots understands Chipperfield has been asked to design a pub as part of the city's proposed expansion.
Ken-do attitude
No one could claim Ken Shuttleworth wants for self-confidence. At the meeting where the Make supremo's plans for the Heygate Estate were approved, he assured Southwark Council's planning committee: "We believe that we are going to get the best architects in the world to work here. We are one of the best architects in the world anyway, so we are off to a good start."
Cerebral design
A project that Boots can't wait to see is Foster & Partners' proposed museum to Albert Einstein in Jerusalem. No images were available when Boots made enquiries at the practice but, according to Israeli press reports this week, it is set to be built in the shape of the great scientist's brain.