All hands on deck
A battle over Cutty Sark, Peter Morrison prepares for war and 2012 immortalised in High Street Ken
Sarky response
Last week's announcement that Grimshaw's Cutty Sark restoration had won the Carbuncle Cup resounded round the world. For much of Friday, it was the BBC website's second best read item, held off the top only by the saga of the royal bosom.
Boots' favourite contribution to the debate was this image from tweeter @dlequeu, proving the ship would be more happily housed on the back of Cook & Fournier's Graz sea slug.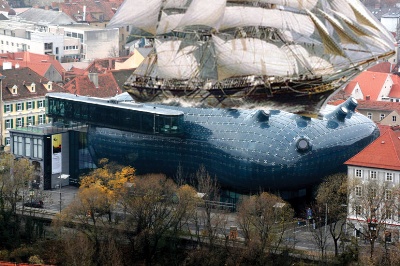 In the firing line
In a hard-hitting interview with Peter Morrison on Forbes.com, the RMJM chief reveals that he and right-hand man Declan Thompson, call whatever RMJM office they're in the War Rooms, with Peter's New York office known as the Bunker.
Allow our narrator, Sean Ros-ensteel, to go on: "War room or bunker, this dynamic duo have been on the front lines since the world fell apart in 2008 and they appear unnervingly comfort-able with it." Boots is sure staff waiting for missing wages are reassured by such heroic stuff.
Apple source?
Boots wouldn't ordinarily deign to attend a product launch but made an exception for the party on the Gherkin's top floor for a new modular rooflight system developed by Foster's and Velux.
Foster's David Nelson rebuffed our attempts to prise information about its top secret Apple HQ, drawings of which appear-ed on the web this month. Nelson assures us they didn't leak from Hester Road, with the finger of suspicion falling in the contractor's direction.
Get with the programme
Peter Clegg offers a hair-raising story about a recent invitation Feilden Clegg Bradley received from a university in the north-west of England to compete for a new £8 million project. The interview, he was told, would be the next week, with a planning application submitted a week later. The building should be fully occupied in 12 months.
When Clegg suggested this might be a little optimistic, he was met by the response: "Well, that's what we did last year."
Going underground
To High Street Ken for the Design Museum's ground-breaking ceremony, where a time capsule was buried to open in 2112.
The great and good suggested items to be interred, ranging from an EU flag and a USB of jazz album covers (Cecil Balm-ond) to an iPhone and bottle of Burgundy (Terence Conran).
Defeated by the prospect of cramming some items in the slender steel cylinder, museum chiefs finally settled for photos of the Olympic torch, Team GB cycling helmet and the model of Zaha Hadid's Maxxi museum.