Bamboo Bicycle Club
Tucked away in an East London warehouse, the Bamboo Bicycle Club runs workshops allowing people to build their own bamboo bicycle frame. Perhaps an unusual building material for a bike, but bamboo construction is having something of a renaissance at the moment.
Bamboo bicycles were first built in 1896, but were quickly relegated in favour of steel for ease of manufacture. In 1996, Californian manufacturer Calfee Design began building bamboo bicycles using a hemp composite, and more recently Bamboo Bikes, based in Scarborough, launched their version at the 2011 NEC Cycleshow.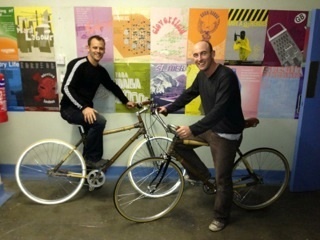 The Bamboo Bicycle Club, a partnership between James and Ian, in East London, organises 2-day weekend bamboo bicycle building courses.  Launched in September, the Club was set up to create a knowledge-sharing community for building robust and safe bamboo bicycle frames, drawing on their experience as bike-riding engineers.
James from Bamboo Bicycle Club told BD: "When I was living in Canada I used to restore bicycles I collected from yard sales, charity shops and even local scrap heaps, and in doing so I learnt a great deal about different frame geometries, realising that to get the perfect ride I would be better off building my own frame." James returned to the UK and started researching bamboo bikes with his friend Ian. They quickly started assembling the necessary materials to start building, and so the Bamboo Bicycle Club was born.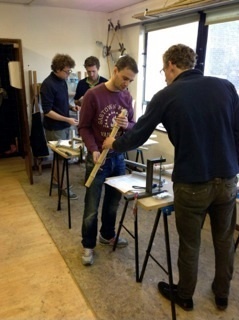 According to the duo, bamboo bicycles are smooth to ride and lighter in comparison to their steel counterparts, James said: "We are a little biased but we think they make better, smoother, lighter rides, with rigid yet flexible corners". Recently, they've been experimenting with tree-sap-based epoxy resins and they've been trying to source bamboo grown in the UK. For the moment, they say that the key feature of their bamboo bicycle is that it is built locally with materials of considerably less embedded energy than a metal frame.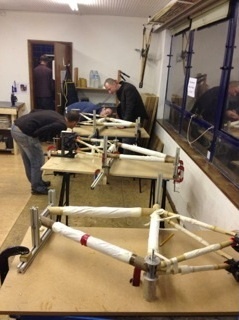 Pre-workshop, course students are asked to complete a questionnaire, providing the details to create a CAD model of the bicycle frame, personalised to each person's geometry. Starting at 8am on the Saturday, the bamboo tubes are selected and mitred to fit the steel and cromoly installations.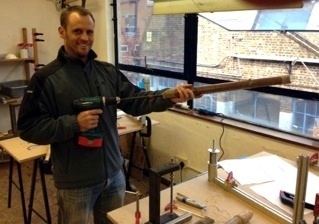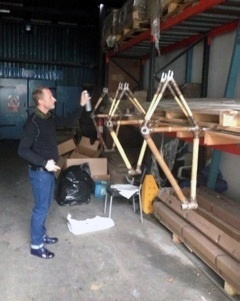 Following lunch, the tubes are tacked in place, to be later bound with hemp cloth and epoxy and left to cure overnight. On the Sunday, the frames are cleaned and sanded down, finishing with the application of a fast-curing protective coating. The Club also helps install other components to get the bike on the road straight away, and once you are a member, you can return to use the workshop to get advice on your new bike.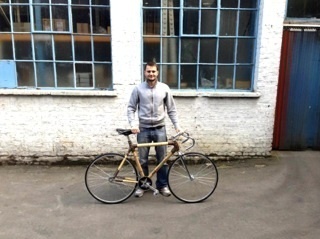 When asked how roads in the UK can be made safer, James sees cities such as London and Manchester as diamonds in the rough, deceptively safe compared to smaller suburbs. He added: "There is lots of really positive press at the moment, and the momentum needs to be maintained through the winter. All new roads need to fully encompass the needs of cyclists as they currently so often don't - cycle channels as found in Amsterdam and Copenhagen are the ideal way to segregate traffic and encourage more people to get cycling."