Are the HCA's proposed design standards good for housing?
No, says Stewart Baseley, the cost of meeting them will slow the flow of much-needed new housing; while Richard Simmons argues that we need to know every penny is well spent
No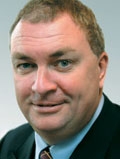 Let's be clear, developers are not looking to wriggle out of any responsibilities, particularly to home buyers. All consumer surveys, whether by the Home Builders Federaton, Cabe or the Office of Fair Trading, show very high levels of satisfaction with new home quality. The pressure to adopt higher standards comes from government and housing professionals.
While the industry does not oppose higher standards, such demands have to be realistic. Developers need to increase the number of new homes while ensuring they are affordable and meet the needs and aspirations of individual home owners and social housing providers.
Increasingly, however, sites are being made unviable by the policy and regulatory demands placed on them by central and local government and a variety of public agencies, be it for affordable housing, world-beating levels of energy efficiency, community infrastructure or many other requirements.
The proposed standards will cost, and so must be viewed in the context of policy demands on new housing. It will simply not be possible to meet all these demands, and deliver the required numbers of homes. There are real trade-offs between the proposed standards and the viability of future housing land supply.
And finally, Building for Life, which is part of the new standards, was not intended as a comparative site scoring scheme. It can best support quality as a tool to inform discussions between developers and planners — not as a quasi-regulatory checklist.
Yes

Times are hard. Isn't this the wrong moment to introduce minimum design standards?
No. Now is when we should be clear about exactly what we want in return for our taxes. The HCA gives our money to private companies and registered social landlords. We want to know every penny is well spent — on homes good enough to justify public subsidy.
Like all good public sector clients, the HCA should be clear about the minimum specification it will pay for. When public funds are scarce, every penny is a precious investment. The industry shouldn't expect to get tax dollars unless it delivers the spec. A minimum of 14 out of 20 under Building for Life leaves plenty of room to do even better; but it's a guarantee that poorer people, for example, who can't exercise market choice, will get decent homes in decent places.
These standards will also send a clear signal to landowners. As the market recovers, we don't want to hand them a huge windfall. That leads to a loss of quality and a shortage of land for the basics: comfortable densities, adequate room sizes, good layouts, attractive public spaces, sustainability.
These standards will set a new baseline. They should ultimately apply to all housing. Citizens and customers have the right to expect that their interests will be put before those of any institutional investors in the City. That's exactly what the HCA is starting to do with these standards.