Will EU changes let me register?
The fiendish complexity of international professional regulation is under scrutiny, but results may take a while
Question: I have heard that the EU Parliament may be changing the qualification requirements for architects. I am RIBA-qualified, but part of my training was in South Africa and I can't register with Arb. Will the changes allow me to be registered?
Answer: The EU Parliament is considering changes to the EU Professional Qualifications Directive, which controls the recognition of qualifications for the regulated professions in the EU, including architects. However, the proposed changes are still unlikely to recognise qualifications outside of Europe and change your situation.
Architecture is one of the most regulated professions in the world and how architects are regulated differs widely in different countries. In the UK we have a particularly unique and obtuse way of doing it.
Protection of title
Most regulated professions are controlled by "protection of function". This means only those with the recognised qualifications and professional registration can perform certain functions, such as surgery or legal representation. In some countries architects do have forms of "protection of function", including EU countries such as France, Germany and Spain.
But in the UK it is done differently for architects, with "protection of title". This means anyone can carry out any of the functions of an architect, but only those suitably qualified and registered can call themselves an "architect".
This is regulated by the UK Architects Registration Act, which created the Architects Registration Board (Arb) to keep a register of recognised architects in the UK who meet the qualification criteria and comply with a code of professional conduct and are then allowed to use the title "architect".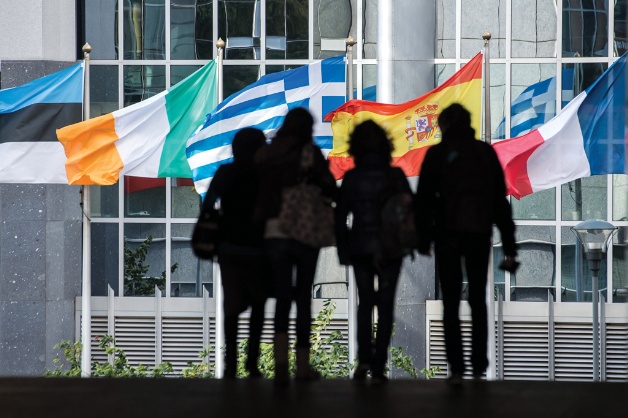 Because the UK is part of the EU (well, for now at least!) it is bound by EU law and has to recognise architects who are suitably qualified and registered in other EU states. This is the purpose of the EU Professional Qualifications Directive. The problem is that the qualification systems for architects across Europe vary enormously from four to seven years in duration and many do not include any form of professional experience. The EU Commission and Parliament are trying to regularise this for all the regulated professions and seeking to change the current directive.
It takes years to negotiate changes to a complex international law, involving several different professions with varied historic systems and differing national interests across all of the EU member states. The UK government, Arb and the RIBA are working closely together (really!) to bring the rest of Europe as close as possible to the UK's seven-year qualification system for architects of five years professional study (RIBA parts I and II) and minimum two years of professional experience with a professional practice examination (RIBA part III).
This happens to be the most onerous, highly regarded and established international qualification system for architects, developed by the RIBA over 150 years. There are RIBA-validated courses (parts I and II) in every continent (including your qualification in South Africa).
International courses
But Europe is not prone to doing things the Anglo-Saxon way — from money to which side of the road we drive on — therefore it looks like the revised EU Directive on Professional Qualifications for architects will only get to a five or six-year system as the minimum standard and may still not recognise qualifications obtained outside the EU.
The UK's own legislation makes for additional complexities, where Arb prescribes (recognises) UK RIBA-validated architecture courses but not the many international RIBA-validated courses, which have to meet the same stringent standards as UK validated/prescribed courses, which are far more rigorous than many EU recognised courses.
It takes years to negotiate changes to a complex international law
Prior to 1997, Arc UK (Arb's predecessor) did recognise the RIBA's international qualifications and would have allowed you to register in the UK, which would then be recognised across the EU.
The current position does hamper the UK's international trading position for architecture, which is why the UK government is interested in simplifying some of these home-grown barriers.
There are many more complexities about this, which would need far more space than we have here to explain. But suffice to say it is a complex mess that the EU is trying to fix just a little bit. It is unlikely that any changes to the EU Qualifications Directive will be approved before the end of 2013 and then they won't come into effect until 2015 or later.
In the meantime we should all ponder the complexity of the regulatory system we have created for the profession in the UK. In my view, we should lobby for a better and simpler way of doing it that protects the interests of the consumer, promotes UK PLC and enables the profession to create better architecture.
Postscript:
Disclaimer: This column is for general information only. It should not be relied on or treated as a substitute for specific legal advice relevant to particular circumstances. Neither BD nor the contributors' employers accept any responsibility for the personal views expressed in this section.