The architects' guide to Pinterest
From building boards to finding inspiration, BD's guide takes you through the basics
It can be a challenge to work out what Pinterest can do for architects professionally and how to harness the platform. Here's BD's crash guide to Pinterest for Architects.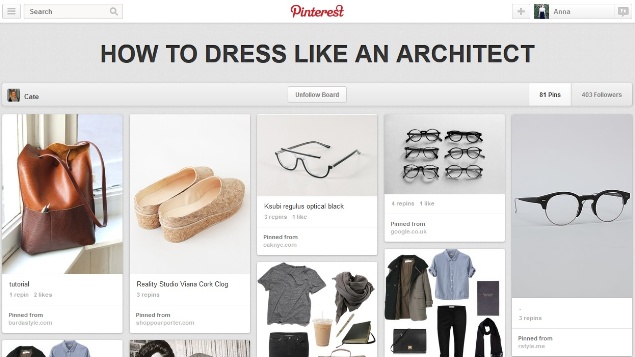 What is Pinterest?
Pinterest has become the fifth biggest social media network in the US and is rapidly knocking other platforms out of its path to reach the top five in the UK too. Many small businesses say that Pinterest has become one of the biggest traffic drivers to their sites.
The platform allows users to create virtual inspiration or mood boards that they can 'Pin' images to as they browse the web. The original URL is connected to the image, so it also acts as a visual bookmarks store – simply click on the image once to open it up within Pinterest and then again to go to the original source. Users can also upload their own images directly to Pinterest.
Public boards can be seen by all Pinterest users, who can then re-pin images to their own boards, but it is also possible to create a limited number of private boards with restricted access. With an estimated 70 million users, it is one of the biggest ever networks dedicated to visual content.
There are roughly half a million official business profiles currently visible on Pinterest. Anecdotal evidence suggests that Pinterest is becoming a significant driver for small businesses in the US – particularly those with a strong visual story.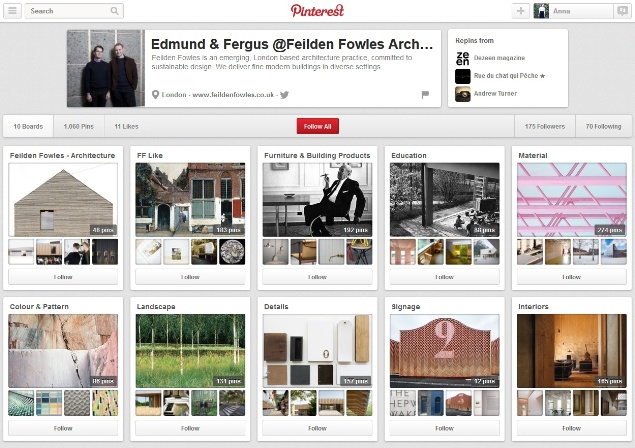 Should I bother?
With any social media platform that is going to eat up a bit more of your precious time, this is the first question you should ask. The answer depends on what you want to get out of it.
Do you just want to keep inspiration boards of interesting architectural imagery you find on the internet in a convenient and easy-to-track-back-from place that also lets you share some of these boards with other people with similar interests and possibly create some connections? If the answer is yes then Pinterest is definitely for you.
Are you a small practice specialising/earning your bread and butter from private home extensions, domestic interiors, and similar small projects? If the answer is yes then Pinterest is probably also for you.
Never feel obliged to use a social media platform that doesn't have any benefit to you.
What should I use it for?
Pinterest is a powerful visual tool for sharing your work, helping people understand your approach and what inspires you or your practice. With Pinterest you can demonstrate your aesthetic to a wide audience without having a huge list of completed projects to show.
Creating group boards with clients can be a good way to help them share their design tastes and make sure you understand what they want. Pinterest's 'like' and 'comment' features can help clients feedback on images you post as well.
You can create private boards for collecting images for work projects that you don't want anyone else to see, or invite colleagues to collaborate on these. Browsing Pinterest is also a good way to discover new products.
In the longer-term, Pinterest could develop into a lead generation tool for small practices as their user profile builds. If this is your target, spend some time having a look around at what architectural inspiration other users are pinning - you want your Pins to be shared and seen by as many of these users as possible so posting images that will appeal to them is common sense. Follow boards of people who seem to chime with your aesthetic and re-Pin posts from other users to build your visibility.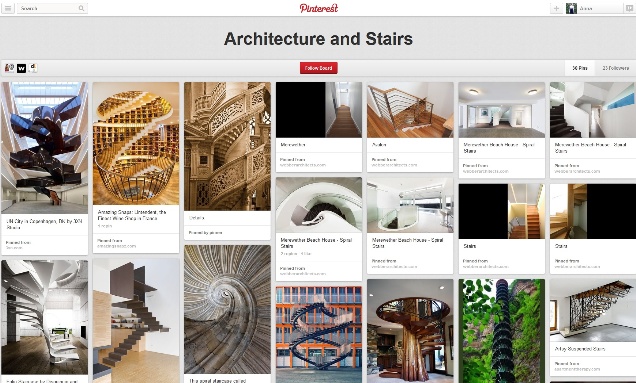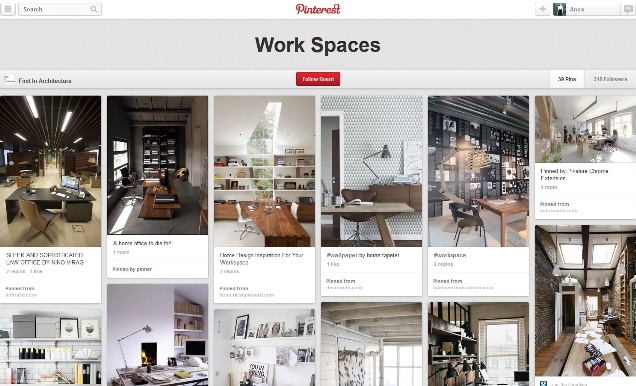 How does it work?
You can sign up to Pinterest with your Facebook or email account or you can create a Business account. If you have a personal account already, you can convert it to a business account. Once you've created an account, you will need to install the Pin It button into the bookmarks bar of your browser. You can find this on Pinterest's Goodies page along with full instructions on how to install and use it. As you find images you like, click on the button in your bookmarks bar to add images to your boards. You can also re-Pin images posted by other users from within Pinterest.
If you want to make it easier for users to pin images directly to Pinterest from your practice website you should think about integrating a share button like this.
When should I post?
To have your images shared and seen by the most Pinterest users it's a good idea to Pin between 1pm and 4pm or 8pm and 1am. 5pm to 7pm is dead time as most users are doing other things – commuting, making dinner, etc…
If you're only interested in curating images for yourself or collaborating privately, then it doesn't really matter.
Don't only Pin images of your own work
Create a few boards on which you can Pin images of things that inspire you, products you like and projects you admire. This will help give people an idea of whether your overall visual style chimes with theirs. If it does they are likely to follow you and re-Pin your images more frequently. Although many of the images that appear on Pinterest are altered in some way, it's best to avoid posting hundreds of CGIs. Stick to real projects and products.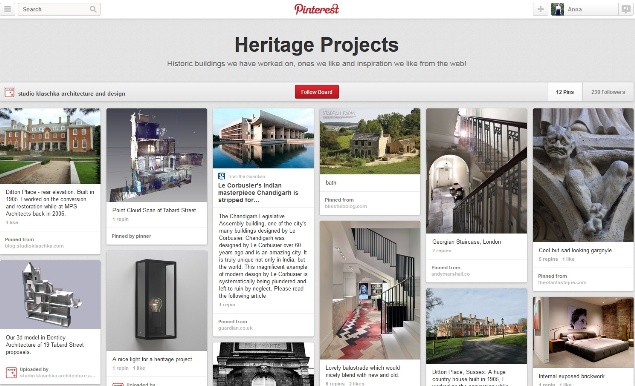 Stay away from faces
As an architect, it's likely that most of what you pin will be images of objects and buildings. These types of image are ideal for Pinterest. Stay away from anything too personal – a picture of someone's face is 23% less likely to be re-pinned.
Images that have more than 40% background to the focal object tend to be half as popular on Pinterest. So if you want to post an image of an Eames chair that has been artfully shot against a white background, make sure you crop it first. The same goes for images of buildings with lots of sky. Try Pinning portrait images where you can - they get more re-pins.