Should I sue a client to recover my rightfully earned overdue fees?
Is suing my client the right course of action to recover unpaid fees?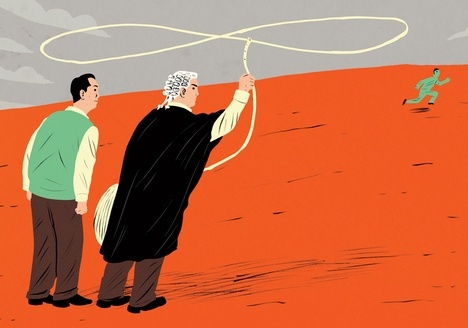 Q: I am fed up with clients avoiding paying my overdue fees. Would you recommend suing?
A: Suing for your unpaid fees should be the last course of action to recover your dues. Before you start legal action, do consider the following likely consequences:
Losing the client (probably not a bad thing if they don't pay your fees).
Bad publicity and loss of other clients if the client you sue tells all their friends and the press.
Counter-claims alleging negligence or poor performance, with possible impact on your professional indemnity insurance record.
Costs and time of legal action (legal fees can be astronomic).
Emotional stress and lost opportunity of pursuing other fee-earning ventures.
Despite all these downsides, it may still be worth suing and the correct thing to do to enforce your right to due payment. But first of all I would explore all other avenues and keep communicating with your client.
Assemble and keep full records of your fee claim and recovery process. Be aware of your contractual payment conditions with your client. These should be covered in your appointment agreement. If not, make sure this is covered in all future appointment contracts.
Make sure that your fee claim is valid and watertight (did you perform properly for the fees, in full accordance with your contract?) and be prepared for any counter-claims.
Request a meeting with your client to discuss payment of the fees do this in writing but don't threaten legal action just yet. Try to negotiate a fee payment; it may be pragmatic to agree to a discount or instalments to an agreed timetable. Get any agreement in writing.
If the client refuses to meet or negotiate, or if this route is unsuccessful, then look to dispute resolution — independent mediation, adjudication or even arbitration. Your contract with the client should cover your dispute resolution options.
Look out for any counter-claims for negligence and non-performance, keep your professional indemnity insurers and funders informed.
If negotiations and dispute resolution fails, only then threaten to take legal action to reclaim your fees (get legal advice for this crucial letter). Don't threaten unless you are prepared to go ahead with it. If you are forced to sue, get a good lawyer first.
Never lose sight of your main objective, which is to get paid or minimise your losses,including loss of time and reputation. The moral of the story could be that you should choose your future clients more carefully. RB
'Setting-off' fees in defence claim
We act for a developer on a number of projects. Can we set off outstanding fees on one project from a potential claim against us by this client on another?
"Set-off" is the right of one party to apply against a demand for payment (or a claim) by another party, any monies owed to it. If you are sued by a client for damages, and that client owes you an identifiable sum of money, you are entitled to reduce or extinguish the claim by setting-off those unpaid fees.
The legal right of set-off, in defence to a claim, exists even if the unpaid fees arise on an unrelated project for the same client.
Recent case law has however confirmed that the legal and equitable rights of "set-off" can be varied or excluded by express contractual agreement between the parties. It is crucial therefore that you carefully check the contract terms in place to confirm what set-off rights exist.
Many bespoke contracts often limit the consultant's rights of set-off; this is a "boiler-plate" clause that is often overlooked.
The latest standard form appointments for architects such as RIBA's CA-S-07-A contract and ACA's SFA/08 do provide useful protection to architects who may be owed money by commercial clients, in that they expressly exclude the client's rights of set-off at common law or in equity. However, do not forget that the position may be different on non-commercial projects, where the client is classified as a "consumer". For example, if you have used RIBA's CA-S-07-A for a domestic project, the term excluding the client's right of set-off does not form part of the contract (because of concerns that it could be considered an unfair contract term under consumer protection legislation).
RIBA's CA-S-07-A contract and ACA's SFA/08 do not exclude the architect's rights of set-off which exist in common law and equity. Therefore, if you are contracting on these standard forms, you will be entitled to set-off any monies the client owes you against any claim.
Another important aspect to consider is what the contract says about interest on those unpaid fees. The standard forms, for example, provide for interest at a percentage rate (be it 5% or 8%) over the Bank of England base rate in force. That can make a substantial difference to the amount owed on any long-standing debt. Even if the contract does not contain an express right to interest, it will be implied into any commercial contract under the Late Payment of Commercial Debts (Interest) Act 1998. The court, in any event, has the discretionary right to add interest on any monies found owing to you if proceedings arise.
A final consideration when you are seeking to resolve the dispute is what the contractual consequences may be of those unpaid fees. Under the contract in place, you may be entitled to suspend or terminate your performance on the job or the rights of the client to use your designs. The right of suspension may also exist under the Housing Grants Construction & Regeneration Act 1996.
Payment of fees is also often a precondition to entering into documents such as collateral warranties with third parties. This highlights the importance of agreeing a solid contract at the outset as, in a dispute, it can provide valuable assistance. PP
Postscript:
Richard Brindley is executive director, RIBA Professional Services. Patrick Perry is a partner with London law firm Barlow Lyde & Gilbert.
Disclaimer: This column is for general information only, and is not intended to convey legal advice. It should not be relied on or treated as a substitute for specific legal advice relevant to particular circumstances. Neither BD nor the contributors' employers accept any responsibility for the personal views expressed in this section.