We Made That's imaginative Wild Kingdom play-space in east London offers children the chance to play in a natural environment
In a part of east London famed for its starring role on the world stage this summer, a new park has opened. Providing a much-needed public amenity in what has traditionally been an industrial area, it might even inspire a generation.
Wild Kingdom is an adventurous new playground by the young practice We Made That, five minutes' walk from its larger relative, the currently closed Queen Elizabeth Olympic Park.
The two places are more than geographically related — the play-area was commissioned by the Legacy List and the London Legacy Development Corporation (LLDC) as one of several investments in the area on the fringe of the Olympic Park. It is the first legacy project to be completed since the Games.
Wild Kingdom forms part of Three Mills Green, a manicured circle of grass eccentrically located between a six-lane A-road, Joseph Bazalgette's cathedral of sewage and the site of an enormous development by Ikea's property subsidiary, LandProp.
How do you create a haven for childhood amid this complex milieu? We Made That's solution has been to curate a wilderness,
a place that architect Holly Lewis says "requires exploration".
In a critical improvement on the traditional hard-surface and climbing-frame type, the practice has created a place that fosters imagination and creativity, as well as more traditional, athletic play.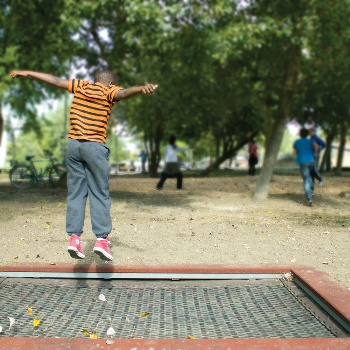 Source: We Made That
Wild Kingdom achieves this balance through a combination of active features, such as giant swings and trampolines, with more subtle gestures like the "small world play" of gravel and stone mini-cities, inhabited with architectural test-pieces from the local Building Crafts College. In a surreal touch, the architect has temporarily added Olympic lanes to these miniature towns.
Swings and objects in the landscape are combined with a considered manipulation of nature. The designers have tied trees together so they will grow into a natural shelter, and planted wild teasels and burdock, which, when they've grown, will be picked and played with.
We Made That is operating within a wider trend towards play-spaces that provide opportunities for natural play. In the past two years, the National Trust, Natural England and King's College London have all published research that asserts the importance of nature to children's play. In such an urban area, this wild place provides an invitation to play in mud and leaves and climb trees — types of play that local children might not otherwise find the opportunity to enjoy.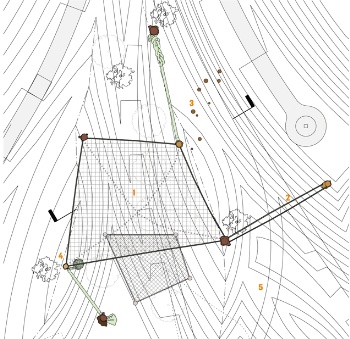 PLAN OF CLAMBERABLE CANOPY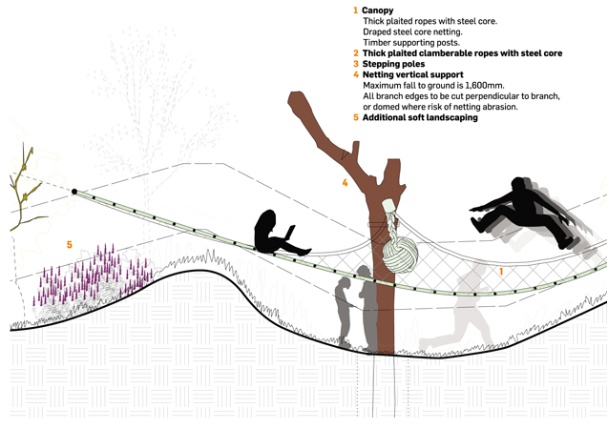 SECTION
Wild Kingdom's design was informed by workshops held by the architect on site with local schools and residents. Asking children to consider the idea of "wilderness" resulted in unexpected collisions of animals and objects. Lewis explains that this idea of the unexpected inspired the portmanteau artifacts that are scattered about the site: green concrete steps and a "look-out tree"; crafted stone columns embedded in one of the gravel toy-towns. She describes these objects as having an "unexpected quality brought about by the coming together of natural and artificial features".
One feature exemplifies the architect's methodology. In a pre-existing natural amphitheatre, seating has been made out of a combination of old tree stumps, granite boulders found on site and iroko joinery crafted carefully by the students at the Building Crafts College. Lewis and her partner, Oliver Goodhall, describe how the local school that was already using the amphitheatre now has a robust hardwood stage on which to perform.
We Made That is one of a number of practices shifting the role of the designer within the urban realm. They are all taking an increasingly engaged role in the community, which is rewarded by the opportunity not just to design civic amenities but also to participate in forming the social structures that allow these amenities to succeed.
This is the role that designers need to undertake in and around the future Queen Elizabeth Park if their projects are to have any chance of fulfilling the hopes of "legacy" that have been pinned upon them. We Made That's first contribution is an extremely promising start.
PROJECT TEAM
Architect We Made That
Clients The Legacy List, London Legacy Development Corporation, Lee Valley Regional Park Authority
Play consultants Free Play and Children's Play Advisory Service
Cost consultant Stockdale
Graphic design Europa