The Eon house and the architecture of climate change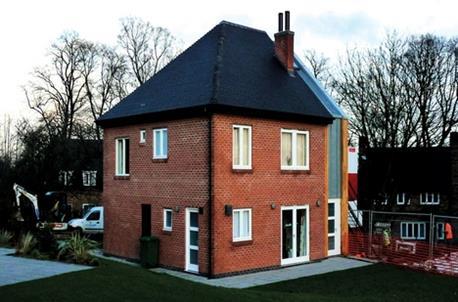 The half a semi-detached house built to 1930s Building Regs and monitored for energy efficiency at the University of Nottingham is an architectural experiment that could benefit millions of British homes
Last year's House of Commons' report on Existing Housing and Climate Change highlighted Britain's large existing housing stock — more than 26 million homes, many of which are highly valued culturally for their heritage and architectural significance.
More than 23 million of these homes are expected to still exist in 2050 and in tackling climate change it is essential that the thermal performance of such housing be addressed. Typically, these homes have single glazing and solid masonry construction or if built after about 1930, uninsulated cavity walls.
To articulate this challenge and research the options to transform Britain's existing housing, a team led by Mark Gillott at the University of Nottingham's School of the Built Environment has built the Eon house, a semi-detached house to 1930s construction standards at Nottingham's University Park. The house is occupied by a family of four whose energy use is monitored in detail.
This research project, primarily sponsored by energy supply company Eon, forms part of the Creative Energy Homes programme at the University of Nottingham. Designed by Nottingham-based architect Marsh Grochowski, the house follows the pattern of 1930s semis very common in the suburbs of north Nottingham and which are representative of about 30% of homes in Britain.
In the 1930s, cavity walls had only just been introduced, and the wall of the Eon house comprises a brick outer skin with a 50mm cavity and dense blockwork inner leaf which has been plastered internally.
Next door to the Eon house is a research laboratory that mimics the environmental performance of its neighbour and helps keep the party wall warm.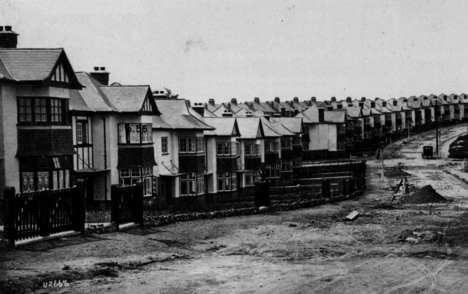 This laboratory and the house contain a significant amount of monitoring equipment, with nearly 200 sensors measuring environmental performance, occupancy, plus electrical power, gas and water consumption.
The project has been organised in three phases. The first was the construction of the Eon house. In a rare move, Building Control allowed the house to be built to 1930s Building Regulations.
The second phase involves upgrading the construction to make it 25% better than current Building Regulations, with the implementation of other measures to achieve the equivalent of Code for Sustainable Homes level 3.
In phase three Marsh Grochowski Architects will further improve the house to achieve Code level 6, including the extensions necessary to achieve all aspects of the Code. So the proposals in phase two need to take into account phase three, minimising the need to remove or rework the phase two enhancements.
The Eon house as constructed to 1930s standards is estimated to be more than 340% below the current thermal performance of Part L. To bring it up to the required standards, it is essential to insulate the ground floor, walls and roof.
The U-value of the uninsulated cavity wall is 1.4W/m2K. To achieve a thermal performance 25% better than Part L, filling the cavity with insulation is not enough. A high-performance graphite expanded polystyrene bead insulation that fills the cavity would achieve a U-value of only 0.5W/m2K, making it necessary to further insulate the wall, inside or out.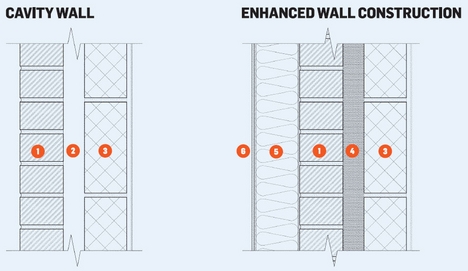 The second phase of the project was organised as a student competition based on the Zero Carbon Architecture Studio for fifth-year and masters' students that I run with Swinal Samant and Lucelia Rodrigues.
The students worked to a budget of £25,000, and the proposals by the winning group — Dan Dunn, Alex Lewis and Seema Mistry — will be implemented this summer. The three students proposed a realistic and holistic strategy which included insulating both the rear and side facades with external insulation finished with an acrylic render such as Sto render.
Using Sto's 100mm mineral wool-based system and filling the cavity with blown expanded polystyrene bead, a U-value of 0.21W/m2K is achieved, which is more than 25% lower than current Building Regulations.
The winning team saw the front elevation as significant to the character of the street, and here the cavity is filled and a similar thermal performance achieved with insulated dry lining. It is key that the two systems overlap to avoid cold bridges and a significant risk of condensation with a reduced overall performance.
It is worth considering reducing the U-value further, to 0.1W/m2K, which would require a filled cavity and 280mm of external insulation.
This study shows that it should be possible to transform a 1930s semi to a Code level 3 home with a budget of £25,000. This would both minimise heating bills and provide comfortable living conditions for the occupants. This will be monitored in the next stage and the findings made available to the public.
Michael Stacey is professor of architecture at the University of Nottingham, and director of Michael Stacey Architects.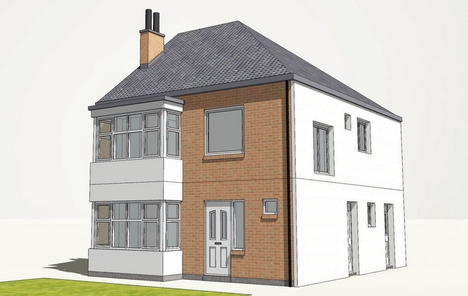 Project team
Principal investigator Mark Gillott, Nottingham University, Architect Marsh Grochowski Architects, M&E engineer Waterman Building Services, Main contractor Charles Woodsend, Student architect, phase two Dan Dunn, Alex Lewis and Seema Mistry, Phase two construction products SIG
Getting the insulation balance right
Insulation slows the passage of heat through the fabric of a building when a temperature difference exists between the interior and the exterior.
It primarily provides thermal resistance by trapping still air, slowing the convection and conduction of heat.
This is why silica-based Aerogel is such a good insulator as it is 99.8% gas and only 0.2% silica, trapping gases on a molecular level. It also has the advantage of being translucent.
The lower the U-value of the insulated building fabric, the better it will resist the passage of energy — however, it will not stop it.
Adding a reflective layer will help to minimise heat transfer by radiation.
In a low-energy or carbon-neutral home, the aim is to reduce the flow of heat to a level that can be replaced by beneficial solar gain and "wild gains" from the occupants.
In the relatively mild winters of Britain, the need for additional heating can be minimised or eliminated.
It is interesting to note that Sverre Fehn in the Villa Norrköping, like many Scandinavian architects, included 150mm of insulation in brick cavity wall construction way back in 1964.
Cracking the Code for Sustainable Homes
Graham Farmer writes:
Launched in December 2006, the Code for Sustainable Homes is the government's standard for assessing the environmental impact of new homes against a range of one to six stars.
Although the code covers nine categories of environmental impact, it is the ambition that all new homes should be "zero carbon" from 2016 that has perhaps attracted most attention. However, the code's definition of "zero carbon" has not been without controversy, and in response the government has recently concluded a consultation exercise aimed at crafting a consensual and workable definition for zero-carbon buildings.
The 111-page consultation document would appear to point to further revisions to the Code and the SAP calculation on which it is based. Importantly, the document signals the government's intention to adopt a hierarchical approach to designing zero-carbon buildings based on addressing energy efficiency, carbon compliance and allowable solutions.
Energy efficiency provides the foundation of the zero-carbon strategy and suggests that existing standards for very energy-efficient homes such as the German PassivHaus standard will remain as the efficiency benchmarks for Code level 6.
At present, a zero-carbon home must have a minimum heat loss parameter of 0.8W/m2K, a requirement that requires a careful balance between high levels of insulation, extremely airtight construction and typically the use of mechanical ventilation with heat recovery, which may not be relevant in the British climate.
The UK government is planning to introduce carbon compliance levels for regulated emissions — heating, lighting and hot water — compared to existing target emission rates of 25% (Code level 3) in 2010 and 44% (Code level 4) in 2013.
Currently, a "zero-carbon" home has to achieve a minimum 100% reduction in regulated emissions and zero net carbon emissions including power for cooking and appliances. However, the consultation document considers less stringent requirements for regulated emissions in recognition of technical feasibility and the cost implications.
The existing Code also requires zero-carbon homes to generate renewable energy to cover their own energy requirements via onsite installations or via an offsite "private wire" connection.
The consultation suggests that energy harvesting could move offsite as a means of dealing with residual emissions beyond the carbon compliance level.
This offsetting approach could include exporting heat or investments in offsite renewable energy and zero-carbon technologies locally and nationally. Until the Building Regulations are updated, the Code for Sustainable Homes appears to be an acceptable if flawed guidance for the creation of zero-carbon homes in Britain.
Graham Farmer is associate professor of architecture and diploma director at the University of Nottingham.