Recycled paper makes riches from rags
A structure made from old copies of the Guardian is the latest achievement of engineer James Thomson's Paper Project
As a child, James Thomson used to build play houses in his back garden, constructing geodesic domes out of rolled up Times Education Supplements with the help of his maths teacher father. A couple of decades or so later, the graduate structural engineer at Buro Happold has had a chance to take this idea further by leading a research project into turning old newspapers into structural material.

The Paper Project was prompted by the wish of the Institution of Civil Engineers (ICE) to engage more with the public and promote better understanding of the work of engineers. Use of paper as a construction material is also of particular interest to Buro Happold, which created a paper grid shell pavilion at the Hanover Expo in 2000 with Shigeru Ban and also worked on a cardboard school building with architect Cottrell & Vermeulen. While the initial application of Thomson's project is educational, the hope is to develop it further to create more durable, sustainable structures.
Thomson worked on the Paper Project with engineers from other practices including Fiona Moore of Scott Wilson, Tim Fawcett of Mott MacDonald and Daniella Holt of University of Birmingham.
"It's about the use of low-energy materials," he says. "As engineers we use a lot of high-energy materials that aren't always required. We need to be looking at low-energy solutions and rolled paper is a good way of doing that."
Thomson, aged 25, has worked at Buro Happold for two years and leads the ICE's Graduates & Students Committee. In this role, he had the idea of developing a public participation project that embraced sustainability.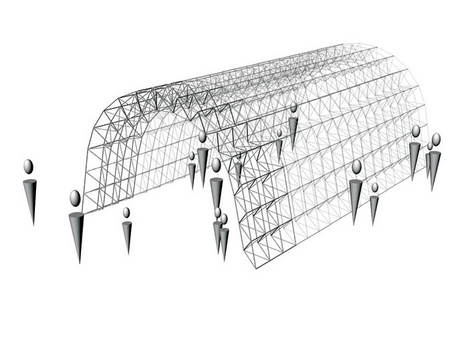 "Rather than an ICE evening lecture I felt we ought to go out and engage people in a way that's very visual — a sculpture made out of recycled materials that can be built by the public," he says.
Looking for a modular low-tech structure that could be built easily and cheaply from recycled materials, Thomson and his team decided to create a space-frame truss structure out of rolled-up old newspapers to form a 4m high module with a 5.5m span. First, they experimented with rolled-up newspaper to find the optimum strength and size. Old broadsheet copies of their local paper — the Birmingham Post — worked well, but they soon ran out of these and found that the current, smaller version was not so effective. The solution was the Guardian's Berliner format, which is larger than tabloid, and worked best as four sheets rolled up along its short length into a tube and secured with tape made from sustainably sourced cellulose.
Space-frame trusses are particularly efficient since the vast majority of the structural members are the same length, the exception being those on the underside of the arch. Also, no bending or twisting is required, instead the rods are simply taped together at their nodes. Dowelling or tying was considered but rejected as too time-consuming for the public and school participation projects.
Thomson's team took two days to build the structure, at Birmingham's Custard Factory arts and media centre, but he expects they could halve this next time. He reckons that with clear instructions, just two people can build the structure, starting off by forming triangles, then setting them out in an arch on the floor and joining them together.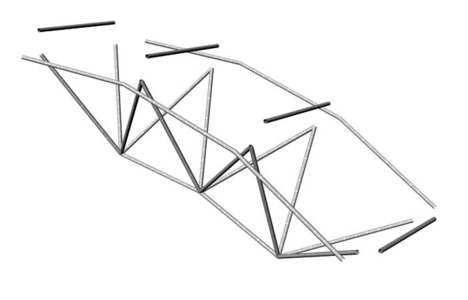 The team conducted physical tests on the structure and found that a 1.5m truss could tolerate a weight of 30kg before the nodes gave way. The structure's light weight also means that there is little chance of injury in the unlikely event of a collapse — some of the engineers volunteered to have the truss dropped on them and were unhurt.
"The material itself is phenomenally strong," says Thomson. "We're continuing research into the nodes to make them stronger by using custom, recycled plastic."
The team conducted its own fire tests, and found that like timber, it's very difficult to set on fire, and in any case a pavilion would have extremely quick escape times.
"A match wouldn't set it on fire," he says. "You have to use a lighter and play it over the edges for a few minutes before you char them."
The project now has a ready supply of paper — Thomson reached an agreement with the Guardian to deliver old newspapers free of charge when needed. He is keen to develop it as a hands-on education tool for year 9 and 10 children after a very successful participation lesson at a Birmingham school earlier this month. The Paper Project is also due to appear at two public events this summer in the Midlands, and he sees the potential for producing information packs with instructions and fixings so that anyone can build their own structure.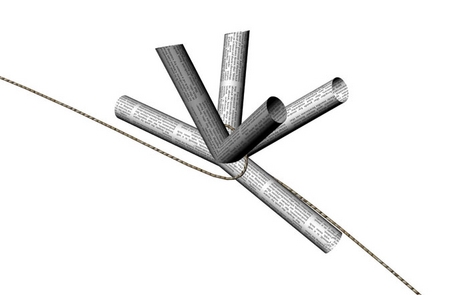 Thomson is also keen to develop the technique for more commercial uses — with the refined nodes, he thinks there is scope in the foreseeable future to create 6m-high canopies with spans of 10m. This is ideal for temporary exhibition spaces. Permanent structures would be possible, but the amount of extra waterproofing needed would defeat the object of creating cheap, quick, recycled structures. He is, however, speaking to suppliers about sustainably sourced varnishing products, with a view to coming up with a waterproof membrane that would protect both structure and inhabitants.
"We're taking a material that's very low-tech and applying engineering knowledge," he says. "There's huge potential. We've barely scratched the surface of where it could go."
Paper finds a role as a lightweight recyclable building material
Japanese architect Shigeru Ban has been the most high-profile proponent of paper as a building material, pioneering the use of cardboard tubes in the 1990s to create temporary shelters for earthquake victims and other homeless people.
Until then, with the exception of traditional Japanese housing that used paper and cardboard as room partitions, its use in construction had been quite limited. The main applications have been as insulation, as panels on temporary structures or as internal structure for lightweight doors. It is also a component of Papercrete, a mixture first patented back in 1928, which consists of recycled paper or cardboard mixed with sand and Portland cement. The UK company Econovate is developing its own Papercrete wall panels and blocks for commercial use.
In the last decade, Shigeru Ban has developed the use of cardboard as a structural material further, most notably on the Japanese Pavilion at the 2000 Hanover Expo, which was engineered by Buro Happold. This temporary structure featured a cardboard gridshell covered with a paper membrane, and was itself recycled after the expo. Ban and Buro Happold also worked on the cardboard Local Zone at the Millennium Dome in 2000 and on a barge shed in Dijon, completed in 2002. Ban continues to develop the building potential of paper tubes with many built projects.
In 2006 he completed the first paper tube space-frame structure — an information and press centre for the 2006 Singapore Biennale — and in 2007 he constructed a paper tube footbridge in Remoulin, France.
Meanwhile in 2001, Cottrell & Vermeulen, with Buro Happold, designed Europe's first permanent cardboard structure at Westborough Primary School in Westcliff-on-Sea, Essex. This uses recycled cardboard as tubes that form structural columns and as timber-edged honeycomb panels for the walls and roof.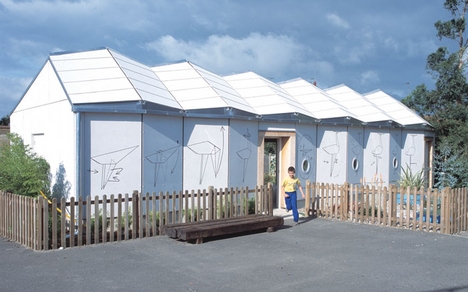 In Sydney in 2004, the Cardboard House was launched by Peter Stutchbury and Richard Smith as part of Australia's Year of the Built Environment. This low-cost prefabricated A-frame structure was constructed using cardboard components for walls, floors, joists and beams, covered in a skin of HDPE. Around 85% of the components are recycled and all of the materials are recyclable.
Earlier this year, engineer Gerd Niemoller of Swiss company Wall AG launched the low-cost Universal World House, a prefabricated design built from thin, strong panels made from a honeycomb of resin-soaked paper. The company supplies the machine to build the panels plus the raw materials to the client, who then makes them locally. Houses measure 36sq m and weigh just 800kg, including the foundation block. The house, primarily intended for emergency shelters or to replace slum housing, was designed with architect Dirk Donath, from the Bauhaus University in Weimar, and has already had orders from clients in Africa.
With the recent emphasis on sustainable materials, there is increasing interest in the potential of paper and cardboard within construction when combined with new bonding, cutting and structural techniques. Fastenings and waterproofing remain challenging however, and so far most structural applications are restricted to one-storey, temporary projects.
Without the strength of timber, paper and cardboard's key assets are that they are recycled and recyclable, according to Greg Hardie of Arup, who worked on the Hanover pavilion when he was at Buro Happold.
"There are stronger and stiffer materials, but the rationale at Hanover was that we were using something that was recycled and could be recycled back into itself," he says. "If you can utilise post-consumer waste, there is a place for paper as a construction material."
Original print headline: Riches from rags