Hadid's Chanel pavilion proving to be a classic in plastic
Inspired by the iconic Chanel 2.55 handbag, Zaha Hadid's Mobile Art structure reshapes the way polymers can be used by architects
Fibre-reinforced polymer composite panels provide the sleek building fabric of Zaha Hadid's travelling pavilion that is a celebration of the classic 2.55 Chanel handbag. Mobile Art, the Chanel Contemporary Art Container toured Hong Kong in February 2008, Tokyo in July 2008 and New York last autumn.
In his 1957 classic essay Plastic, Roland Barthes observed "plastic is not so much a substance as the notion of infinite remodelling".
Hadid's team has taken this to heart — the pavilion is clad in 400 FRP panels, each with a unique digital geometry. The panels are doubly curved and some engage in a swift transition from the convex to the concave. The panels were manufactured in the UK by Stage One, a company whose roots lie in producing sets and structures for events including the Olympics in Sydney and Athens. FRP was selected for the Chanel pavilion for its formability, robustness, lustrous finish and above all lightness, as the pavilion needs to be transported to each venue.
Project architect Jens Borstelmann observed: "We have developed a material matrix for the facade's cladding that analysed the benefits of various materials with regard to robustness, weight, visual quality, control of shape and tourability [handling, size of panels, maintenance]. FRP was chosen as it had the best overall performance on those criteria."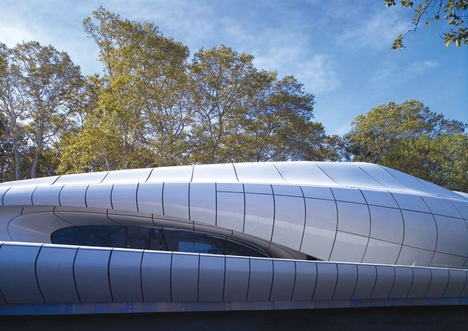 The pavilion has a toroidal-like form wrapped around a central daylit internal court, however this is not a geometry optimised to make repetitive geometric elements, the form of the pavilion has been explored and delineated by the architects. Visitors are invited to enjoy, even relish the geometric precision delivered by the FRP cladding supported by an internal and equally curvilinear steel frame. The central courtyard is daylit via ETFE cushions, which were considered as tourable as the FRP by the architects.
Cladding the pavilion
The FRP panels for the Chanel pavilion are detailed as a rainscreen with the waterproofing and insulation provided by an unseen blanket-like construction. The wall panels range in size and are approximately 1.5m x 2m while the roof panels are 2m x 4m.
The panels were engineered by Optima Project using finite element analysis optimising the laminate construction, while achieving the stiffness required by the performance specification for the most exposed venue. The panels are reinforced by glass fibres in combination of biaxial stitched cloth and chopped strand mat. The glass fibres are held in a matrix of fire retardant polyester resin. The panels have sandwich construction with a 5mm-thick core of low density, non-woven continuous strand mat containing microballoons (tiny plastic balls) to achieve a high bending stiffness to weight ratio.
FRP panels can be readily detailed to provide a high level of thermal insulation.
The FRP panels are sprayed with a high gloss pearlescent white acrylic paint. This glossy finish is visually very demanding, revealing the geometry of each FRP panel and the accuracy with which it has been made. The individual moulds for each panel were CNC machined from polyurethane foam, a cost-effective mould material. The panels were sanded by hand after they were de-moulded to achieve the fine finish. The internal lining of the pavilion is primarily formed of FRP panels that have been class one fire rated in accordance with British Standard 476, Part 7.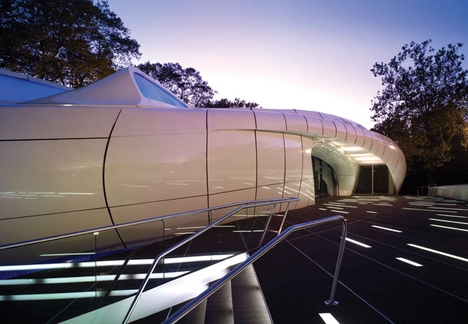 Architect Alan Brookes in his 1985 book Cladding of Buildings, states that one of the advantages of polymer composites is that they can be manufactured by unskilled labour. Experience, however, has proved this wrong. The key to successful fabrications in polymer composites is skilled operatives and precise quality procedures.
Stage One, the panel manufacturer, gives every mould and component a unique reference enabling it to be tracked. It also kept records of the materials batches and a swatch of each laminate layer. This pavilion proved to be a challenge but its quality control systems were able to handle it comfortably.
Before the pavilion was shipped to the first venue, Hong Kong, a trial assembly was undertaken at Stage One's works in Tockwith, North Yorkshire. This included the erection of the complete steel frame and 50% of the FRP cladding. This was considered sufficient to test the accuracy and buildability of the FRP panels. Once dismantled, the components were then shipped using a combination of sea and air freight, subsequent journeys have been by sea alone. Through 24-hour working the pavilion was erected in Hong Kong in just four weeks .
It's all in the bag
The pavilion housed work by 20 international artists including Tabaimo, Lee Bul and Leandro Erlich all inspired by Chanel's quilted chain-strap handbag, which first appeared in 1955 and was reissued in 2005 by fashion designer Karl Lagerfeld. The pavilion is a flowing spiral of space. This is a personalised and skilfully crafted spatial journey, a redefinition of dancing around the handbag.
The global financial crisis has put the pavilion's world tour on hold, though, and it is currently being stored in the UK.


Project team
Architect Zaha Hadid Architects,
Engineer Arup, Main contractorEdwin Shirley Projects,
Specialist cladding subcontractor Stage One
Sketch history of Polymers and potential for Recycling
American designers Charles and Ray Eames were the pioneers of a mature aesthetic for plastic. In 1948 they entered The Museum of Modern Art's International Competition for Low-Cost Furniture Design with research engineers from UCLA.
Initially they considered using stamped steel sheet, based on contemporary automotive technology, but this proved too expensive. So they turned to polymer composites.
In the early 1940s, polymer composites were developed primarily for military and aeronautical use. The development of polyester resins that could be cured at room temperature was described by chemist Brian Parkyn as a vital breakthrough. The Eameses approached Zenith Plastics of Gardena, California, which had experience of manufacturing fibre-reinforced plastic radar domes during the second world war, and this collaboration led to the production of one of the first one-piece plastic chairs.
The Eames Side Chair and its related models formed a key precedent and inspiration for many architects to use fibre-reinforced plastic.
The influential British architect Peter Smithson wrote in 1966: "The Eames chair was like a message of hope from another planet". The key quality of its design, which appears to have been overlooked, was that it was close moulded on a hydraulic press with male-female moulds producing a high quality finish on both surfaces. Hand-laid FRP, a craft-based method of production, tended to dominate the early use of plastic in architecture leading to problems in quality control and expense as only one fair face is produced. Charles and Ray Eames had pioneered a popular and truly mass-produced item.
Modern plastics
In 1993, Vitra replaced the glass fibre-reinforced polyester shell of the Eames Side Chair with a polypropylene shell — a single thermoformable plastic, which can be readily recycled.
Initially I mourned the passing of the fine texture imparted by the fibres in the FRP, but I now realise this is an indication of the development of plastics and our collective knowledge of this class of materials. But is the need for recyclability overstated? Vitra continues to produce Verner Panton's Panton Chair, which was first produced in 1959 using the original material. The original GRP chairs are collectable classics. Possibly the durability of polymer composites is more important that recyclability.
The success of carbon fibre in aerospace, automotive design and motorsport hasn't resulted in the predicted reduction in the cost of carbon fibre. It can cost as much £10,000 a tonne, although its stiffness to weight ratio should always be borne in mind. It has a significantly higher strength to weight ratio than steel.
Carbon fibre recycling
Carbon fibre is considered so valuable that a research group at Nottingham University's School of Mechanical, Materials & Manufacturing Engineering, led by Steve Pickering, is studying the recovery of carbon fibres particularly from scrapped aerospace components. Half the mass of a Boeing 787 is made up of carbon fibre components.
Pickering notes: "The UK is taking a lead globally in developing recycling technology for carbon fibre and this research will ensure that we continue to be at the forefront of new developments." The research consortium formed for the Affordable Recycled Carbon Fibres Project, Afrecar — which includes Ford, Advanced Composites and Boeing — is studying an experimental thermal fluid process for the decomposition of polymer composites enabling the chemicals of resin and glass or carbon fibres to be recycled.
Postscript:
Architect Michael Stacey is professor of architecture at the University of Nottingham