Bennetts Associates' Edinburgh rock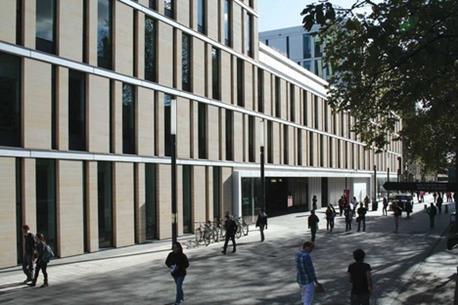 Edinburgh University's Potterrow development draws on the city's traditional stone building form to provide an airy home for its philosophy, psychology and language science departments
The Potterrow development for Edinburgh University makes full use of all the major types of rock in its cladding, public realm spaces and its string courses, inner facades and columns.
Conceived as a pair of interlocking U-shaped buildings and designed by Bennetts Associates, the development can be read as three elements: an eight-storey tower on Charles Street housing the departments of philosophy, psychology and language sciences; a four-storey block on Potterrow, the ground floor of which is the Inspace Gallery; and the stone-clad Informatics Forum, which links these two elements, and has been designed to maximise the interaction of the multi-disciplinary scientists and academics, creating an excellent social and working environment.
The development's cladding and public realm are an essay in the informed use of stone. All the major types of rock have been used — igneous, sedimentary and metamorphic. A grey granite, an igneous stone sourced from China forms the hard landscaping and plinth. The facades are clad in sandstone, which is sedimentary. The string courses, inner facades and columns are precast concrete or reconstituted stone made from white cement, white sand and marble, a metamorphic stone sourced from Norway, and polished to a terrazzo-like finish.
The inner facades were conceived of as being like the lining of a gentleman's coat, and until phase two is built the view from Potterrow is predominantly formed by white precast cladding, which will become the courtyard elevations.
Qualities of sandstone
To be defined as sandstone, stone must have a quartz grain size between 0.062 and 2mm. Its durability is dependent on the binder. Sandstones bound by siliceous cement are hard to quarry but prove durable and weather well. Sandstones bound by lime (calcium oxide) or iron oxide are not recommended for Edinburgh's wet climate. Sandstone is typically 90% quartz, therefore the colour of the sand is important, but it is the binder and the trace elements such as mica, feldspar and iron oxide that define the colour.
Because sandstone is a variable material, a set of range samples is a vital part of the specification thus the architect can agree a maximum and minimum colour for the selected sandstones.
This was particularly important for the Leistadter sandstone used to clad the Informatics Forum. This selection was verified via a mock-up where different mortar colours and recessed mortar joints were tested. Flush mortar joints colour matched specifically to the two sandstones were selected.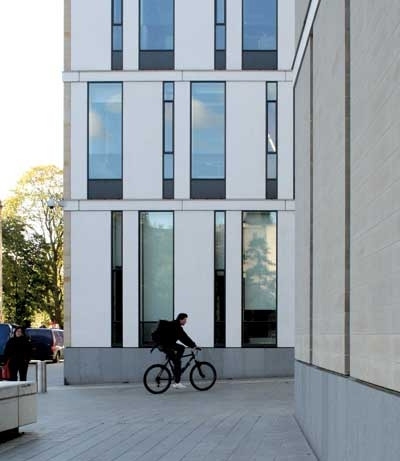 Bar code cladding
The street facades were conceived as a bar code rhythm of vertical sandstone panels, based on the 1,500mm-wide planning grid. Major events in the elevation such as entrances and meeting rooms are flagged up in the white reconstituted stone. The long horizontal format of the sandstone was selected to reveal that the stone is non-load bearing as a counterpoint to the vertical rhythm.
The facades are playful yet ordered, with three panel sizes of varying widths, 450mm, 750mm and 1,150mm, which form most of the cladding. On Potterrow, the rhythm becomes more restrained, responding to the Georgian townhouse architecture of Edinburgh. The sandstone is supported by precast concrete panels.
The cladding package was won by Belgian company Loveld. It fabricated the cladding in storey-high chunks linked by the string courses and included the complete build up including insulation and vapour barrier, providing a U-value of 0.25W/m2K. This offered significant advantages in time and quality, however it was not unitised, instead the glazing and aluminium spandrel panels were fixed on site. This cladding was weather tested to the Centre for Window & Cladding Technology Sequence B, which includes dynamic weather testing based on the American Architectural Manufacturers Association standard with the simulated rain driven by a propeller mounted on an aero-engine.
The sandstone was laid face down in timber moulds, then covered by a debonding layer, which prevents cracking of the stone. It is secured to the concrete by stainless steel dowels. The Dugald Stewart building and Informatics Forum are clad in Leistadter, a honey-coloured sandstone from Kichheim near Frankfurt, Germany. The Inspace building is clad in Dunhouse Grey limestone from County Durham, which will also be used on phase two.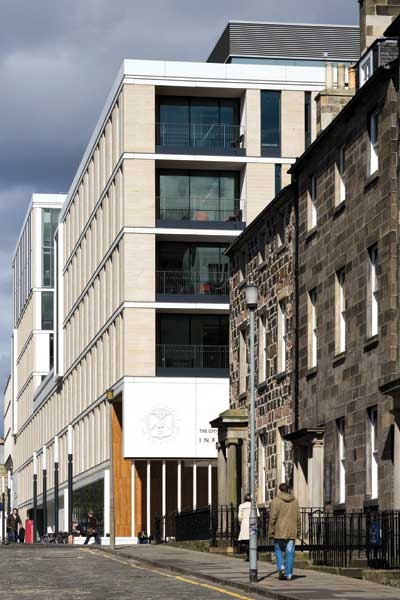 Low energy strategy
The Potterrow development has a simple in-situ concrete frame with flat slabs, which typically span 6.5m or 7.5m except over the ground-floor meeting rooms where down stands and post-tensioning were introduced to achieve a 13m clear span. The sheer walls and concrete soffits are exposed throughout to provide thermal mass — a vital component in the low-energy strategy for this intensively used building, providing a thermal flywheel that facilitates night cooling.
Some academics can have up to eight computers in their rooms, so mechanical ventilation with heat reclaim is provided, with air being drawn into the atrium and exhausted at high level, thus benefiting from stack effect. The staff and students have the option of opening their office windows for natural ventilation.
The exposed concrete soffits have been painted with vibrant colours based on Eduardo Paolozzi's Turing Prints. These are particularly striking in the two-storey mini forums that form key day-to-day meeting spaces for staff. The soffit reflects soft glowing coloured daylight that spills out into adjacent spaces.
Mike Fourman, head of Edinburgh's Informatics department, is delighted by the architecture of the Forum: "We are finally together under one roof. We live, work and play in the best building in scotland."
Should we keep on trucking sandstone?
The Informatics Forum is a low-energy building built on a tight budget not untypical for higher education buildings. But in terms of sustainability, should sandstone remain the primary building material of Edinburgh?
According to Pevsner and McWilliams' The Buildings of Scotland, Edinburgh exhausted its local supply of sandstone in the late 19th century, losing the direct link to its genus loci.
The stone used for the forum came from near Frankfurt, while that for the Inspace building was from County Durham. As cladding supplier Loveld has its works near Zeebrugge, it is the German sandstone-faced panels that have the shorter component miles.
But in the resource-conscious 21st century. is trucking in stone the best option? In its defence, well-detailed stone is very durable and beautiful. This cladding has been detailed to avoid staining and minimising wetting of the sandstone with stainless-steel drips over the precast string courses. Other new stone clad buildings in Edinburgh do not show such attention to detail and the stone may deteriorate surprisingly quickly.
When I visited the Potterrow development the stone cladding had been exposed to weathering in Edinburgh for more than two years yet it looks as crisp as the mock-up.
Stone's new age
Stone is the oldest building material used in contemporary architecture. But to bring it up to date, changes in technology, such as digital fabrication, from CNC machining to water jet cutting, have been introduced.
A leading researcher in this field is Mark Burry, director of the Spatial Information Architecture Laboratory at RMIT University in Melbourne, Australia, who is using digital modelling and fabrication to complete Antoni Gaudi's Sagrada Familia in Barcelona.
CNC machining can cut the time spent working the stone, be this the names in a memorial or texturing the surface. Advances in planar cutting have enabled very thin leaves of stone to be laminated to glass creating an affordable translucent alabaster-like facade. In essence, the use of stone in contemporary architecture is an informed combination of tradition and change.
What characterises the developed technology of the 21st century is not a singular material or technique but the way technologies and materials are brought together. The cladding of the Potterrow development demonstrates this with the stone fixed to precast concrete with stainless steel pins and separated by a polymer membrane.
Project Team
Architect Bennetts Associates, Client University of Edinburgh, Structural and services engineer Buro Happold, Design and build contractor Balfour Beatty, Stone Supplier Dunhouse Natural Stone (Dunhouse Grey); Zeidler & Wimmel (Leistadter), Cladding subcontractorLoveld, Windows and curtain walling MAGHansen
Postscript:
Michael Stacey is professor of architecture at the University of Nottingham and director of Michael Stacey Architects.
Read more Tectonics