Strawberry Hill, Twickenham, restored by Inskip & Jenkins
The £8.9 million restoration of Horace Walpole's 18th century 'gothic castle', emphasises its original owner's distinctive tastes
If you wanted a fashionable address in the 18th century, an excellent choice was Twickenham, today a prosperous suburb in south-west London. Among its prestigious houses was that of poet, landscape theorist and tastemaker Alexander Pope, who died in 1744 – just two years before Horace Walpole arrived and leased a modest dwelling near the River Thames.
Walpole too would prove to be a tastemaker. A politician, collector and later the author of a famous gothic novel The Castle of Otranto, he also had a passion for architecture. Quickly purchasing the property, he spent 30 years transforming it into a seminal building, Strawberry Hill, which became a magnet for visitors.
In institutional hands for much of the 20th century, Strawberry Hill has recently completed an £8.9 million restoration by Inskip & Jenkins, and reopens to the public tomorrow.
"I do not mean to defend by argument a small capricious house. It was built to please my own taste, and in some degree to realise my own visions," wrote Walpole in the preface to his book A Description of the Villa of Mr Horace Walpole (1784). But in pleasing his own taste by building "a little gothic castle", Walpole was making a deliberate riposte to a villa just a little further downriver – the Palladian Chiswick House, which Pope's friend Lord Burlington began in 1725.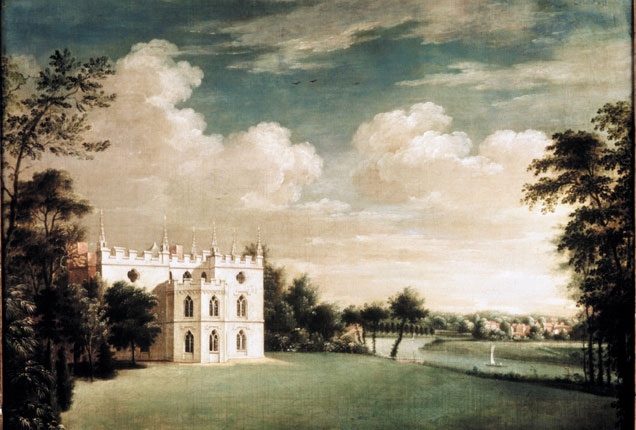 Source: The Lewis Walpole Library, Yale
Such classicism was still the natural choice for well-heeled clients. During the first decade of Strawberry Hill's development, new villas in the London area included Robert Taylor's Asgill House, William Chambers' Parkstead, and Isaac Ware's Foots Cray Place – all thoroughly Palladian. Moreover, like Chiswick House, Foots Cray Place was much indebted to the Villa Rotonda, still a touchstone then for architects and clients.
Yet, since Wren added Tom Tower to Christ Church, Oxford, in the early 1680s, a strand of gothic had run through English architecture. William Kent had tried his hand at it, James Gibbs had built his Temple of Liberty at Stowe, and, ever the opportunist, Batty Langley had produced one of his manuals on it. So Walpole wasn't being especially radical in opting for gothic. The novelty and significance of his villa was that it drew on actual medieval examples, authentic sources. At Strawberry Hill the gothic came sharply into focus.
Walpole was guided in this by his "committee", whose members included gentleman-architect John Chute, artist Richard Bentley and poet Thomas Gray. He began by encasing and altering the original property, which comprised a two-storey service building linked to a three-storey house. Work then continued westwards, primarily though the creation of the Apartment range in the early 1760s, whose Round Tower, flanked by the slender Beauclerk Tower (1776), anchors Strawberry Hill's west end. The final composition, evolving in a piecemeal way, was asymmetrical but balanced, and unified with a coat of white limewash render.
In the 1860s, the then owner, Lady Waldegrave, restructured Strawberry Hill with a new wing which linked Walpole's building to his separate service block at the south-west. She added an extra storey to the Round Tower and Beauclerk Tower and of course she redecorated. In the 1920s the Catholic Education Council bought the villa and it became part of St Mary's College. The Strawberry Hill Trust now has a long-term lease on the building and has overseen the restoration.
The elements harmonise sufficiently for the building to seem more than a gothic bazaar
Inskip & Jenkins found that much of Walpole's architectural detail was intact, and although decorative finishes were largely 20th century there was evidence of his schemes in every room. But his villa had been compromised by internal partitions, changed circulation, and a loss of original texture – for instance, concrete replacing dry-scrubbed timber for the floor of his Great Parlour. There was much discussion about the amount of fragmentary Victorian decoration that should be retained in the restoration, but Inskip & Jenkins argued that Strawberry Hill's importance stems from Walpole's work and essentially that's what we see.
Some major aspects of the restorption will go unnoticed – the re-roofing, the reconstruction of the timber frame at the east end of the building, the adroit installation of services. What you register first is the new white limewash render on the villa's east and south-east faces. Distinctly less smooth than the cement render that replaced it in the 19th century, it makes the building seem more robust, though Walpole certainly wasn't seeking the ruggedness of a genuine castle.
Chute was largely responsible for the villa's elevations and Inskip & Jenkins' historian Kevin Rogers suggests that his source for the east one was partly the Palazzo Ducale in Venice. The newly-reinstated timber pinnacles on the roof are also Venetian in origin, being based on the Frari church there. But you need to go inside to see the breadth of Walpole's sources – his attempt to use gothic correctly in cutting-edge decorative schemes.
Today, you don't enter as Walpole's visitors did from the north but through his former waiting room on the east. Then off a corridor you arrive in what Walpole thought the "chief beauty" of his villa, the hall with its full-height staircase lit by four quatrefoil skylights. The staircase was based on one in Rouen, while Prince Arthur's Chantry in Worcester Cathedral was the model for the trompe l'oeil tracery on the walls. Painted pink in the 1960s, this tracery has been returned to Walpole's shades of grey, while plain hexagonal terracotta tiles have been reinstated on the floor in place of Lady Waldegrave's polychrome encaustic ones – Walpole thought a "castle" called for some austerity.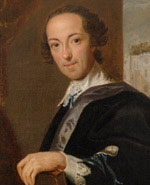 At this end of the house, Walpole added two major rooms – the Great Parlour and above it the library – while retaining parts of the original dwelling with its two linked structures. This leads to fluctuating floor levels, which are evident as soon as you climb the stairs, and a sense that the building has evolved organically around an earlier core. Irregularities in plan and section were as integral to Walpole's conception of his villa as decoration and atmosphere.
So too was colour. Walpole made great use of heraldic and figurative coloured glass, which has been reinstated or replicated, while arrayed around the grey stairwell are rooms in red, blue and green. Most striking, though, is the library, lined with elaborate bookcases modelled on the choir screen of Old St Paul's Cathedral, but in wood rather than stone. While rooting his designs in precedent, Walpole was obviously relaxed about changes in material, function, or scale.
"From the colourful house to the sumptuous house," says project architect Stephen Gee as we pause at the entrance to the Gallery, the first of the suite of rooms that make up the Apartment. The transition to this part of the villa is quite dramatic, as space contracts and light dims in the small Star Chamber and narrow Trunk-Ceiled Passage which leads off the staircase hall.
Not that colour is forgotten here, because the more opulent rooms, the Gallery, Round Room and Great North Bedchamber, all have crimson hangings. In recreating Walpole's schemes, though, the restorers have revealed just how distinct in character each space is, including such a seemingly ancillary one as the tucked-in Small Closet.
The delicate gilded fan-vaulting of the gallery ceiling, in papier mâché on plaster, comes from the aisle of Henry VII's chapel at Westminster Abbey, and despite its fragility it was mostly intact. In the adjacent Round Room, Robert Adam's ceiling is based on the west window of Old St Paul's, but other features in the Apartment have more esoteric sources – for instance, Iberian Gothic.
Walpole thought gothic was a matter of light, shadow and mood as well as mouldings, tracery and arch shapes
It's a magpie, mix-and-match approach, which has had its detractors. In The Gothic Revival (2002), historian Michael Lewis speaks of "the awkward improvisations of Walpole's circle". By contrast, Nikolaus Pevsner and Bridget Cherry in the London: South (1983) volume of Buildings of England find the result "so much more attractive than the heavy-handed exactness of 19th century period imitation". Despite their disparate origins, the elements harmonise sufficiently for the building to seem more than a gothic bazaar, while in experiencing the house as a whole it's obvious that Walpole thought gothic was a matter of light, shadow and mood as well as mouldings, tracery and arch shapes.
One insuperable problem for the restorers has been the loss of Walpole's huge collection of paintings, artefacts and curios, which were all sold off in 1842. So these highly-wrought rooms are in fact denuded.
If we imagine it with all its contents in situ, Strawberry Hill is in the same company as John Soane's Museum, the Isabella Stewart Gardner Museum in Boston, or, on a smaller scale, the Parisian apartment of the Surrealist, André Breton. These are all places where obsessive collectors weave multiple webs of meaning by juxtaposing objects and images in room after room – and when an item is lost the web is broken. Walpole prudently ensured that his interiors were recorded in illustrations and he noted all their contents in his description, so visitors will be able to look at albums showing the rooms as they were.
It also requires some imagination at present to appreciate the relationship between Walpole's villa and its semi-naturalistic garden, but this will be approximated when the landscape works are complete. Meanwhile, the restoration has given new lucidity to a key monument of the gothic revival. When sun shines through the reinstated coloured glass, it illuminates not just gilded tracery and timber floors but Walpole's sensibility – the source of Strawberry Hill's significance and renown.
Project team
Restoration architect Peter Inskip & Peter Jenkins Architects, Landscape architect The Landscape Agency, Project manager/quantity surveyor Fanshawe, Structural engineer Mann Williams, M & E consultant Martin Thomas Associates, Main contractor E Bowman & Sons