South Norwood Hill Children's Centre by Erect Architecture
Erect Architecture's joyful reinvention of a nursery building in South Norwood, London, has a lot to teach us about working with existing buildings and systems, says Oliver Wainwright
An army of angry mothers and toddlers descended on Downing Street on Mother's Day this year in a fearsome frenzy of face paint and nursery rhymes. They came to deliver a 50,000-name petition against the closure of Sure Start children's centres, after research by the Daycare Trust predicted that 250 of these facilities might be forced to shut in 2011 as a result of coalition cuts.
"The centres are a great leveller in our society," organiser Louise King told the BBC. "Kids from all walks of life mix and learn together and parents can further their education and gain vital support. Take them away, or force them to make cutbacks, and we'll see the next generation really suffer."
Luckily, buildings run a little way behind politics. Just as this savagery was being announced, as if in a miraculous parallel universe, a new children's centre opened on a wooded hillside in Croydon – perhaps the last we will see for some time. Nestled into a sloping site in the north of the borough, the South Norwood Hill Children's Centre by Erect Architecture shows just how much these facilities are worth fighting for – and how hard you have to fight to realise them in the first place.
The story begins with Nicky Godetz, the feisty head teacher of The Cypress Schools, an infant and junior school that straddles the steep Cypress Road in this residential haven of semi-detached houses that seems like an image of leafy suburbia, yet is one of the borough's most deprived areas.
"I wanted a children's centre here," she says firmly, sitting behind a desk, a vision in pink and purple – with glasses and nail varnish to match. "It fits in with the ethos of the school as the heart of the community." Unusually, compared to most overburdened heads who felt they didn't have the capacity to take on yet more work, Godetz approached the council to host a centre in the grounds of her infant school.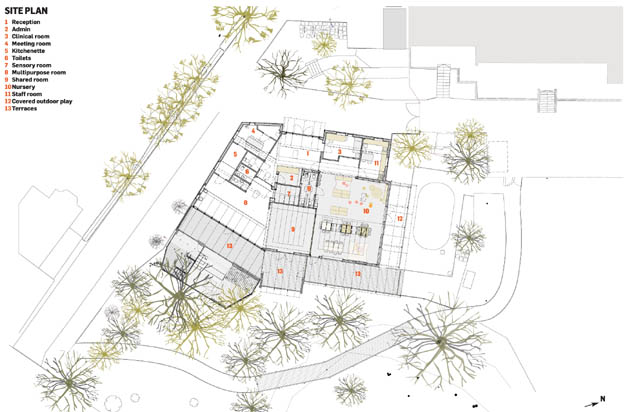 Encouraged to "think big" by Marcus Orlovsky, from educational consultant Bryanston Square, and with Huntley Cartwright quantity surveyors acting as "a critical friend", the school drew up a brief and held an architectural competition in 2007, aimed at young practices, to entirely rethink its site. With the help of Orlovsky, the competition was endorsed by then RIBA president, Jack Pringle, who was interested in promoting client-led projects. More than 100 architects turned up to the presentation, 21 of whom submitted proposals. These were then whittled down to four by a jury that included Croydon planner and AOC director, Vincent Lacovara, as well as school governor-architect Paul Scott. The four finalists were then paid £250 to put on an exhibition, to be interrogated by eager parents armed with Post-it notes.
"I didn't want the local authority to come and airlift in a building by one of their approved architects," says Godetz, all too aware of past mistakes. An existing nursery building from 1995 – "plonked on our school, without any client engagement" – was, she thinks, the reason so many staff suffered from depression and mental illness, taking long-term leave from work. "It was a sick building," she says.
But, however sick, it was a structure that had a reasonable amount of life left in it. The brief thus focused on retention, remodelling and extension of the existing building – a challenge that few architects rose to, instead preferring to dream up glistening new BSF-like structures on a razed site. One of the few who took on the messy complexities of the existing condition, and responded to it with thoughtful elegance, winning the unanimous approval of judges and parents, was Erect, a young office founded by Barbara Kaucky and Susanne Tutsch in 2003.
"Their proposals really celebrated what was already here," says Godetz. "They described it as 'a little village on the hillside,' a series of small, pitch-roofed rooms joined together across the site."
A bid for funding from the Primary Capital Programme was well-received, but ultimately money was in greater demand elsewhere in the borough to meet the pressure of school expansion, so plans had to be radically downscaled. In keeping with the current nature of school building – in which an urban-scale plan must be dreamt up in order to procure a blackboard rubber – what is built is thus a fragment of the original vision, and a downsized version at that. But that makes what now stands here all the more remarkable, especially given that it was achieved for £700,000 – £400,000 of which had to be spent on statutory service upgrades and complex groundworks.
After sleepy streets, you are woken by a lively cacophony of colliding pitches
Approaching the building from the bottom of the school's sloping drive, after weaving through an Identikit world of sleepy residential streets, you are at once woken up by its lively cacophony of colliding pitches. A row of tapering timber ribs projects out above the trees, tilted upwards to greet the valley and form a canopy over a deck, raised above the sloping ground. This framed woody structure is bookended at its southern extremity by a thin brick facade, expressed in stage set-like flatness with an irregular triple-gable profile and a random scatter of square windows. Walking up the slope, you follow this brick skin as it wraps around the building, only interrupted halfway along its length where the timber ribs re-emerge, signalling the entrance with a jaunty flap. If I were a toddler, I would already be bursting with excitement on approaching this strange house. It is a delightfully wayward concoction, half brick terrace, half tree house – at once familiar and wildly other.
Retaining the yellow-brick, pitched-roof nursery, Erect's process was one of hollowing out and keeping what was useful, conceiving the defunct cadaver as an armature off which to hang a new series of spaces. The 90sq m box is thus wrapped on its southern and western sides, its pitch taken as a cue to extend an imaginary rhythm across the site, the gable extruded to the south and repeated to form two parallel pitches on either side.
In plan, the building line is cranked out to provide an edge to the sloping driveway and create a more generous trapezoid space within. The timber deck, meanwhile, skirts along the building's eastern flank to meet a new undulating canopy to the north, tacked on to an existing metal frame. The structure is thereby wrapped in a skin of varying depth – a thick casing that becomes progressively eroded as it hems the building, revealing, in places, what lies beneath.
It is a decidedly eccentric composition, with some of the timber-framed madness of Alison and Peter Smithson's Hexenhaus, or the angular material collisions of Frank Gehry's early houses. Typical of this young practice's playful, yet grounded, approach, it is both utterly logical and considerably dreamy.
"We wanted to hug the existing nursery, but retain a sense of its presence both outside and in," says Barbara Kaucky. And so, as you enter the lobby, your first encounter is with the corner of the former structure, its yellow-brick wall cut open to form the counter of the reception desk by a witty incision. Glazed doors provide views through to the multipurpose room and the wooded valley beyond. This context is picked up in leaf-shaped transfers on the glazing, designed according to the different trees that surround the building: birch to one side, horse chestnut to another, and cherry to a third.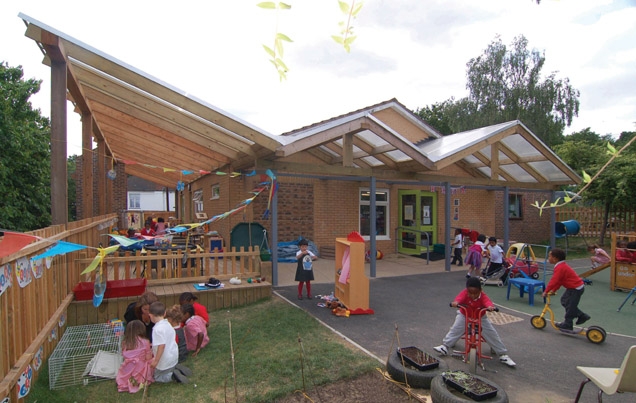 The tilting switchback soffit, painted with lime-green go-faster stripes, draws you past a meeting room and kitchenette into the main open-plan space: a tall, light-flooded room used for all manner of activities, from "stay and play" sessions to antenatal classes, currently filled with enthusiastically roaming toddlers. Full-height glazing leads on to the deck, framed by Y-shaped glulam columns that split to become sharply tapered rafters within, and extend to support the canopy outside. The far wall is lined with fitted cupboards in birch ply – a series of tower-like forms, progressively staggered down to a child-height sink.
To the left, a squarish space, defined by the former building line, can be partitioned off for different uses, its footprint extending out on to a broader part of the deck, "which has more the proportion of a room," says Kaucky. In this shared space, the suspended ceiling has been removed to reveal the carcass of the original timber roof trusses, their rough nail plates now covered with CNC-cut plywood joints, giving them a strangely animalistic appearance – like the rib cage of a flat-pack wooden model dinosaur. These spindly struts continue through a partition wall into a small baby playroom, soon to be equipped with multi-sensory gadgets – although, for now, the exposed rafters provide a perfect frame to hang more low-tech mobiles from.
The suspended ceiling has been removed to reveal the carcass of the original trusses
Next door, accessed from the other side of the lobby or through the movable partition wall, is the nursery classroom. Here, only half of the roof has been exposed (one of the budgetary concessions), but it is already festooned with streamers and alphabet bunting, lurid drapes top-lit by a new series of Velux roof lights. Again, bespoke birch ply fittings line the walls, including little pull-out shoe drawers beneath a recessed bench. Double doors open on to a playground, a simple affair ringed with a Tarmac track – which has proven popular for racing around in toy cars.
"The new building has had a huge effect on the children," a teacher tells me. "There is much more usable outdoor space than before, so they spend more time outside. It has actually helped different friendships develop too."
Throughout the project, there is evidence that the spaces have been crafted according to use and with an awareness of the social effects of certain design moves. There was lengthy consultation during the original masterplanning stage, and the architects even brought children on to the site during the fit-out, so they could "help" to set up the height of the furniture pieces. Although many extra elements – such as a series of play terraces stepping down the slope – have been held up by budget constraints, there are some tentative hints in the wider landscape. A curving wooden bridge that provides a magical new entrance to the infant school next door, weaving through trees over the boggy ground below, is one example.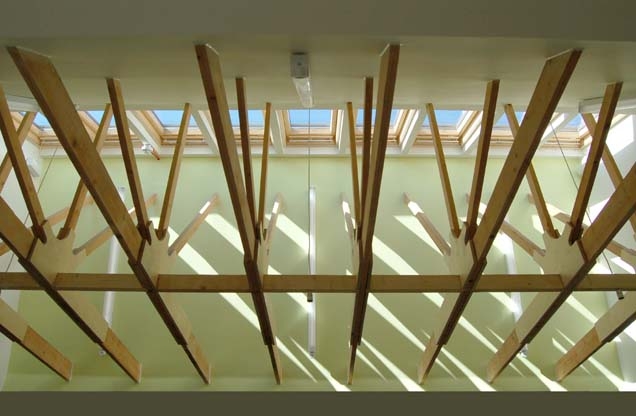 Back in the meeting room, Godetz and Kaucky attribute a large part of the success of the project to the all-female team – the client, architects and QS all being women, and mostly mothers too (they're still looking for a female builder). And while it may not be down to gender alone, it does seem as though this was more collaborative and less combative than many projects.
Godetz is already complaining that the building is too small – cuts having prompted a progressive squeezing of the design – but any other misgivings have been safely conquered, including the contentious choice of colours. "The lady who runs the breakfast club is a pink and purple person like me," she says. "But even she now agrees that green was right for the building." They have even bought a lime-coloured sofa to match.
The school is now under pressure from the council to expand from three-form to four-form entry. With the looming threat of six new portable buildings being airlifted on to the playing field, it faces the prosaic reality of catering to a vast increase in numbers that flies in the face of the careful masterplanning work already undertaken. But with this project, Godetz and Erect have together proven that there is a joyful alternative to this grey, flat-pack future, with a model of locally procured, client-driven and playfully pragmatic design.
Project team
Architect Erect Architecture, Client The Cypress Schools, Structural engineer Built Engineers, Project manager and quantity surveyor Huntley Cartwright, Services consultant Austen Associates, CDM co-ordinator WSS Consultants, Main contractor Hilife Construction
Suppliers
Bricks Ibstock, External windows and doors Sapa Building Systems, Canopies Brett Martin, Roofing Sarnafil, Flooring Forbo Flooring Systems, Sanitaryware Armitage Shanks
Postscript:
Pictures by Erect Architecture, Barbara Kaucky and Susanne Tutsch