Richard Murphy and RPP Architects have worked to provide a sociable environment designed to counter postgraduate isolation
A few years ago, I had a long conversation with one of the cleaners at an English university. She started her mornings in an undergraduate hall
of residence, followed by a few hours in the architecture department trying to keep the studios vaguely presentable.
We talked about her experience of that institution's shift from university-managed halls of residence to a private-sector partnership. A number of autonomous halls had been reconfigured into dormitory blocks around a centralised "village" of canteens and social spaces. Gone were the communal bars, canteens, lounges and TV rooms of the individual halls; students were now expected to walk across the leafy (and usually rain-soaked) lawns to use cashless smart cards to buy meals, with the effect that more and more students were skipping breakfast. Meanwhile, with no communal rooms in their own buildings, first-year undergraduates were hanging out in corridors, stairwells and lobbies.
One implication of this change in social patterns was that the repair bill was soaring.
Nonetheless, one only has to look at the profit margins to understand why there is growing private-sector interest in the management of student housing. Earlier this summer, the student accommodation provider Unite Group reported interim pre-tax profits of £33.5 million from a portfolio of 42,000 student rooms. Pile 'em high and rent 'em expensively.
The architectural manifestation of this bonanza has been an outbreak of thoughtless dormitory blocks, usually identifiable by facades that call on a palette of bright colours to disguise an absence of any considered design. Socially, the implications are worrying. They suggest a disregard for the vital experience of young people moving to university; a consumerist understanding of the human activities of sleeping, eating and working. There is little consideration for what are arguably the more important experiences of university, ie everything that happens in between.
Not in Belfast, however. It is a relief to discover a Russell Group university that has (so far) refused to let the private sector take over the provision
of its student accommodation. Queen's University Belfast (QUB) has, with the commission of Richard Murphy Architects in Edinburgh and RPP Architects in Belfast, recognised that the provision of sociable and high-quality university-managed postgraduate accommodation can be a key differentiator between academic institutions.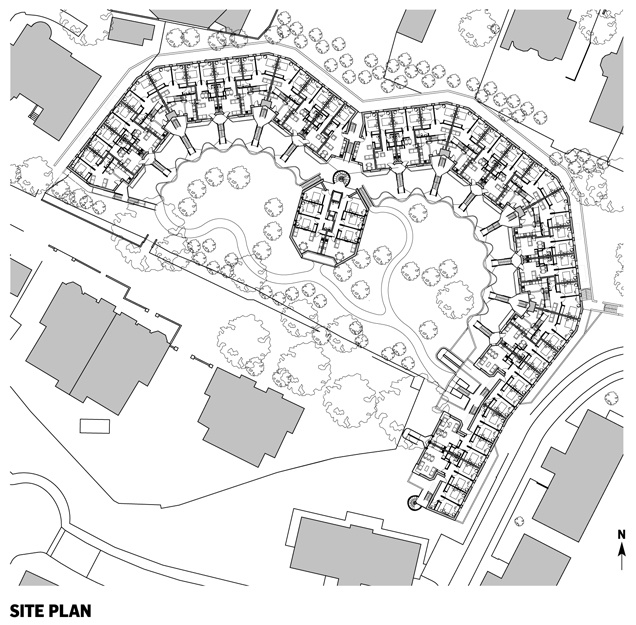 QUB maintains a large, if unremarkable, portfolio of student accommodation blocks in the Elms Village, a short walk from the university's campus. The southern corridor along the Malone Road between QUB's academic departments and the Elms Village is strangely unwelcoming. Substantial detached and semi-detached villas nestle behind tall hedges and brick walls.
There is a sharp contrast between the large owner-occupied private houses and those that have been subdivided, often cruelly, into flats. Away from the busier streets around the university, and without the café culture of the parallel Lisburn Road, there is little in the way of street life. While the Malone Road is a major artery for commuters, little enlivens it between the morning and evening rush hours. The only commercial activity within 10 minutes' walk of the Elms Village is a petrol station.
With many domestic students heading the short distances home at the weekend, and many postgraduates renting their accommodation for full calendar years, this can be a strangely isolating environment for a mature student. Given that many postgrads come to the UK from abroad, the scheme sought to counter the potential for isolation and, in Richard Murphy's own words, "engender a sense of sociability".

This conceptual approach has a number of implications for the master plan. The scheme is arranged in two parts: a peripheral block that snakes around the western, northern and eastern edge of the site, with a smaller pavilion block subdividing the thoughtfully landscaped gardens.
By this arrangement, the scheme encloses the gardens and attempts to distinguish the postgraduate accommodation from the neighbouring undergraduate blocks. Murphy recalls the architectural vocabulary of the east of Scotland, referring to the entrance to the complex — through a double height void in the eastern side of the courtyard — as a "pend". There is generous provision for bicycle and luggage storage, as well as a prominent common room.
The roofline provides an upper datum, with the building growing to six storeys as it wraps down the hill and over the pend. Access to the upper levels is provided by external staircases that "quarry" into the perimeter block, leading to shared balconies off which apartments are directly accessed. This eliminates the need for an internal spinal corridor, and recalls some of Murphy's earlier residential projects, such as the apartment schemes in Edinburgh's Dublin Street (1999) and Glasgow's Moore Street (2008).
The complex exceeded the capacity expected by QUB, providing more than 260 bed spaces in apartments ranging in size from from one-person studios to four-bedroom flats. Larger apartments occupy the deeper plan of the lower levels, while studios sit on the shallower upper levels. Ground-level apartments can quickly be adapted for disabled students.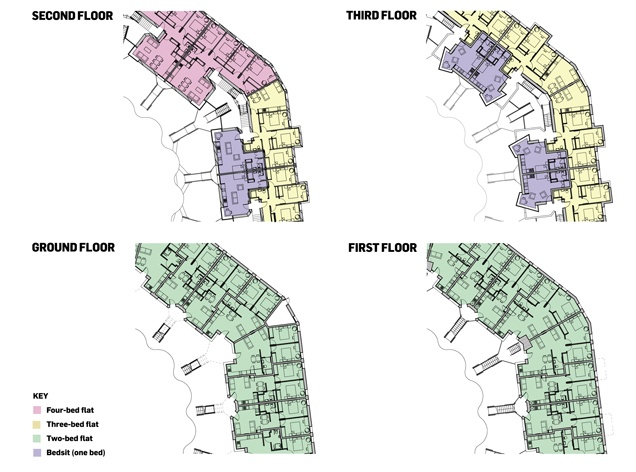 Of the two blocks, it is this smaller, central block that has the most satisfying aesthetic resolution. The stone banding and fenestration is comfortable, creating a firmness and balance that is somehow lacking in the larger block around the edge of the site. Perhaps it is the wilfully projecting corner windows, excessively pronounced eaves or overflying roof above the pend that cause this sense of discomfort. Nonetheless, it is a treat to find that the single beds of the studio apartments have been pushed out into those skewed double-aspect windows.
Given that postgraduate students at QUB will pay between £4,400 and £5,100 this academic year for a 51-week contract in these apartments, it is inevitable that attention has been paid to the standard of equipment and fixtures. It goes without saying that broadband internet is available throughout, but QUB has sought to further distinguish its housing with the inclusion of such luxuries as widescreen televisions and fitted kitchens that are (in their glossy finish at least) a step above the bargain-basement contract furnishings found in many student apartments.
Exploring the complex, certain concerns emerge. While it is clear that universal provision of en-suite bathrooms would be superfluous, it seems short-sighted for as many as four students in multiple occupancy to share just one bathroom, especially one without a separate toilet. And while the corner beds of the studio apartments are undeniably a treat, it's a shame that the focus of these apartments is the wall-mounted widescreen TV rather than the undersized desks.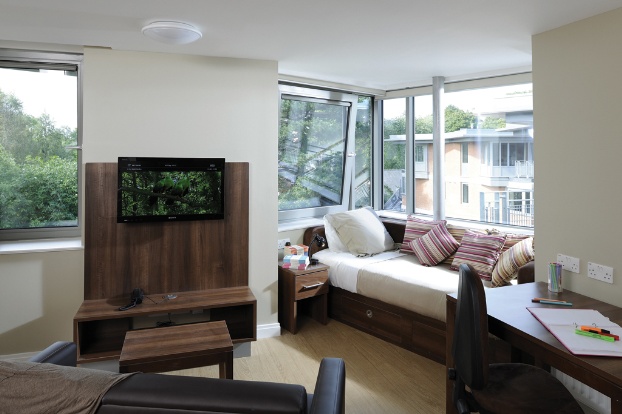 Source: Ivan Ewart
Contemporary student accommodation is a building typology distinguished by its near-universal mediocrity. It is unfair to praise a building simply for being less mediocre than the average.
It should be emphasised that Richard Murphy Architects and RPP Architects have worked together to deliver a sophisticated and well-resolved scheme. Despite being densely packed with accommodation, the arrangement of external spaces and staircases provides a reassuring sense of enclosure and orientation. Bumping into a neighbour on the staircase may indeed cement a new friendship, but a visit to their apartment will also reveal a different aspect of the scheme's design and outlook.
Can a building engender sociability among a diverse population of postgraduate students? Having visited it prior to first occupation, this reviewer must reserve judgement. I look forward, however, to the first opportunity to visit again and talk to those who always know best how a building is performing: its cleaners.
PROJECT TEAM
Architects Richard Murphy Architects and RPP Architects
Client Queen's University Belfast
Civil/structural engineer WDR & RT Taggart
M&E engineer Delap & Waller
Quantity surveyor Hood McGowan Kirk
CDM coordinator Faithful & Gould
Landscape consultant Park Hood
Breeam consultant Diligentia
Fire engineering consultant Jeremy Gardner Associates