Neil Spiller's inspiration: Gaudi's Sagrada Familia
Bartlett professor Neil Spiller explains how Gaudi's unfinished masterpiece has resonated with him through the different stages of his career
Inspiration Sagrada Familia
Architect Antoni Gaudi
Completion date Work began 1883 and is ongoing
Location Barcelona
Sagrada Familia has been an emblem throughout my career, corresponding with certain preoccupations I've had along the way.
When I visited Barcelona for the first time in the 1980s, the city seemed all so romantic and wonderful and my feelings for Sagrada have always been infused with the romance of it all. I saw all the Gaudis in one go, starting with Casa Mila with its rooftop chimney statues, then marvelled at the mosaics at Park Guell and the Music School, which, for me, has a faux Moroccan aesthetic. These other buildings paved the way for the Sagrada.
The Sagrada is a masterpiece of original architectural thought. Gaudi was such a long-term visionary. We don't think about buildings for long enough these days, but Sagrada Familia was pretty much his whole life for years.
Whenever I'm in Barcelona I try to go past it to refresh my memory. I've visited it half a dozen times now, and have just got back from taking 50 MArch Bartlett students to see it. It's very inspiring from a point of view of what can be achieved with individual talent and conviction. I think back to how limited technology was in Gaudi's day but how exiting and liberating his architecture was.
I'm concerned that we haven't explored the possibilities of building as much as we should have since then. Gaudi stands as the opposition to the building industry today, where we've commodified everything in architecture into a giant competitive sum.
Sagrada Familia is voluptuous – Dali described it as having an edible beauty. It's like a bastard child of the gothic and the baroque. I like that it takes the rules of gothic and distorts them almost to a point of no recognition. It's not set out in an ortho-gonally generated rhythm of grids and diagonals but instead is less dogmatic. It's very radical – there's just enough gothic in it to understand the doctrine of gothic cathedrals. I love the crazy roof-scapes, too. It gets you thinking about Corbusier's "fifth elevation" such as that at Unité d'Habitation.
Sagrada Familia struck a chord with me in the 1980s because it corresponded with me fighting my education, which had been all about neat white modernism. I was taught that decoration was evil and ornament was vile. There was no space in my education for other stories that might be mythic or narrative. When I saw Sagrada I liked how it was so incredibly wayward in its use of decoration, and how Gaudi was telling religious stories in narrative through the architecture. The more you withhold from students, the more they get infatuated with what you don't want them to have, and that's what happened to me.
It's like a giant grotto. I like the way that Sagrada Familia does crazy, surreal things. Some of the decoration is strangely kitsch, it looks a bit like 1960s Christmas decorations. I've always enjoyed surrealism, in particular Dali who was influenced by Gaudi. All Gaudi's columns are essentially biology in stone and I especially love the amazing column at Sagrada Familia that comes out of the back of a tortoise. Soon afterwards, the idea of representational columns became a theme for me beginning with a Column for Dorian Gray, then the Vitriolic Column and others subsequently.
My other preoccupation at this time was with the work of Cedric Price. At Sagrada there's all the scaffolding that is such a contrast with the melted gothic facade. It reminds me of what Price's proposed Fun Palace had – a rigid structure that allowed people to do all these different things happening inside. It isn't like for like, but for me, it does resonate with the Sagrada.
It would be nice if the Sagrada Familia was never finished but that the surface was continually embellished
Then in the 1990s came the great cyberspace thing, which for me connected to Gaudi again. I've always admired gothic architecture and seen it as four-dimensional caskets for the liturgy. It is after all a proliferation of iconic forms and shapes that evoke messages and instructions when accessed, much like the computer desktop.
Every surface of the Sagrada Familia is telling a story – there's the Nativity facade for example – and you navigate through it using a series of icons. Mark Burry and the contemporary Sagrada architectural team have had much success in determining the second order family of decoration that Gaudi developed for the building. These parametric aesthetics can be understood more easily using the computer. New elements for the building can then be made using computerised milling techniques, although for me, it lacks the honest toil and imagination of the stonemason.
As we go through into the next decade and consider the impact of technology on architecture, I see parallels with surrealism. Dali talked about the Sagrada Familia and art nouveau as ornamental savagery. He saw the gates at Park Guell as calf-liver gates. There's a whole mound of genealogy in terms of Gaudi that needs to be interpreted through the impact of new technologies on architecture.
This brings us to where we are now and my work on protocells, which I've been developing with Rachel Armstrong for nearly two years in collaboration with a team of chemists in Denmark. Throughout the ages, architects such as Gaudi have attempted to capture the essence of living systems as design inspiration. However, practitioners of the built environment have had to deal with a fundamental split between the artificial urban landscape and nature owing to a technological "gap" which means architects have been unable to make effective use of biological systems in urban environments. "Protocell architecture" shows for the first time that contemporary architects can create and construct architectures that are bottom up, synthetically biological, green and have no recourse to shallow biomimicry. Synthetic biology will have as much impact on architecture as cyberspace has had – probably more.
In a laboratory we've been creating bubbles by putting oil in water and then making them behave in the ways we want. They can be made to be chemotaxic (sensitive to chemical variations), phototaxic (sensitive to light) and shed their skins to develop precipitates. By means of chemical reactions they can be made to create fluid, coral-like accretions which may be able to fix carbon and stabilise existing structures. Important work will need to be done in the very near future in architecturally retrofitting older buildings with carbon ameliorisation technology. (Re Cant Systems as I call them). Protocell architecture has the potential to be the first generation of a wealth of new synthetic biological architectural materials.
We can develop technologies to grow a new insulation skin around buildings for either decoration or carbon catching. It does imply a fluid architecture that is personified by the Sagrada Familia – craggy, coral-like accretions that emerge from a fluid medium. In this way, the Sagrada Familia has become a talisman for the sort of architecture we could be able to make in the future.
The protocell work is a new alchemy. In our Future Venice project the idea is that protocells will make sediments in between the piles of Venice using phototaxicity and redistribute the load between the piles. They are biodegradable – our only fear is that the fish will eat them.
For my liking, it would be nice if the Sagrada Familia was never finished but that the surface was continually embellished – some of the new surfaces they are creating now seem unbelievably bare. You should only look at a building as a point in time – it's never finished, or as Price said, just the superficially complete might be finished.
People sometimes think I would never want to build anything, but I would. If anyone wanted me to design their own Sagrada Familia – at their expense of course – I'd be there.
Epic project that took over Gaudi's life
Antoni Gaudi took over the task of designing the new church of La Sagrada Familia in 1882 and continued on it until his death in 1926. Initially, Gaudi inherited a neo-gothic design but discarded this in favour of a more monumental one with a Latin cross ground plan and high towers.
In 1892 he began work on the foundations for the Nativity facade and finished the Apse facade in 1899. The Passion facade began in 1911 and the first, 100m-high bell tower of the Nativity facade was constructed in 1925 - the only one that Gaudi saw finished of the 18 planned. These symbolise Jesus, the Virgin, the four evangelists and the 12 apostles. The life of Jesus is represented on the facades.
By the end of his life, he had devoted himself exclusively to the project and was even living on site. He was run over by a tram outside the church, supposedly hit as he stepped back to get a better view of the building. His body was buried in the crypt.
Work progressed under the management of Gaudi's associate Domenec Sugranes until the outbreak of the Spanish Civil War in 1936 when revolutionaries set fire to the crypt and the temporary school buildings at the church designed by Gaudi, destroying some of his models. Work restarted after the war, with four more terminations of the bell towers completed in 1977.
The project is ongoing and is expected to continue for several decades to come. The current executive architect and researcher is Mark Burry. Since it began, the project has been expiatory – funded entirely by donations.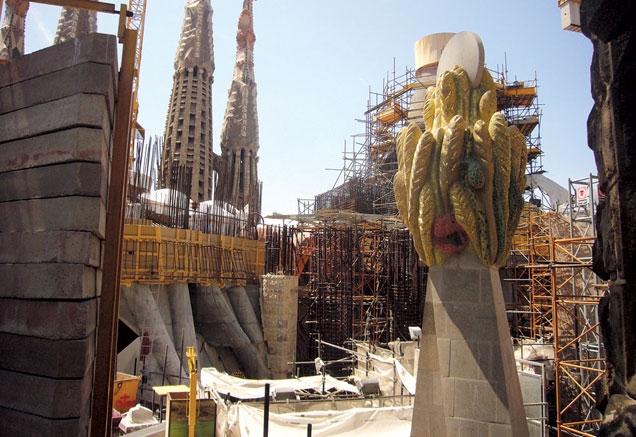 Neil Spiller, Bartlett professor of architecture and digital theory, was speaking to Pamela Buxton.