London 2012 Aquatics Centre by Zaha Hadid Architects
The smoothly undulating surface of Zaha Hadid's stingray-like Aquatics Centre belies its structural complexity. But does the last Olympic Venue to arrive at the party live up to its promise? BD's then architecture critic Oliver Wainwright went along to have a look.
The Aquatics Centre has a lot to live up to. It was the first Olympic venue to be designed, and it is the last to be completed. It is the second most expensive structure – having risen from an initial budget of £73 million to £269 million – by the most celebrated architect working on the site.
From the very beginning, it was hailed as the showpiece jewel, the "gateway to the games", the one thing we could rely on to sell our city under the glare of the global spotlight, even if everything else turned out looking a bit cheap. Getting Zaha Hadid, the queen of liquid drama and fluid form, to design an iconic swimming pool was surely a safe bet, regardless of the cost. But since then, things haven't really turned out as expected.
The Olympic Park, at large, is generally looking quite promising. The Hopkins-designed Velodrome has received universal plaudits for embodying the stripped-down efficiency of the bicycle itself. It is a lean essay in how architect and engineer can best work together, and is hotly tipped to win the Stirling Prize.
The main stadium is much better than feared, comprising a simple bowl and pared-back exoskeleton that makes it the lightest such venue ever conceived. Nord has built a majestic brick temple to electricity, and even Make has managed to come up with something that has its own restrained dignity, a brooding copper-clad box for the Handball Arena.
So what now for the long-awaited star trophy, the belle of the ball that has arrived late to her own party, where the other guests are threatening to upstage her?
"I think it's OK to have more than one good building on the site," says Zaha Hadid, in characteristic deadpan, when asked if she feels a sense of competition with the other venues. "It was not our intention to be the only beauty queen here."
Rising up from the banks of the river, the Aquatics Centre is a lithe, slippery form, a muscular grey fin that swells and ripples with sinuous energy along its length. Its low-lying shell buckles and writhes, flaring up into streamlined wings at either side, before diving down to meet the ground. It is a compelling creature, instantly nicknamed the stingray – a primal myliobatiform relative, dredged from the depths of the River Lea. Or, to be more accurate, this is what it will look like – some time in 2014.
For now, if this is a stingray, it is one held afloat by a hulking great pair of armbands. From the outside you would be forgiven for thinking that the building wasn't quite finished, or that they had forgotten to remove the site support works. At either side, two boxy wings climb 45m into the air and stretch 90m along the elevations. At 1,600 tonnes a piece, these are the temporary stands that provide an extra 15,000 seats, to be demounted and sold back to the supplier after the games, leaving a permanent "legacy venue" of 2,500 capacity. Trapped between these colossal wedges, the poor Aquatics Centre looks like an alien specimen, an otherworldly beauty clamped in a scaffolding vice, awaiting testing. There is more than a whiff of Area 51 about the curvaceous shimmering skin emerging from the sterile white PVC-clad enclosure, racks of seating erected to view the strange crash-landed beast.
Temporary structures always play a huge part in any Olympics, but never more so than London 2012. Heralded as the "flat-pack Olympics", it will see 250,000 temporary seats, 165,000sq m of tents and 2,500 cabins, as well as all manner of Smartie-shaped pods, ramps, fences and bridges. So much stuff, in fact, that it equals all the temporary works of the past three Olympic games combined. It is an Archigram dream, writ large.
All well and good – except that, here, the temporary seating wings are dressed up in a mannered costume of Zaha-lite. Their PVC skin has been scalloped and sculpted in 2D like a pair of French curves. It is as if someone has taken a simplified elevation of Eero Saarinen's TWA Terminal at JFK and projected it flat on the facade, cutting two holes for the entrances and big gestural sweeps for the wings. Next to such a refined, immaculately finished form, these sexed-up sheds look faintly ridiculous.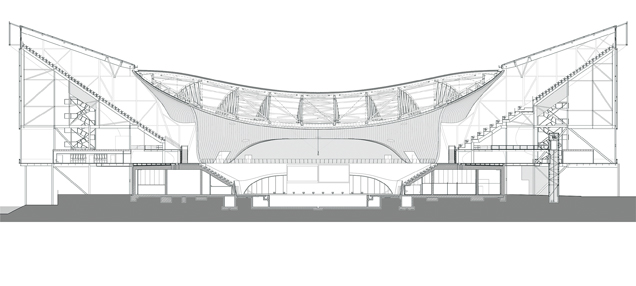 Source: Zaha Hadid Architects
It is difficult to tell at the moment quite how the Aquatics Centre will integrate into the broader melee of the Olympic Parkduring the two-week orgy of sport – what is termed "games mode" – but it seems as though its performance in legacy has been more of a priority. Conceived as an iconic gateway, the building is the first thing to greet you on arrival from Stratford City, where those on the six-minute Javelin train from St Pancras will be disgorged. Once escaped from the warrens of the Westfield shopping mall, you are brought across a vast land-bridge to the projecting nose of the structure – a dramatic 20m cantilever – to what looks like the main entrance.
Instead, this is an inaccessible back-of-house, reserved for International Olympic Committee VIPs. Those with tickets must continue across another 48m-wide bridge (to be reduced to 12m in legacy), along a circuitous route that takes in the contorted red entrails of Anish Kapoor's ArcelorMittal Orbit, before crossing back over a much narrower bridge to a concessions concourse, south of the building. From here, a double sweeping stair leads you up 7m, wrapping either side of the curvaceous tail, and into the wings – back to where you began.
"The masterplan came out of extensive crowd modelling," explains ODA project manager Ian Crockford. "So when events kick out, the crowds don't combine." Immediately to the north, David Morley's Water Polo Arena is gradually emerging – a temporary blue hangar with an inflatable roof – but there is a whole island to absorb people, separated by the City Mill and Waterworks rivers, between these pools and the main stadium. The tortuous entrance sequence seems to be a result of not-quite-joined-up thinking.
Once inside the building, the convoluted arrival is more than made up for. A single wave of silvery matter, the undulating canopy soars up from two points to the north, flexing its broad muscles above the main pool, before plunging to frame the diving pool, bounding up again and dipping back down to meet the ground at a single point – a clear span of 120m. Designed as a continuous skin, the soffit is lined with slender 2.5m-long strips of red louro timber, a Brazilian hardwood which has been stained grey to pre-empt uneven weathering inside and out – although the interior strips are actually 1mm veneer, laminated onto plywood, a brave choice for a ceiling subject to such humidity.

Source: Zaha Hadid Architects
The sinuous formal gymnastics of the roof belie the forest of conventional steelwork hidden within the cavity. Sandwiched between the thin timber soffit and the aluminium standing-seam cladding lies a matrix of trusses which extends to 12m deep in places, and weighs in at a staggering 3,000 tonnes.
"It is not particularly difficult," Hadid shrugs, with the nonchalance of an architect who takes such fiendish complexity in her stride – or at least finds engineers that do, in this case Arup. "There are infrastructural works with much bigger spans." Stuart Fraser from Balfour Beatty – the man who had to build it – agrees.
"We made small sub-sections on the ground – up to 35m in length – and raised them up to be bolted into place, piece by piece," he says.
"It was very straightforward."
Five pairs of fan trusses, mirrored down a central axis, are fixed to the two concrete cores to the north. At the southern end of the roof, they rest on a transverse truss which is supported on sliding spherical bearings that take up the movement. It is essentially a big, whale-shaped bridge.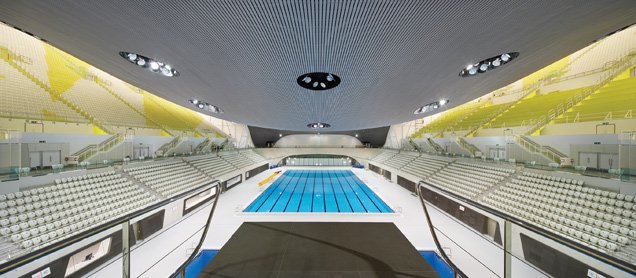 Source: Hufton and Crow
When challenged on why this approach was adopted – which uses more than 30 times the amount of steel than the Velodrome roof to cover a similar area – project architect Jim Heverin explains that other materials were investigated, but dismissed on grounds of programme. Concrete would have required too much formwork, while timber apparently involved a lot of steel fixings. He also reminds me that the Aquatics Centre has three times the capacity of the Velodrome, and had to be designed with completely clear-spanning sides for the plug-in temporary seating – which will be replaced with grand tilted windows in legacy mode. All fair points, but it still smacks of a practice for whom the seduction of form certainly trumps structural logic.
Regardless of its massive weight, the brawny roof seems to float effortlessly, only touching down in three points on the concrete bowl beneath. Again modelled in the mode of Saarinen, this massive plinth is carved with winding stairs and a large oculus which looks through to the underground warm-up pool beyond. This, for me, is the secret masterpiece of the building, an inner sanctum with a beautifully coffered concrete ceiling that dissolves from lozenges to linear ribs. It is a setting that should calm even the most fraught of nerves before a race.
Regardless of its weight, the brawny roof seems to float effortlessly
Proving that concrete is still what Hadid does best, the other triumph is the diving boards, thick tongues that arch out above the pool, supporting a processional zig-zag route of stairs. Each board was cast in-situ in self-compacting concrete around an 8-tonne rebar cage – whose members were up to three inches thick.
For all the extra expense and prolonged delays, circuitous access and embarrassing temporary crutches, the Aquatics Centre will be one of the best lasting legacies of the London Olympics – a beauty of the Queen Elizabeth Park, once she has grown out of her dental braces.
Originally designed in 2004 – before its client, the ODA, even existed – the building could no doubt have avoided some hiccups with more integrated planning. It is sited, for example, so that one of its three chief cores lands directly above one of the recently buried electrical cable tunnels, necessitating a vast concrete transfer structure.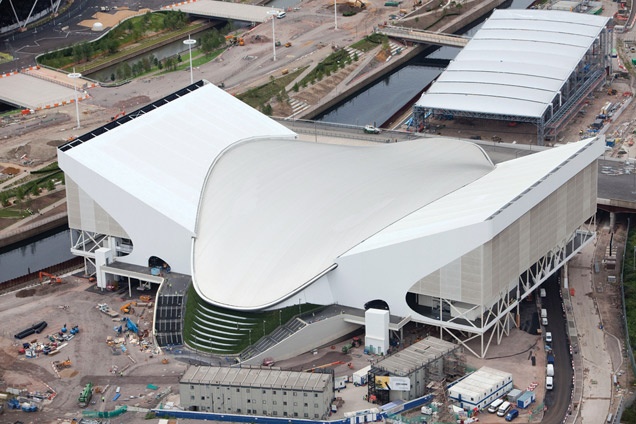 Source: Anthony Charlton/ODA
The question of the wings remains contentious. It has been argued that the venues are designed for a two-week event, and this is when they should look their best, to be beamed around the world to four billion viewers. And yet the wing-free option would have been a monumental folly: the roof was originally twice as long and twice as wide, enveloping both the temporary stands and the warm-up pool (which now lies hidden beneath the northern concourse). It would have become the Colossus of Stratford, and made a majestic ruin.
"We designed it as a compact pavilion in the park, to be fit for purpose as a new swimming pool for East London after the games," concludes Hadid. "This is no white elephant."
PROJECT TEAM
Architect Zaha Hadid Architects, Client Olympic Delivery Authority, Sports architect S&P Architects, Structural and services engineer Ove Arup & Partners, Fire safety Arup Fire, Acoustics Arup Acoustics, Facade engineer Robert-Jan Van Santen Associates, Lighting Arup Lighting
Postscript:
This article first appeared on August 10 2011