Adam Khan admires the timelessness and craft of Fernand Pouillon's La Tourette housing in Marseille- a model of relaxed urbanity in the post-war city
La Tourette & Vieux Port
Location Marseille, France
Architect Fernand Pouillon
Built 1948-53
Words like monumental may not appear promising when used to describe public housing, recalling Ricardo Bofill and suggesting the architect's ego imposed on an unchoosing public. But while the French architect Fernand Pouillon was quite explicit about trying to achieve the monumental, in work such as the La Tourette housing in Marseille this was translated into a very humane and dignified way of making city. He made public housing with a bit of swagger, demonstrating the opposite of the mean-spirited and minimum-necessary approach so prevalent in this type of project.
La Tourette is the work I think of now when I read Aldo Rossi. At the Rue Saint-Laurent a strong stone arcade is filled with garages and car repair shops. Broken vehicles and parts spill out of the arcade onto the pavement. The stone facing of the columns is chipped and dirty, with a concrete base. Time and wear are evident, but it is hard to place when this building is from. It has clearly been here some time and feels very solid, but as you look closely you begin to see a history of additions and changes. Locating a building in architectural history is only one specialised way of sensing a building. This building exudes a powerful air of permanence, but one that is highly nuanced. It is a sense of a piece of the city that endures, is almost ahistorical, having "always existed" but is gently accommodating of change and individual whim.
The arcade is a contemporary stoa, giving the cool shadow and stripy rhythm of shadows, with deep columns that, like a Cistercian abbey, occlude views out but privilege the sensation of light and depth. It contains the ordinary mess of the city — the useful bits that architects find so hard to accommodate well.
This building exudes an air of permanence, but it is one that is highly nuanced
Above the arcade a low block of housing forms a terrace, shifting back and forth to create a little tower at the entrance steps and a firmer full-stop tower at the end. The module is consistent but the rhythm of windows skips between wide and narrow. The garish awnings, bulging washing lines and plastic terrace furniture are all subsumed by the strong presence of the building — honey-coloured stone mostly flush jointed with simple cut reveals and rough messy pointing. A monumental presence heightened by string course mouldings of an ogee pattern.
This eclectic touch is repeated throughout. Entirely practical as a drip course, it gives a subtle sense of sedimentary build-up and is just enough to give depth and weight to the stone.
The control is exquisite and verges on abstraction.
In a subtle way the top floor is treated as an attic, changing tectonic from wall to post and beam. On an upper terrace a plastic greenhouse has filled in the massing. Clearly cheap and ageing rapidly, it finds its place comfortably in the overall picture. This is an architecture of time, able to cope with the wildly varying timescales that are the defining quality of good city.
Midway along the terrace a very wide stair leads up, big enough for children to play on.
At the far end of the terrace, where the 19th-century buildings survive, is a handsome tower. The stone and the mouldings continue but the openings widen, stretching the stone into a frame grid. There is still a lingering sense of wall, with the vertical and horizontal members too large to be merely a structural frame, the ogee string courses continuing at every floor, and the openings of a very considered proportion. As a tower, five bays wide and seven bays deep is a nice proportion, and the 16 storeys keeps everyone in contact with the city ground below.
The floors have an open loggia running round two faces of the tower (to the south-east and south-west, protected from the mistral wind but looking out over the harbour, the city and the sea). Many of these loggias have been filled in with plastic windows. When I visited last this was the exception — it was done unlawfully and the effect was a delightful play of individual improvisation choice within the strong frame of the tower.
With blinds at the external edge of the loggia, this makes for a captivating place, full of soft breezes — a fabulous response to this climate. Now the process of filling has been legalised and is becoming the norm. Last month I visited a friend on the 13th floor, who has just bought the place complete with in-filled loggia. I asked if he would ever reinstate the loggia and he laughed that this would be "a purism too far". I see his point, but am a little disappointed nonetheless.
He tried to recover the total mastery of the building process that he saw in the ancient architects
The flats' plans are simple and the vertical partition walls are flimsy. I can't determine whether this was an intended flexibility in plan, or just expedient. But to miss the fireworks of the Unité across town is really to miss the point. Pouillon's mastery of cost and building craft enabled the whole project to go ahead when previously stalled. On a very tight budget he made humane housing and city with a sense of generosity. Time pressure is often used as an excuse for the poor housing of the post-war period — but this Pouillon ridiculed, citing his own experience of delivering at speed.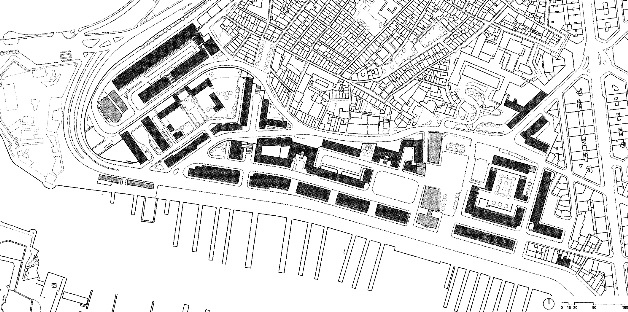 His motivation was deeper than expediency, it was the desire to define and become a truly modern architect, in a more fundamental way than style. Sensing presciently that the architect's power was slipping away, his fondness for medieval craft led him to try and recover the synthetic, total mastery of the building process that he saw in the ancient architects. This is a pertinent story for our time.
Pouillon's response was to integrate the engineering consultants into his own office, forge intimate links with suppliers, to buy materials direct and to take on more and more of the project management, to become contractor and even investor. It was a time of great opportunity and he was prepared to take risks. Ultimately this total integration of supply chain, or rather the temptation and pressures it offered up would lead to Pouillon's downfall and imprisonment (see box).
Here at the Vieux Port, the stone facing is a technique called pierre banchée (first tried by Frank Lloyd Wright but developed by Pouillon) using slabs of stone as permanent shuttering. This massively reduced the material and labour involved in the formwork, and used a local material that was being industrialised by the French government. The result is thrilling, and quite unlike conventional cladding, with a delicious tension between mass and surface lining. There is no expression of the lintel (as with ashlar) but equally none of the unstable and rootless feeling of a clipped-on facade system.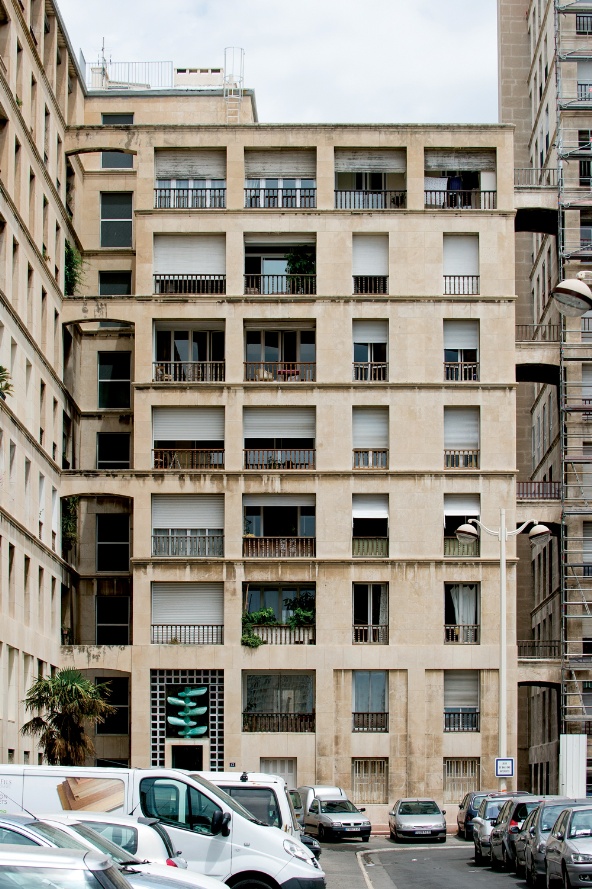 Source: Ed Tyler
At many scales the buildings form a frame for the city. A dark rough concrete goalpost knits together a little row of shops. The entrance doorway next door protrudes out in curved stone like a mouth. Things are set in relation and proportion to one another.
Walking around a little further, this sense of framing becomes apparent on the scale of the whole quarter. The Old Port, the historic centre of Marseille of mainly working-class housing, was extensively destroyed in the second world war and the reconstruction project begun soon after.
Pouillon designed many of the buildings, but an informal process emerged among the small group of architects involved. A masterplan was drawn up by the city architect. This was sensible but bland. Pouillon enjoyed the patronage of Auguste Perret, who held ultimate power over the project, and with Perret's blessing was therefore able to adjust the masterplan: tweaking heights, positions and issuing sketches to other architects involved. A stair was widened, making it into a place, a small block was rotated a little and made taller, opening up the pavement and creating a little tower as a figure in the city, a really fine adjustment of back and foreground.
A montage sketch shows Pouillon testing the height of the tallest tower as seen across the bay. This is accomplished spatial composition, using topography, found condition and techniques of the picturesque to create a calm and lively backdrop for city life.
I find this an intriguing process. Our teaching research this year has looked at good tricks for masterplanning, finding historical precedents that are more radical and useful than the slim range of practice seen today. While it is now accepted that cities need background buildings rather than competing iconic set pieces, the quality of that background is less considered.
The long, deep arcade down at harbour level was another adjustment won by Pouillon, who used his clout and connections to win this generous and comfortable space for the city.
At the communal entrances, voluptuous ceramic sculptures sit within a glazed over-scaled doorway. At key moments, a column of balconies made from oar-shaped timbers form little tower-like accents. A large trellis screen forms a set of loggias to the apartments, and the balustrades are varied slightly across the blocks. Learning from Maghrebian architecture and working closely with artists, this eclectic use of ornament and variation could be kitsch but is here well judged, a clever use of resources to provide the "unity without uniformity" that can be seen at all scales across the quarter.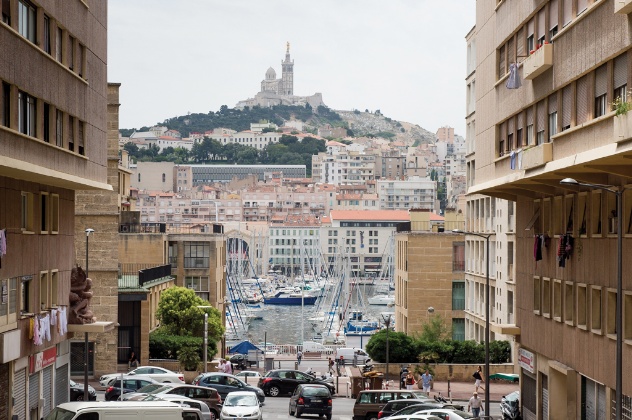 Source: Ed Tyler
The monumental is here but is not nostalgic or egocentric. Compare, for example, the arch building behind the Hotel de Ville — a pompous set piece whose rigid symmetry and collection of beaux arts/deco clichés seems like the dead hand of power. By contrast Pouillon's are a model of relaxed urbanity; generous, strong and accommodating.
Style, signs and symbols, whether half-timbered, modernist or Doric, are often used to effect a shortcut to an architecture of time. But in these buildings time is used as a structuring and compositional basis for the city. Underpinned by a carefully cultivated sense of permanence and materiality, founded on superb economy and craft, this rinses away the issue of style altogether.
Pouillon: From port to pardon
La Tourette was an early high point in the colourful life and career of Fernand Pouillon (1912-86).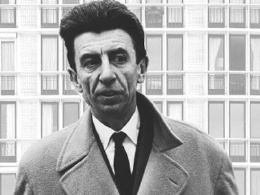 Pouillon had already built extensively in the 1930s in Marseille and Aix-en-Provence, but made his name with the reconstruction of the old port area of Marseille, which had been razed during the second world war. Determined to bring high quality to the much-needed, fast-track public housing of the time, he built more than 200 apartments as part of La Tourette, including a 21-storey tower block, all achieved on a low budget with the help of organisa-tional and technical innovations.
He worked on further low-cost housing in Algeria and Iran before ending up in jail for his role as contractor on a housing project on the outskirts of Paris in 1961.
He escaped from jail and was eventually acquitted of the original crime but jailed again for escaping. While in prison, he wrote Les Pierres Sauvages (The Savage Stones) about the construc-tion of the Abbey of Thoronet by Bernard de Clairvaux.
After his release he worked extensively in Algeria, designing more than 30 hotels between 1964-84. He was pardoned in 1971 by Georges Pompidou and returned to France in 1972 to live at the Château de Belcastel, which he restored with the help of a team of Algerian craftsmen.