James Benedict Brown visits two domestic projects on the Isle of Skye by Dualchas Architects that are part of an increasingly sophisticated rural portfolio
There's a polytunnel over there," says Mary Arnold-Forster of Dualchas Architects, pointing out of the car. "That's possibly the only Isle of Skye vernacular that we haven't responded to in some way."
Arnold-Forster is taking me on a Dualchas-themed road trip across Skye. We started in driving rain at the Shed (completed 2006), a private house in Sleat overlooking the Cuillin Hills and (on a day clearer than this) the distant silhouette of Canna. During the 90-minute drive north-west towards Duirinish, we've been watching the clouds roll away at breakneck speed to reveal a perfectly blue sky. A faint whistle emanates from above my head from the specialist roof rack on which Arnold-Forster carries her sea kayak. During the summer months, she has been known to kayak to some of her remoter clients, including the 30-strong Isle of Muck community for whom Dualchas has designed a new community hall which opened in May.
Dualchas Architects was founded in 1996 by brothers Neil and Alasdair Stephen. Arnold-Forster joined the practice in 1999. Working alongside a small team in Dualchas' Skye and Glasgow offices, their projects are located across Scotland, from Caithness in the far north to Muck in the Small Isles.
Driving through a brusque landscape of heather, stone and grass, distant dots of white grow in scale to become crofts. Alongside them, bright splotches of colour grow into mankind's decoration of this landscape: a little blue garden shed with a Plot For Sale sign, a disused burger van, a dead car pushed to the edge of a field and absorbed by rust and weeds.
"That thing about an architecture of place is fascinating, especially in this weird place," Arnold-Forster explains.
Approaching the tip of the Duirinish peninsula, almost where the single-track road peters out, on the edge of the diffuse township of Borreraig, we round an outcrop of rock and heather and discover the highlight of this trip.
The house at Borreraig is one of Dualchas' most striking domestic projects. It is a luxurious two-bedroom private home for a couple. Two larch-clad "sheds" slide past each other, surrounded by a dry stone wall that grips the house and a small outhouse tight to the ground. Horizontally hung larch continues over the sliding storm shutters, which can single-handedly be rolled across the windows.
A dichotomy between Skye's vernaculars old and new begins to resolve with Dualchas' shutters
The traditional Hebridean blackhouse shows barely any "face" to the world. Only the smallest of deep-set windows provide a bare minimum of daylight to occupants who had no particular desire to look out upon the rain-soaked and wind-swept landscape from which they made their living. But in the 20th century, the economy of the island changed and so did the vernacular. Whitewashed bungalows present the most gormless of facades, with vast expanses of triple glazed plate glass to bring as much of the landscape in to these centrally heated homes. A dichotomy between Skye's vernaculars old and new begins to resolve itself with Dualchas' storm shutters. Occupants get the super-insulated floor to ceiling Hebridean skyscape, but they also get to feel the wind and rain on their neck when they run outside to pull the shutters against an approaching Atlantic storm.
The house faces east, with sliding windows opening from the voluminous living room and kitchen on to a deck. A small area of wetland has been reclaimed below the house, creating a kind of Hebridean infinity pool that appears to bring Dunvegan sea loch right up the hill to the house. With every gust of the westerly wind over Ben Skriaig behind the house, the surface of the pool skims and rushes.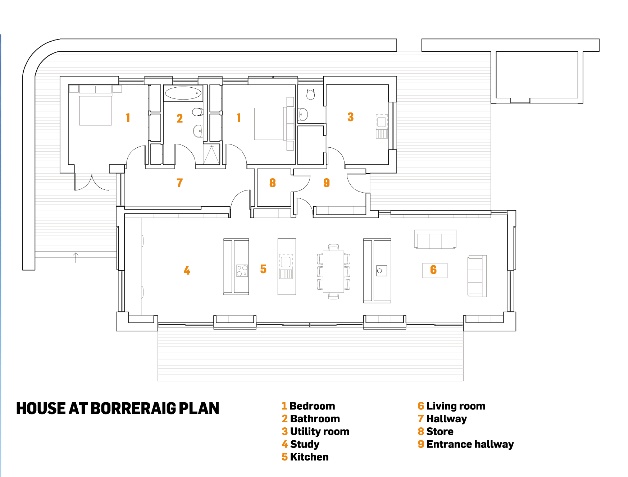 The flat-roofed slice connects the two wings of the house, ending with a square wall of glass. Bedrooms and bathrooms nestle here in the smaller of the two wings, the master bedroom sneaking a sheltered peek out from behind its larger brother.
An exacting degree of attention has been paid to the interior detail: broad panels of fire-resistant oak-faced ply line the rooms, their joints aligning perfectly with those on the floor. While the beautiful silvery texture of the larch cladding immediately grabs your attention, Arnold-Forster is most satisfied with the resolution of the building's edges.
"Neil has excelled himself with this" she says, pointing out the corrugated aluminium roof that is framed by thin seams of flashing, draining into concealed gutters and downpipes.
This one-material palette with tightly detailed edges is immediately reminiscent of the larger and RIBA Award-winning Isle of Raasay Community Centre, completed in 2007.
"We have a rule in the office of limiting ourselves to two materials per space, and occasionally being tempted by three," she says. "That said, I've still got a thing for one-material buildings."
Reflecting on this reticence towards decoration, Arnold-Foster compares Dualchas' recent work to that of fellow Skye-based architect Rural Design: "They seem to moving towards a certain complexity, while we're moving towards a kind of simplicity."
Rural Design's recent social housing development in the Highland community of Plockton might be a case in point: collaged in stone, render, timber and slate and seeming positively eclectic compared to Dualchas' recent portfolio. Arnold-Forster explains that while Dualchas has developed a certain language, its recent work is different. This is perhaps a realisation of the challenge "when an architect strives to make a mark on the landscape".
"If you claim to be anti-ego you have to follow it through. It's much harder to be quiet than to make a statement."
The house at Borreraig may be anti-ego, but it is still a striking mark on the landscape. An hour or two to the east, across the Skye bridge towards Inverness, sits another recent project by Dualchas that is so anti-ego that it prompted architectural photographer Andrew Lee to describe it as "architecture by stealth".
Kirk House church
Located on the edge of the village of Garve, but hemmed in by the busy road to Ullapool and the railway to Kyle of Lochalsh, is Dualchas' recently converted Kirk House. A deconsecrated Church of Scotland church, it is sheltered by trees that offer occasional glimpses of the Black Water river in the broad valley below.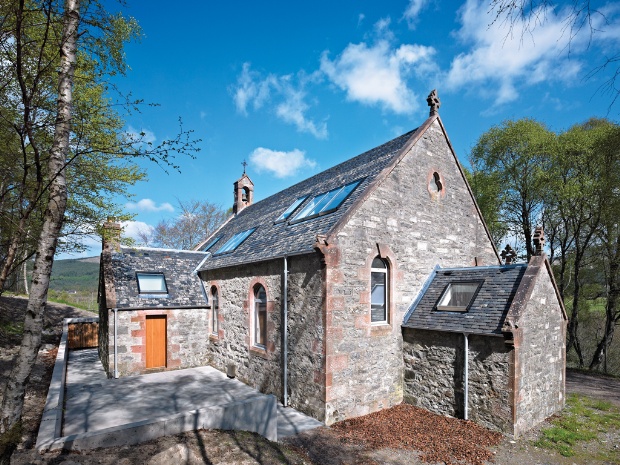 Source: Andrew Lee
For the passing motorist or train passenger, it is unremarkable: a red sandstone church dating from 1899, rendered surplus to the requirements of a small village by its shrinking population. The sandstone is in good condition, and the only additions are galvanised gutters and a smooth concrete bin store to the side. From the road, apart from a glimpse of a new oak front door and the sunlight catching on new rooflights, there is no indication that a home has been inserted into this building.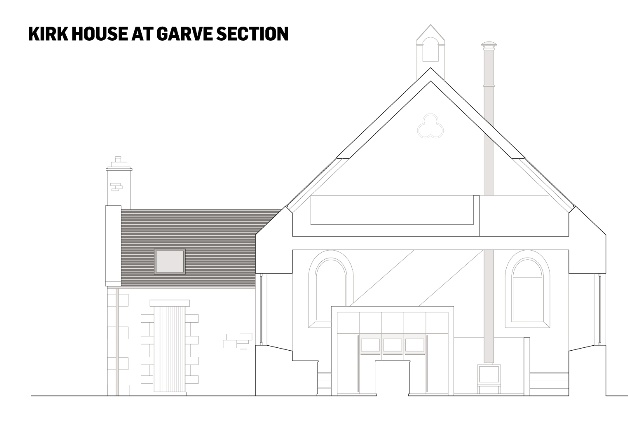 The success of any church conversion is, of course, dependent on the interior. It's one thing to be able to develop a language of domestic modernity on the creeping landscapes of a Hebridean island, quite another to shoehorn a home into the outsized form of a church hall.
'If you claim to be anti-ego you have to follow through. It's much harder to be quiet than to make a statement'
From outside, that no windows have been visibly sliced in half by an inserted floor plate bodes well. One enters the house through a large kitchen and dining area, warmed by a wood burning stove framed in a polished concrete alcove. Having explored various floor height configurations, a mezzanine living space and master bedroom has been placed above the line of the principal nave windows. Expansive rooflights fill the upper level with daylight, affording views across the valley dappled by an adjacent row of trees.
There is — quite unlike the house at Borreraig — almost nothing to see here. It is a masterclass in converting a former place of worship into a home. Aside from the stone floor of the kitchen, the rich timber floor elsewhere, and the bright palette of the occupants' possessions, all is purity and whiteness, discreetly but thoughtfully lit. This thoughtfulness reveals itself only occasionally, such as in the gap — more a pause for breath — between the stairs and the mezzanine balustrade.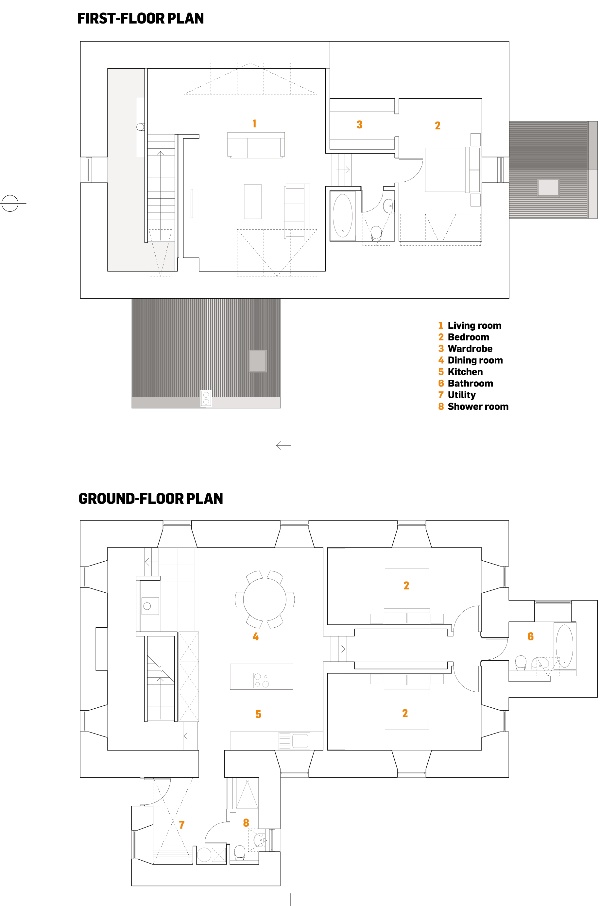 After two days crisscrossing Skye, one becomes attuned to identifying Dualchas houses as they appear on the horizon: their extended-shed profile, the palette of larch or white render. But just when one thinks a Dualchas "house-style" is becoming apparent, the refined sharpness of the Borreraig house and the subtle sophistication of the Garve Kirk House conversion add new dimensions to this remote practice's work.
To make beautiful architecture in remote Scottish highlands and islands is one thing, but turning this into a viable practice seems unlikely. I'm still intrigued to know how Dualchas Architects has managed not only to survive, but also to flourish, quietly working away at a succession of increasingly refined domestic and community projects in this remote corner of the British Isles.
Standing on the deck of the house at Borreraig on a warm summer's day, looking out over the Mediterranean hues of Dunvegan sea loch, feels like heaven on earth. But with long, dark winters and hundreds of miles between site visits and client meetings, the reality of practising architecture here seems quite improbable. A few weeks before we meet, for instance, Arnold-Forster had to spend two nights and three days away from the office for a site meeting on Colonsay that lasted little more than
an hour.
"But at least we managed to pick up a few jobs while I was there," she remarks.
PROJECT TEAMS
House at Borreraig
Architect
Dualchas Architects
Structural engineer
Alexander Scott
Contractor
Donald Mackenzie
Kirk house, Garve
Architect
Dualchas Architects
Structural engineer
Cruden Associates
Services engineer
Fusion
Contractor
Gordon Simpson