Woolf breaks ground in Nairobi
Jonathan Woolf Architects has revealed designs for a 1,300sq m private house in Nairobi, Kenya.
Located on a forested ridge overlooking a steep valley, the project comprises three square forms nestled into the hillside and arranged around a courtyard garden. Two of the wings will house a family of five – the lower element for sleeping, the middle for living – while the upper wing, a single-storey bungalow, is designed for grandparents.
Entered through the courtyard garden, which leads directly to the living room, the central wing is set out in the spirit of a covered veranda.
A kitchen and a family room open to a back garden, which is shared with the grandparents' house, while a corridor leads to the two-storey bedroom wing, with guest rooms below.

Walls are built in a locally found, dense volcanic stone, hand-tooled into small blocks and rendered in rustic, textured plaster within, while a sweeping concrete-framed roof, clad with tiles in the same stone, covers the forms with a continuous sweeping lid. An irregular series of chimneys brings light into the deep plan and provides a means of cross-ventilation through hand-operated timber flaps.
"We wanted to avoid the convention of a stacked house, which separates the floors too much," explained Jonathan Woolf.
"We have tried to spread the building out on the land so it presents a low profile and seems relatively humble from the outside."
The project has just started on site and is expected to complete within 18 months.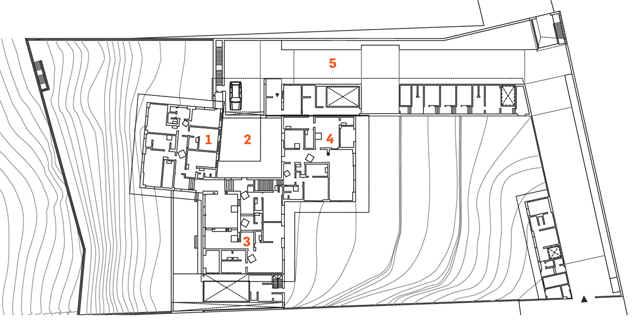 1 Bedrooms
2 Garden courtyard
3 Living area
4 Grandparents' wing
5 Access road