The zero-carbon, £2.2m Lekki beach house, just east of Lagos, is cooled by ocean water
Studio Seilern Architects has unveiled designs for a $3.5 million (£2.2 million) private holiday home on the remote beaches of Lekki, just east of Lagos in Nigeria.
The 1,500sq m project aims to be zero-carbon, using ocean water for cooling, as well as harnessing solar and wind technologies to provide self-sustaining power to the house. The inventive roof design plays an integral part in this strategy.
Arched like a bow and arrow, a 65 x 30m floating roof composed of timber lamellas provides shading to the house and terrace while also allowing visibility of the sky. Cables and timber trusses have been attached to the floating lamellas to support the structure, achieving a column-free area below.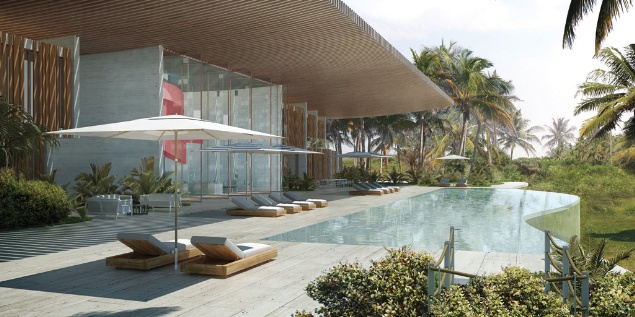 The roof covers a central core of the living area, bar, winery and kitchen while two side wings contain the bedrooms, TV room and gym. The building sits on a raised platform, providing long views of the sea. From the platform, stairs that give access to the house during the daytime can be lifted at night like drawbridges for security.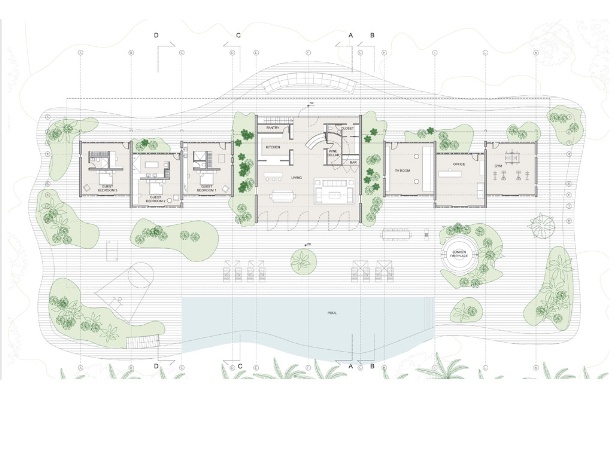 In plan, the building's curved form responds to the natural habitat, echoing the swaying palms, wild vegetation and ocean waves. Transparent volumes further facilitate the feelings of living in nature and are punctuated by floor-to-ceiling louvres that provide additional privacy and shading.
A grand spiral staircase provides a focal point in the heart of the residence, connecting the double-height living space to the first floor and roof, while outside the infinity pool visually connects the building to the sea.