First Look: Feilden Fowles' school centre puts focus on all-round learning
Feilden Fowles has revealed images of its Applied Learning Centre for the Ralph Allen School in Bath.
Developed in collaboration with Feilden Clegg Bradley, this is the first element of a broader masterplan produced by Feilden Fowles, which will also see its design for an applied arts block added to the campus.
The two-storey Applied Learning Centre focuses on science — the foundation school's specialist subject — comprising four classrooms, arranged in adjoining pairs around a double-height "hub" breakout space.
"It is designed as a porous 'building in the round,' with teaching spaces leading out on to the landscape," said practice co-partner Fergus Feilden, who is an alumnus of the school.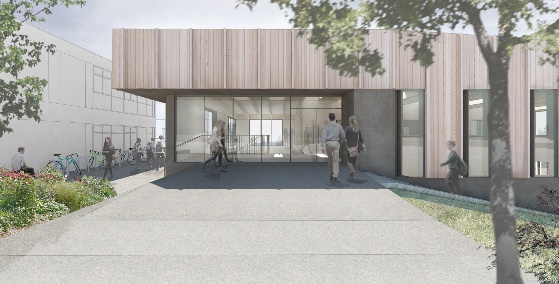 "The series of open, flexible spaces are designed around more of a university style of independent learning than the traditional school model."
Constructed in cross-laminated timber, the building is partly embedded in the landscape, accessed by ramps leading up to the first floor gallery level. A hung larch facade marches across the elevations with a strong vertical rhythm, giving way to dark-stained precast concrete panels at the lower level, which are also used elsewhere to express deep cuts in the building envelope.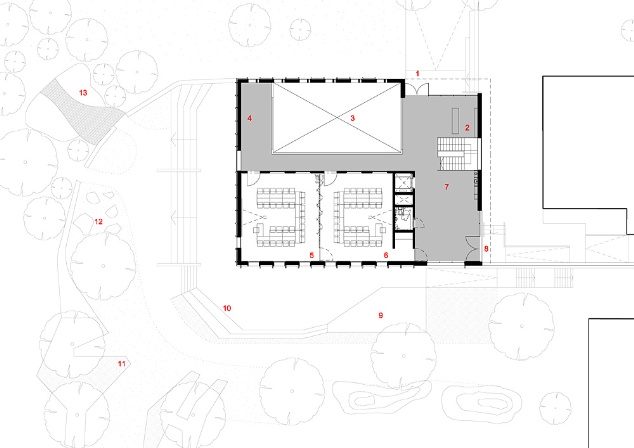 Source: Feilden Fowles
1 Community entrance; 2 Foyer; 3 Hub; 4 Study zone; 5 Classroom; 6 Classroom; 7 Student cafe; 8 Student entrance; 9 Pond; 10 Outdoor classroom; 11 Sensory garden; 12 Geological garden; 13 Biodiversity pond
The project employs a simple, earthy palette of materials, including polished limecrete floors, using limestone excavated from the site, as well as rammed earth in places.
The £1.75 million building — the largest project to date for the young office — has just been submitted for planning, and is expected to start on site in March next year, with a nine-month build.