First Look: A2 Architects' Irish arts centre takes its cue from the landscape
A2 Architects has revealed images of its design for a new community arts centre in Tullamore, the county town of Offaly in Ireland.
The result of a two-stage international competition, which A2 won in July, the £3 million building will house a 250-seat theatre, an art gallery and several flexible arts rooms — to be used for anything from poetry workshops to painting and performance — as well as a 50-seat café.
The project is situated in the centre of town on a low-lying site next to a canal — which set up the linear geometry of the building.
"We wanted to introduce a form that would give this loose, back-land site some structure," said A2 director Peter Carroll. The building is arranged within a 48x48m square envelope, with primary rooms pushed to the perimeter. These frame a generous open foyer space in the centre, lit by a large oculus roof light.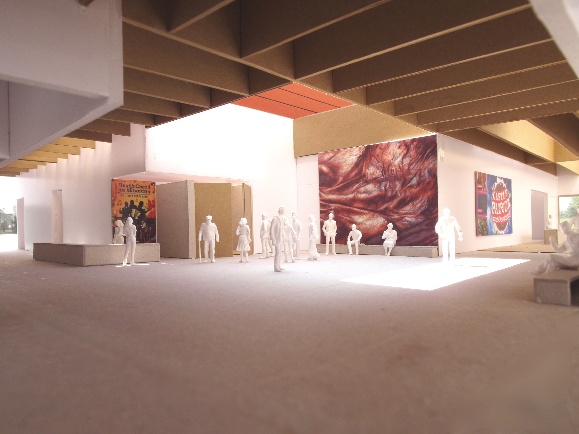 Inspired by Sverre Fehn's Norwegian pavilion in the Venice Giardini, the roof is composed of deep intersecting beams of cross-laminated timber, resting on the concrete walls of the primary rooms.
The four external facades respond to the surrounding landscape, clad in a ribbon of corten steel that echoes the deep-red, iron-ore bog of the region. A set of large retractable doors behind the stage allow performances to face out to the adjacent Kilbride Park, where stratified landscaping provides audience seating.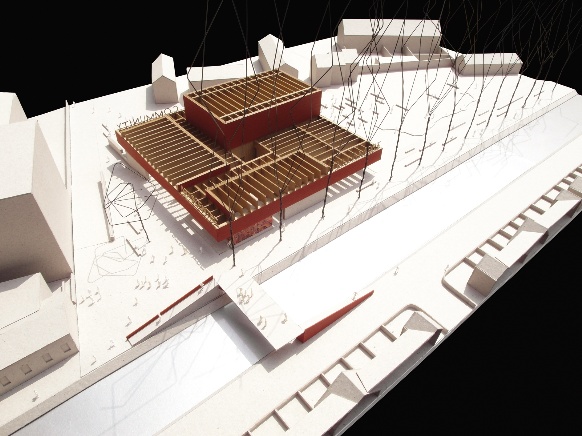 The project is being submitted for detailed planning in January and is expected to start on site in summer 2012.