Ellis Miller's campus for Catmose College
Jonathan Ellis-Miller's modular school pays tribute to the hi-tech era while presaging the dawn of a joyless flatpack future
It should come as no surprise that Michael Gove has few friends among architects. Since taking to the stage as education secretary, he has happily assumed the role of pantomime villain, launching a barrage of scathing attacks against the profession – from accusations of "creaming off cash" to decreeing that "award-winning architects" must never design schools again.
His latest ruse, the James Review – led by the head of Dixons, with Tesco's director of property services on the panel – will soon report on a plan for flatpack educational buildings, airlifted in from above, against all the tenets of the government's localism agenda. Gove's vision of the future is one of cheap, mass-produced factory learning farms, assembled by numbers, in which the profligate whims of the architect will finally be outlawed, once and for all.
How strange, then, that Jonathan Ellis-Miller – a man whose practice was crushed from 15-strong down to four by Gove's ruthless abolition of the Building Schools for the Future programme – seems positively gleeful. "I never subscribed to the notion that every school should be utterly different," he says. "Why should you redesign a classroom 500 times?"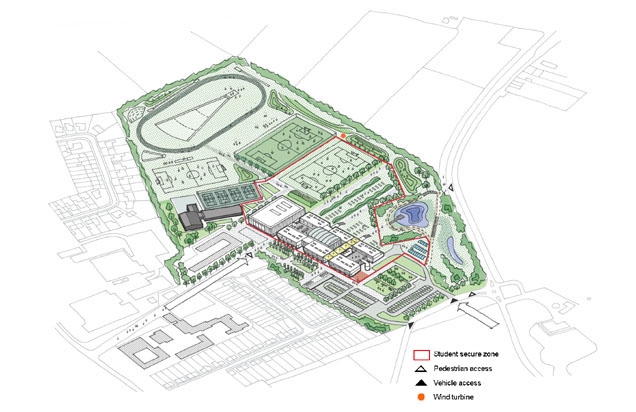 The reason for his optimism comes from a new business venture, a canny response to the latest diktat. At last month's BSEC school buildings conference, his practice launched Öppen, an adaptable modular system developed with fellow practice Stubbs Rich, through which schools can be built for a frighteningly meagre £500 per sq m, shell and core. Presented with the jaunty Swedish title and diagrammatic visuals of an Ikea wardrobe, the system is based on the same grids and components used to build out-of-town office park sheds. It was music to the ears of Govist developers.
"Think of it like choosing a car," says Ellis-Miller, from behind the wheel of his white BMW, his sales pitch down to a tee. "The shell is standardised, but you get to choose the trim and gadgets. You can bespoke-design schools in similar, clip-on ways." He goes on to explain how his philosophy of architecture is like product design: cars are good, because time is spent in research and development, unlike so much of the time that architects waste reinventing the wheel. These are the proselytising tones of the coalition government, spoken with the self-assured confidence of a Top Gear presenter.
We are driving to visit the future of school design, Ellis-Miller's recently unveiled £23 million Catmose College campus in Oakham, the county town of Rutland. The smallest unitary authority in mainland England, its sign sports the Latin motto "Multum in Parvo" – much in little – perhaps an omen of things to come, followed soon after by a sign welcoming us to Oakham, "Britain in Bloom 2009 Finalist". Winding lanes lead to a market square, complete with medieval buttercross, cobbles and wooden stocks. This is the very middle of middle England itself.
Sited on the north-western edge of the town, gleaming in the sun between suburban nests and rolling fields beyond, the Catmose Campus is a stark new arrival. At 11,500sq m, and comprising a 900-pupil secondary school, a Sure Start centre, an adult Learning Disabilities Resource Centre and a new eight-court indoor sports building, as well as extensive outdoor pitches, the Catmose Campus is the biggest undertaking the town has seen for some time – "the second biggest thing in Rutland, after the reservoir," jokes Ellis-Miller. And it is by far the biggest project the practice has ever built – its previous most substantial being a £400,000 headquarters for the Women's Institute in Cambridgeshire, completed in 2005, following a series of small domestic projects.
First impressions of Catmose Campus seem more prefab airport terminal than local school
Since then, Ellis-Miller has become something of a guru of school design, despite having never built one himself. Working as a Cabe enabler from the quango's inception, he was stationed in the £2.4 billion Birmingham BSF programme, a situation he describes as "car crash city", before progressive educationalist Sylvia McNamara became director. With the help of handsomely paid client design advisers, McNamara developed an "inside-out" approach based on flexible, non-traditional learning spaces that could cater to her vision of a truly personalised curriculum. Ellis-Miller was involved in reviewing schemes, as well as organising "blue sky charettes", in which many London practices were invited to brainstorm – and received commissions as a result. The design review of countless schools over the years clearly provided useful fodder during the development of Catmose. "It's the best way to learn," he says, "from other people's mistakes." After years of "enabling" others, designing a school must seem easy; but how does the adviser fare when he actually has to do it himself?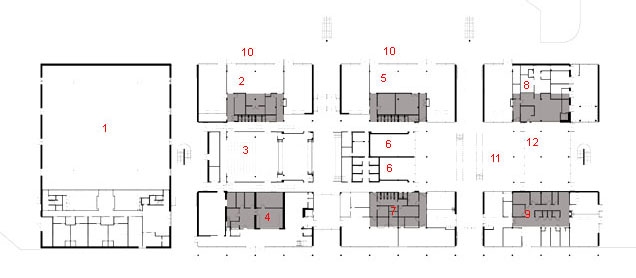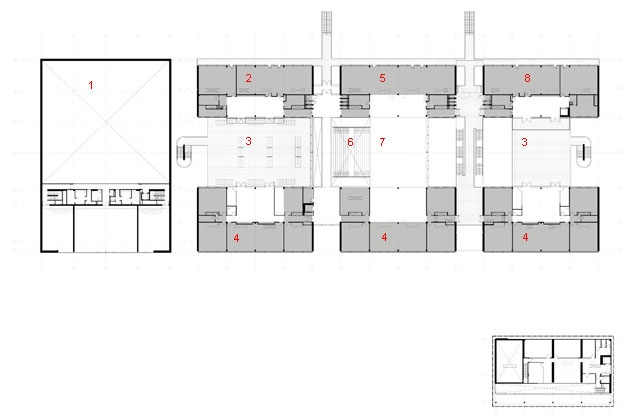 First impressions of the Catmose Campus – a row of aluminium-clad boxes supported on marching concrete columns – seem more prefab airport terminal than local school. As a low-rise linear container, set in neatly landscaped surrounds of turf and tarmac, it has the anonymous composition of a peripheral business park. But it soon becomes clear why.
The development has been conceived as a modular campus, comprising a repetitive grid of three pairs of pavilion buildings, aligned east-west, terminating in a larger Rodeca-clad volume that extends the depth of the grid, housing the sports centre. Classrooms are arranged around the perimeter of each pavilion, while the central spine accommodates communal resource areas and social spaces, the whole thing linked by a matrix of circulation routes and courtyards. In section, the ground floor rises to a generous 5m (although some mean mezzanine floors have been forced in places) while the upper level is articulated as a separate 3m volume, offset to the south where it provides a covered colonnade, and recessed to the north to form an external walkway. Two north-south routes traverse the complex at the upper level, projecting out as elevated gantries that step down to meet the rolling landscape of sports fields, like the landing gear of a spacecraft.
The pavilions sit on a robust plinth of blue-grey clay tiles, the ground floor fully glazed along the north and south elevations, while the upper level is clad with insulated aluminium panels. The lateral facades are finished in profiled sinusoidal sheeting, while balustrades, louvres and staircases are all in galvanised steel. A row of tensile white tent forms march between the pavilions to the east, while a shallow barrel vault of ETFE cushions extends over the central atrium. With its modular massing and crisp industrial detailing, it is a clear homage to the early days of hi-tech. But it appears strangely dated.
As the bell goes, it becomes clear quite how efficiently the space-planning has been done
"We are straight, old-school modernists," says Ellis-Miller, by way of explanation, unperturbed when I tell him it looks like a group of Portakabins. On our drive, we detour via one of Michael Hopkins' earliest projects, the Schlumberger Cambridge Research Centre of 1985 – an essay in the complex exoskeletal trappings of tensile membranes – and he waxes lyrical about other seminal projects in the region – Richard Rogers' 1975 PA Technology Laboratory and the Smithsons' Hunstanton School of 1954. "All this stuff is ingrained in the soul of our practice," he says. He clearly sees himself as continuing this East Anglian tradition of lightweight structures, speaking the language of wires and bolts, corrugated sheeting and stretchy PVC. And, as demonstrated in his 1998 house for Mary Banham in Ely, he can speak it with elegant fluency.
The only problem is that, since the early days of Hopkins and Rogers, this vocabulary has long been appropriated and regurgitated in the 90% of buildings not designed by architects – in airports and service stations, offices and retail parks, not to mention the factory-made school blocks of the kind I was taught in. These out-of-town boxes, with the occasional clumsy flourish of a clip-on canopy, have replaced in ubiquity the very movement that inspired them. To someone unaware that Ellis-Miller spent 10 years crafting his techie credentials under John Winter, the dinky white tents at Catmose sadly speak less of Schlumberger than they do of a Little Chef.
Once within the building, the architectural logic begins to make more sense. The architect describes the plan as "an absolutely rigorous diagram", and it takes no great leap of imagination to read the adjacency diagram in the built form. A rigid series of tripartite grids – 8.1m for primary structure, divided into 2.7m for construction and 900mm for planning – provides a flexible framework through which different classroom arrangements can be configured, each module comprising six 8.1m blocks arranged in a c-shape around an open breakout learning space. Classrooms are designed with "team teaching" in mind, featuring openable partition walls to extend and link these different cellular rooms.
Within this structure, functions are dispersed in a systematic way: art studios and technology workshops are arranged along the northern edge of the ground floor, with science and IT labs above, while staff offices are housed along the southern side, with humanities classrooms above. The Community Hub of creche and Sure Start facilities is housed in the south-westernmost pavilion, while the Learning Disabilities Resource Centre is in the south-easternmost building. While it is a progressive move to include these facilities on the same site as the school, the quality of their spaces seems to have received significantly less attention, featuring many windowless rooms and some cramped ceiling heights.
In the heart of the building lies the feature Ellis-Miller is rightfully most proud of, a vast staircase of double-height timber steps which rises through the centre of the 8m-high atrium, beneath the ETFE cushions, providing a lively social space at break times and an informal open auditorium. Its form is modelled on a similar staircase at the Hellerup school in Copenhagen, by Arkitema Architects (Inspiration July 2, 2010) – a radical model for a free-form learning environment, in which pupils are let loose to work on the floor, sprawled on sofas, or on little hexagonal podiums.
The students here seem to love it, eagerly crowding the steps at lunchtime. In section, the stair mirrors the raked seating of the theatre space to the west, which can be opened up to create one large double-sided stage, although for most of the time the steps face on to a blank wall – a strangely missed opportunity to flip the plan and create a visual link with the dining courtyard to the east. A 17m-span bridge crosses the atrium, supported by a vast double truss hanging below, in a rather clunky over-engineered offering to the altar of hi-tech.
In the heart of the building lies the feature Ellis-Miller is rightfully most proud of, a vast staircase of double-height timber steps which rises through the centre of the 8m-high atrium
The staircase rises to an open-plan library space, the central deck in the building, from where views lead out to the landscape in three directions and from which point a large part of the school can be surveyed. Here, it emerges that much of the ideology embedded in the plan comes from the principal, Stuart Williams. Despite only joining the school during Stage D, he took a very keen interest in the project, even designing the lab benches himself and testing furniture and fittings by throwing them across the room. His is a model of egalitarian pedagogy, in which his fully glazed office sits at the main entrance and the staff room is banished. "Teachers are prone to hide away with their kettles," he says. "But here, they eat and work alongside the pupils, so the kids can learn from staff habits." Such equality is married with control, and there is a certain Benthamite strain running through the open-plan layout, in which nooks, crannies and hiding places have been carefully designed out.
As the bell goes, it becomes clear quite how efficiently the space-planning has been done, as the multiple circulation routes and lack of corridors ensure fluid movement with not a bottleneck in sight. The acoustic is also remarkably dead, due to hanging baffles and perforated timber surfaces. "I like to think of the school as a secure village," says Williams, as we look out to the turnstiles and big metal gates that clunk shut after 9am. "But, once you are in the village, it is an open community."
As we patrol his community, we drop in on a Year 7 creative writing class, in full swing in one of the open-plan breakout spaces, to hear some of their poetic descriptions of the school. "It's like a steel monster, towering over us," says one. "A long silver beast lying down at the edge of the village," chimes another. There is a preponderance of metallic monster metaphors, and the students are clearly in awe of their new hi-tech machine for learning in.
Ellis-Miller seems pleased. "This is not about funny colours, or a 'wow factor'," he says. "This is solid, practical architecture." He is strongly contemptuous of architects who, in his words, "sling bling" at school facades, and is adamant that the future of school building is in robust, sober, system-designed modules. Catmose, a completely bespoke project which cost around £2,000 per sq m, is a far cry from Öppen, and yet it has the overall feeling of an off-the-peg solution – a cheapness conveniently blamed on the contractor, Galliford Try, who "didn't buy in to the quality agenda".
There is a preponderance of metallic monster metaphors, and the students are clearly in awe of their new hi-tech machine for learning in.
It is interesting to be reminded that the Smithsons, who the architect continually refers to as a key inspiration, fiercely rejected the standardised systems that were being adopted by the local authority at the time they were working.
"Hertfordshire County Council," they wrote, "has explored the field of pre-fabricated large module design with the limited success that one would expect in a system where only approximations are possible and plastic necessity is discounted as a first principle. To counteract this… the Hunstanton school tries to re-establish the finite order which is architecture."
In his lusty pursuit of standardised modular logic, Ellis-Miller has succeeded in creating a highly functional school, but one with the joyless quality of an Excel spreadsheet, grids of linked formulaic cells turned into rooms. If the flatpack future of school design is a cheaper, less bespoke, version of this, then there is now even more urgency to call, like the Smithsons, to re-establish a place for architecture.
Project team
Architect Ellis Miller, Clients Rutland County Council, Catmose College, Structural engineer Elliott Wood, Landscape architect Rummey Design, Services engineers Max Fordham, Jackson Coulson Partnership, Quantity surveyor Henry Riley, CDM coordinator Davis Langdon, Fire engineer Bodycote Warrington Fire, FFE consultant FF&E Consulting, Graphic designer Cartlidge Levene, Main contractor Galliford Try
Postscript:
Photos by Tim Soar