DEGW's personalised learning research project
DEGW is leading a research project on the spatial implications of personalised learning principles, and how architects can embody them in their school designs.
What exactly is personalised learning? Tom Weaver, who is leading DEGW's 30-month research into its spatial needs, is a good person to ask.
According to him, it's a mass customisation of the learning process that looks to challenge conventional barriers of class size, department divisions, timetables, and age-defined learning groups.
"If we admit it, these are artificial barriers to suit mass production [of education], but aren't what a learner needs," he says. "How do we create experiences that are more personal to the individual but in a mass environment?"
It's a big question that will require considerable open-mindedness on the part of both school and designer to tackle. DEGW's study was commissioned by the Department for Children, Schools & Families and follows on from its Project Faraday research into spaces for science learning. It identifies two levels of interventions. The first is the creation of a space to support a new project-based experience, and the second is a "whole school" approach that questions the complete organisation of the institution and comes up with an architectural expression to support the new structure.
Ten DEGW-led pilot projects are under way including seven secondary schools. These range from redesigning a single space to introducing personalised learning concepts throughout a new BSF school. Many are working as test-beds prior to a rebuild or remodel. As well as initiating these projects, DEGW, who's team includes Penoyre & Prasad, is creating the mechanism for others to take on this approach by producing tools to help write personalised learning concept briefs, spatial briefs and manage their projects.
"With personalised learning we found there was no one solution. But we could give people the tools to develop their own solutions," says Weaver.
At Chantry High school in Ipswich, Scott Brownrigg transformed three existing spaces into one to pilot a new approach to personalised learning before finalising the design of a new BSF school. The new space incorporates an area where staff can task students, break-open spaces, and group pods for team-working. They were used to accommodate half a year group in a week-long cross-subject project.
"They found that the kids don't see it as work. They find it creative, fun and engaging. Staff have found it incredibly difficult," says Weaver. "If the school wanted to build a future school like this, at least they've tried it well in advance. Now they have a couple of years to throw all different things at the space."
Pupils were similarly enthusiastic about the personalised learning space developed at St Mary's Catholic College in Blackpool with Cassidy & Ashton Architecture. Here, pupils worked on a project-based curriculum in a former home economics room redesigned to accommodate project spaces, generous storage, and demonstration zones in the centre. After the project, pupils didn't want to go back to a mainstream teaching environment.
Again, it is a test-bed for an upcoming BSF new school. Another is planned in Corby, taking over a former warehouse.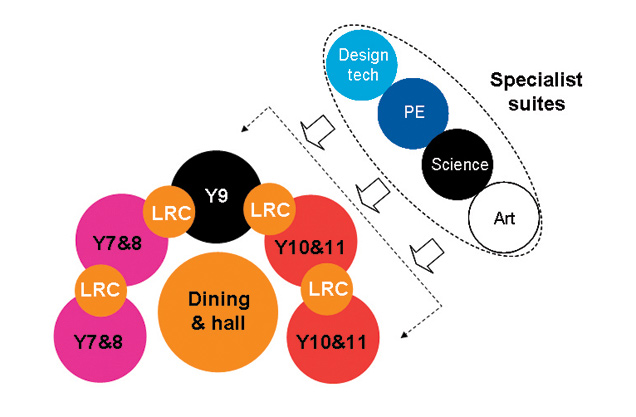 The whole school pilot project is for the Phoenix secondary school at Dawley, Telford, a BSF being designed by BDP. This challenges the traditional organisation around subject departments and instead is pursuing a people-centred approach divided into five distinct spaces to give a more human-scale to the school. In the plan, years seven and eight are grouped together in two mini-schools which allows students to learn with peers a year older or younger as appropriate. Years 10 and 11 are arranged similarly in two integrated mini-schools with pupils from year nine able to work with either of the mini-schools. Each is grouped with a Learning Resources Centre and has cellular and flexible classrooms. All years share the central facilities.
But using design and architecture to facilitate personalised learning is only part of the process. Weaver says it is essential to engage the school in the process, retrain staff to embrace the new approach, and then continue to embed the process in the long-term by training staff and learners. However successful the spaces, if the ideas aren't embedded in the school culture they will fail.
"If we properly address change management, it can stick. If we don't, it won't stand a chance."