Architects A-D
For comprehensive results on specific architect's click on the name below.
Latest from architect's A-D

Former London Development Agency design director Peter Bishop has been made a director of Allies & Morrison Urban Practitioners, the new firm formed this month by the long-time collaborators.

Architecture minister John Penrose has ignored advice from English Heritage and refused listing for ABK's Redcar Central Library paving the way for the 1970s building to be torn down.

AFL Architects has unveiled plans for a new home for Crystal Palace FC which involves the Championship side moving back to its original home in Crystal Palace Park.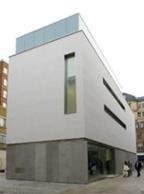 Casper Mueller Kneer set to design Southwark warehouse conversion
Two UK firms have joined a board advising on the redevelopment of Romania's second-largest city.

Firm responsible for a dozen schemes within 250m of its Southwark base