BD Reviews: Refurbishment
Looking forward to a retrofit future
Retrofitting meets the challenge of improving energy efficiency in existing stock, as Penoyre & Prasad's refurb of a 1990s house in London shows
Refurbishing a draughty, single-glazed Victorian property presents relatively easy energy-efficiency gains. Rather too easy and well-trod, felt architect Penoyre & Prasad, which was keen instead to tackle the far greater challenge of retrofitting a double-glazed nineties house that already had cavity wall insulation and double-glazing.
The retrofit project, for social housing landlord East Thames, is one of 86 Retrofit for the Future demonstrator projects sponsored by the Technology Strategy Board, which allocated a budget of £150,000 to each retrofit. Named Retrofit for Living by the practice, the project recently won a 3R award and it is anticipated that it will demonstrate emissions reduction of 79% over the current UK average and energy use down by 69%.
"We felt there was an under-considered market for retrofitting post-war dwellings, which represent 60% of English housing stock," says Penoyre & Prasad partner Alan Holloway. "Clearly this was going to be a bigger challenge without the easy gains that refurbishing earlier houses offers."
The fact that the house would be occupied throughout the retrofit increased the appeal as well as the complexity of the project. The 1992-built property, a terraced house on the Windsor Park estate in London Docklands, has masonry cavity halls, double glazing, pitched roofs and a small amount of loft insulation. It was identified as a potential site for the retrofit after the resident, Tracey Hillyard, approached East Thames because she was concerned about high energy bills and wondered if these were due to a problem with the house.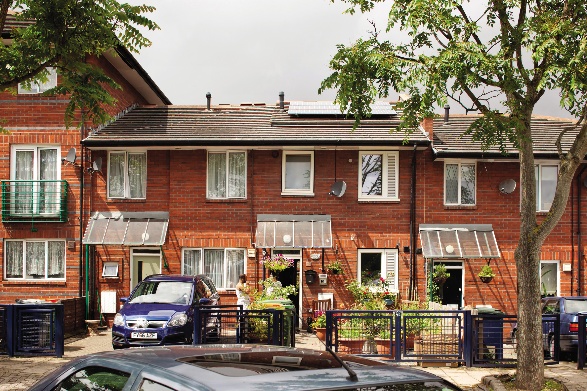 Source: Morley Von Sternberg
Rather than concentrate solely on energy efficiency, the project began with extensive interviews with the resident about how she used the house and what she liked and didn't like about it. This identified several key concerns about the upstairs accommodation. Hillyard's three teenage children were squashed into two very small bedrooms while the landing, although lacking natural light, was more generous but underused. There was also inadequate storage space and although Hillyard used the attic for storage, access was very awkward.
There was also no internal space for drying clothes — tumble drying accounted for 20% of the very high electricity bills. Energy bills were also fuelled by the presence of several large-screen televisions, gaming equipment, laptops and a large number of ambient lights. The architect also noticed that doors were frequently opened when people went outside to smoke.
"The family had no spare space to have something they could share so they ended up with individual equipment in their own domains," says Holloway. "It was clear we could deliver the energy targets and solve some of the difficulties at the same time."
Penoyre & Prasad's initial plan was to build a new projecting south-facing roof pitch over the centre of the house to accommodate solar panels and allow clerestory lighting into the heart of the property. But environmental consultant XCO2 Energy felt that more could be achieved by using the east-west pitch to house one PV to generate electricity and one solar thermal array.
The final solution was to introduce natural daylight and ventilation through a ventilating lightwell, and to create a staircase up to a new mezzanine level introduced within the loftspace. This enables Hillyard to easily access her storage, as well as providing a clothes drying area. Stale air is drawn out by a stack effect in the lightwell and fresh air is drawn in through insulated ventilating panels alongside the new windows. The roof window opens according to thermostatic and humidity conditions but also closes automatically when it rains and can also be controlled manually. Beneath the new staircase is a workstation, which the architect hopes will be used as a central resource by the family.
Improving insulation was another key move, and allowed the architect to try out several new products and technologies. As a double-glazed terrace with cavity wall insulation, this wasn't too bad to start with but it was still possible to make significant improvements. The architect costed four different internal and external insulation options. The cheapest was to insulate internally throughout but this would mean the already small rear bedrooms would become even more cramped. Another option involved over-cladding, but over-cladding the front of the house was unlikely to find favour with planners or the residents, who didn't want their house to stick out so obviously in the terrace.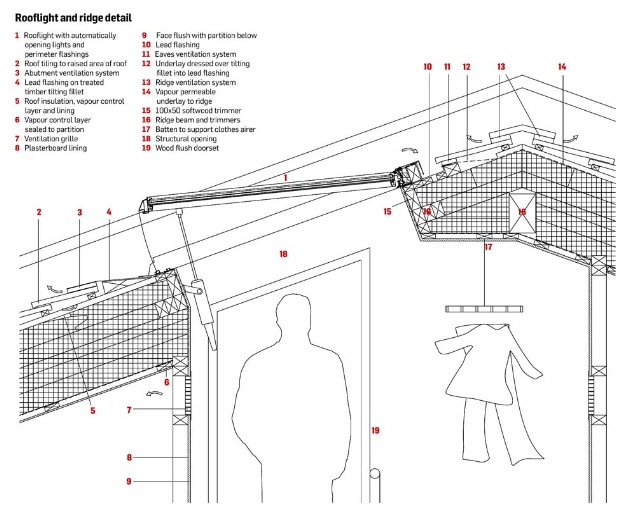 The solution was to insulate internally at the front of the house where room sizes were more generous and to over-clad at the rear using 130mm of rigid phenolic insulation. The internal insulation is 90mm rigid foam insulated board with a gap between the vapour control layer to reduce the risk of condensation. In the roof, the architect has developed a breathable roof solution by using natural materials insulation products that release moisture well including 100mm of wood fibre slab above the rafters, 75mm hemp flax quilt between and 225mm hemp flax quilt below the rafters. The loft is insulated with 300mm of hemp-flax quilt on top of the existing insulation.
Penoyre & Prasad specified Nanopore vacuum insulated panels for the ground floor. This enabled them to insulate without significantly raising the floor level — Nanopore has a thickness of 20mm compared with 120-130mm for conventional rigid urethane. These panels could also be laid directly on the existing screed and then covered with thin layers of steel sheet and foam for puncture protection and the laminate flooring, rather than digging up the whole floor, which would be a much longer and messier process.
Triple-glazed windows were another key change. Penoyre & Prasad worked with manufacturer NorDan to create a window that incorporates a fixed side vent within the highly insulated frame. The window closes behind this or can be left open to aid ventilation without any security fears.
The retrofit, which also included heat recovery, low-energy lighting and appliances, was completed in the summer. Of the £150,000 total budget, £72,570 went on construction costs with a further £9,650 on energy and environmental monitoring equipment testing humidity, temperature, air tightness over a two-year period. Before and after tests will assess the impact of the work while occupancy evaluations will assess the residents' response to the building.
Walls and floor have a U value of 0.15, windows 0.70 and roof 0.10. Air tightness is reduced from 5.6 to 3m3/h/m2 @50Pa. The expectation is to reduce primary energy use from 275 to 85 kWh/m2/yr and CO2 emissions to a predicted 16kg/m2/yr from 44kg/m2/yr compared with a UK average of 75. Based on 2009 electricity and gas prices, bills are predicted to fall from £1,433 to £629 per year.
This predicted outcome is undeniably impressive, but, as Holloway says, the big issue is how to fund retrofits on a wider stage without such a generous government grant. "The next challenge is how to use this knowledge and apply it elsewhere," says Holloway.
"We've certainly learnt a lot from it," says Gary Bagnall, East Thames head of programme delivery — development and asset management, who expects Retrofit for the Future to stimulate green industries by identifying which new technologies have been a success and so inform initiatives such as the Green Deal. "The project will inform the debate on what are the most cost-effective measures in terms of energy efficiency. The retrofit has added value to the property in terms of quality of the living space and the environment."
Along with the other Retrofit for the Future prototypes, the project details and performance data will be collated as a resource on retrofitting different building types for housing organisations. The TSB is working with existing organisations including the AECB and the Institute for Sustainability on how best to disseminate the learnings. TSB low impact buildings consultant Paul Ruyssevelt anticipates that those who have taken part in the 86 projects will also provide "tentacles" to help share the knowledge on further retrofits. Penoyre & Prasad has already used research from the project to create its own shopping list of improvement measures for further retrofits.
The resident's view: Tracey Hillyard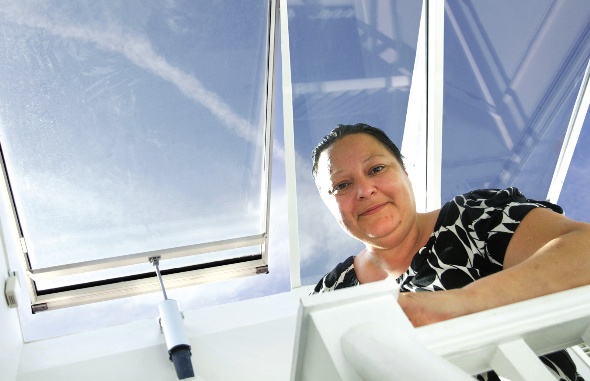 Tracey Hillyard was one of the first residents to move into East Thames' Windsor Park Estate in Beckton 19 years ago and still lives there with her three teenage children. The family remained in the house during the retrofit programme and are very pleased with the results, which yielded immediate improvements. Instead of heating the house all day, they now find one hour's heating sufficient.
"Each winter my home needed to have the heating on for progressively longer periods of time in order to keep me and my family warm.
"To be one of the select few up and down the country to have these improvements made is like winning the lottery," she says.
"With the works going on around you while you are trying to live in your home at the same time is an inconvenience, but as I stood to gain a warmer, more efficient home which costs much less to heat up, it made it all worthwhile. 
"It is a real eye-opener to see what goes into our homes these days.
"I love my upstairs area. The roof windows let in so much light and when they open up automatically when it gets too hot — it's amazing."
Retrofit case studies
Project
Rampton Drift, Longstanton
Architect
PRP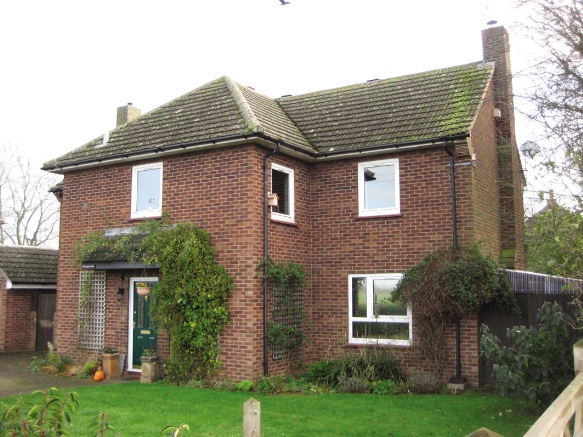 PRP has retrofitted 13 private ex-MOD homes at Rampton Drift in a pilot for next year's rollout of the Green Deal.
South Cambridgeshire District Council appointed PRP to develop proposals for 13 detached, semi-detached and terraced houses dating from the 1950s-70s.
The £320,000 project enabled the houses to move up one and in some cases two EPC (Energy Performance Certificate) ratings through a variety of measures. These include the first UK application of Jablite's Energyflo external cladding, being trialled in two properties, which drives warm air back into the house via a cavity in the insulation.
Other measures included loft and cavity wall insulation, overhauled windows, sun-pipes, flue gas heat recovery and positive input ventilation.
The homes will be monitored for two years, with hopes of a 60% cut in CO2 emissions.
"Each home cost more than anticipated through the Green Deal funding," says PRP partner Andrew Mellor. "However, through improving the process of procurement and efficiencies I'm confident this can be brought down."
Project
33 Warnham Road, Crawley
Architect
ECD Architects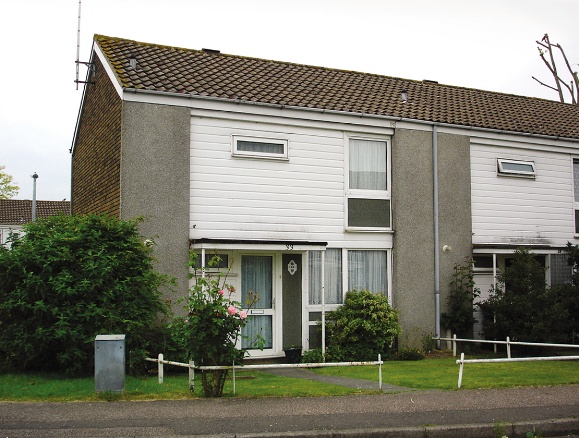 ECD's refurbishment of a 1960s semi for Crawley Borough Council is expected to reduce energy consumption by nearly 75%.
ECD devised a whole-house retrofit as part of the Technology Strategy Board's Retrofit for the Future initiative.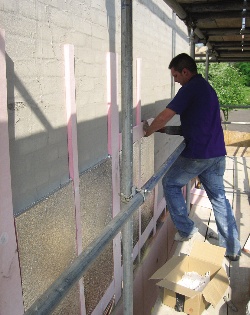 The house had a precast concrete exposed aggregate cross wall system with timber frame infill panels which had been updated with uPVC cladding. A gas-fired boiler was installed to feed a wet radiator system, replacing the previous warm air heating system.
One of the key moves in ECD's £143,000 refurbishment was to externally clad the front and rear in a timber infill system that combines 25mm Nanopore vacuum insulated panels with 30mm rigid phenolic board plus render.
ECD also installed a whole-house MVHR system, topped up loft insulation, insulated the ground floor with Spacetherm C chipboard and blanket backing, and installed photovoltaics, a micro-CHP boiler and LED lighting.
The forecast is a reduction from 2,968 to 1,883kWh/yr in electricity and from 27,631 to 5,900kWh/yr in gas consumption. CO2 emissions are forecast to reduce by 87%.

PROJECT TEAM
Developer East Thames Group, Architect Penoyre & Prasad, Energy & environment XCO2 Energy, Occupancy evaluation Prof Rajat Gupta, Structural engineer Osborne Edwards, Contractor Lakehouse Contracts
Postscript:
Photos: Morley von Sternberg