Concrete Quarterly (CQ) is produced by The Concrete Centre four times a year and is free to download.
First published in 1947, CQ continues to champion iconic concrete projects.
CQ encompasses design guidance, aspiration, inspiration, vision and latest projects. It is aimed at all members of the project team and demonstrates the potential of concrete in terms of architectural vision, structural solutions, best practice and performance.
The following page showcases the best of concrete design and construction, alongside new videos and project studies from every issue of Concrete Quarterly.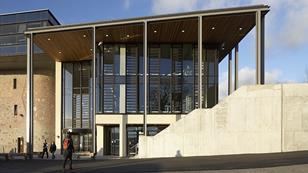 Burwell Deakins' Exchange building gives Falmouth students a vibrant new thoroughfare in which to meet and study

Concrete creates a strong civic presence at two north London schools, while quietly working to reduce energy use within

Inventive use of glass fibre reinforced concrete has allowed a Munich hotel to indulge its literary leanings

Foster + Partners' new airport in Jordan uses a mix of in-situ and precast concrete techniques to create a mesmerising, repeating pattern of shallow domes, curving beams and gently tapering columns

Architectural standards were slipping at the 500-year-old St Paul's School in London, but the elegant exposed interiors and concrete colonnades of Nicholas Hare's new science building augur well for the future

With its hulking, geological facade and giant test-tube-like elevator, Thom Mayne's science and nature museum has made a startling impact on the Dallas cityscape

Stanton Williams, AKT II and Kier discuss the design, specification and construction of the Stirling nominated Sainsbury Laboratory