In association with Kaldewei
The enthusiastic response to BD's competition to design a budget hotel room shows how innovative design has the potential to transform this sector
The budget hotel market now accounts for one-third of future supply but, with few exceptions, it's a sector that lacks inspiration and new ideas.
This is why BD set the challenge: to see how an innovative layout could make a 14sq m room feel generous and luxurious.
Judge Matthew Bell of CitizenM said he was looking for a room "that could be an experience, not just a functional space. A successful hotel room is not just a physical environment, but also the emotive experience that makes it work."
The judges said the standard was "very high", with all entries showing a "clear energy and investment of time". Out of 30 boards submitted, 12 were shortlisted for publication. The winner will be announced in BD on November 23.
Entries varied from rooms designed as mini-hotels in their own right — taking a cue from David Kohn Architects and Fiona Banner's recent A Room for London balanced on the Royal Festival Hall — to capsule pods that could be both portable and easily multiplied.
Minimalist square boxes were also represented, along with windowless rooms featuring digital walls with displays including a blown-up map of the London Underground. One entry even took the room out of the hotel and into space.
The judges praised Nicos Yiatros and Konstantinos Zaverdinos's stylish Infinity Room, which was described by Bell as "a real statement of a room". VW&BS's Room as a View was commended as "a very brave and strong decision, that was the opposite of a lot of the entries".
Coupdeville Architects' entry proposed a sunken bath with a bed above that slid into position with the use of weights and rollers.
CTHM's design, using a low-tech curtain to flexibly divide up space, was praised for its simplicity and honesty. Judge Peter Clash of Clash Associates said: "It has an atmosphere; I'd like to be in there. It also has the flexibility to be different in different locations, and that should be applauded."
Project Orange's entry showed a masterful handling of different textures that the judges said was very appealing.
The BD Small Hotel competition was judged by a panel including BD's editor in chief Amanda Baillieu; Matthew Bell, manager of CitizenM Hotels, London; and architects Peter Clash of Clash Associates; and Tina Norden, associate director at Conran & Partners.
Nicos Yiatros & Konstantinos ZaverDinos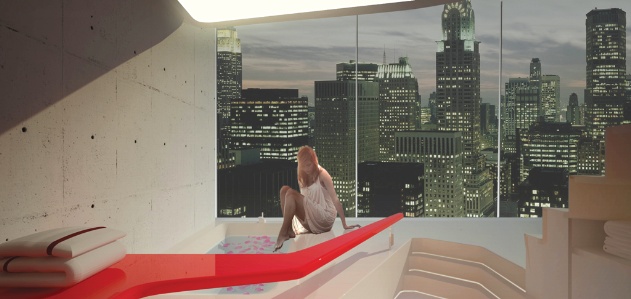 Nicos Yiatros & Konstantinos ZaverDinos
The Infinity Room is a sleek concrete box that almost spills out into the city from the vast expanse of floor-to-ceiling glass windows at one end.
Taking clear inspiration from Zaha Hadid, the furniture is inbuilt into a shiny red and white landscape that forms the sunken bath and steps up to the sleeping area.
The bed is elevated from the floor, forming a floating platform that gives the small hotel room a sense of airiness and light.
VW&BS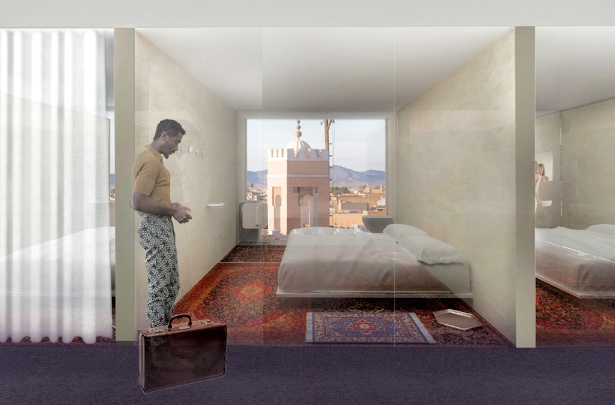 VW&BS
A Room as a View provides the simplest hotel room possible, a blank canvas for each hotel location to personalise through texture and local intervention.
A common modular structure is used for 90% of the room, with 10% provided by a local designer — for example, wooden panels in Scandinavia or oriental rugs in Istanbul.
Ian Springford Architects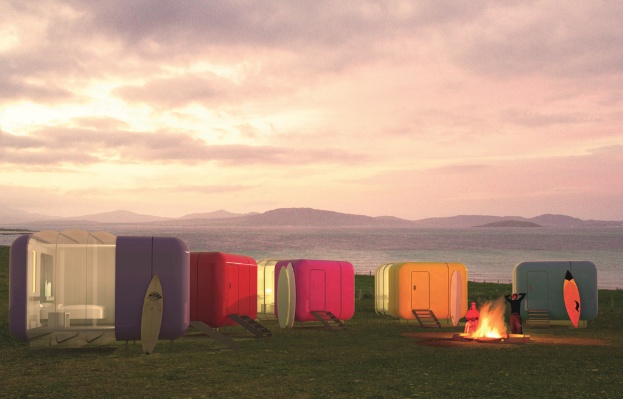 Ian Springford Architects
The Myplace concept combines a crowd-sourcing ethos with a social network-style platform to allow the guest to choose the place and time for their transportable hotel room. Myplace pods are prefabricated and can be stacked, allowing five pods to be transported by one flatbed truck.
Destinations are defined by the user and pods can be arranged into a variety of configurations, allowing the "hotel" to adapt completely to its guests' requirements.
Project Orange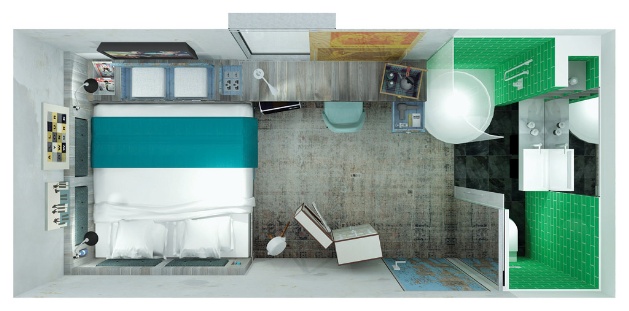 Project Orange
PO Cabin is an extension of a prototype room for a hotel in Shoreditch in which Project Orange explored a very similar room brief. The concrete bedroom uses textured and distressed materials — from a built-in bed constructed from reclaimed floorboards to a purposely distressed carpet underfoot. The distressed aesthetic is enhanced with quirky furnishings, such as a steamer trunk for clothes and a flight-case mini bar.
Bright Space Architects

Bright Space Architects
Plugin and Play hotel is formed of two independent elements: a standard "service pod" for sleeping and showering and a bespoke "play pod".
The prefabricated pods interlock within a framed structure to create flexible rooms. The interior of the play pod offers a customised experience through the online check-in system that uses social media to predict what the guest may want to do.
Coupdeville Architects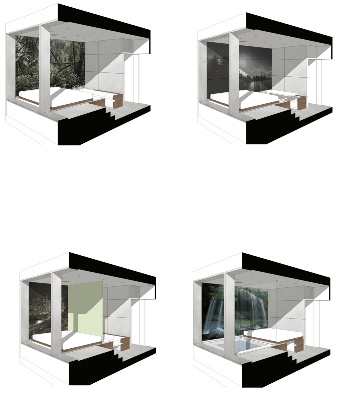 Coupdeville Architects
The Configurator hotel room uses simple moving elements to create a series of arrangements to maximise limited floor space. A sunken bath can be covered with a low-tech sliding bed, which relies on stage-set technology rather than electric systems, which can be expensive and difficult to maintain. The hotel room can be configured into a variety of arrangements, including a full-size dining are and even a configuration to sleep four people.
A graphic wall can be changed to suit the different arrangements.
De Matos Ryan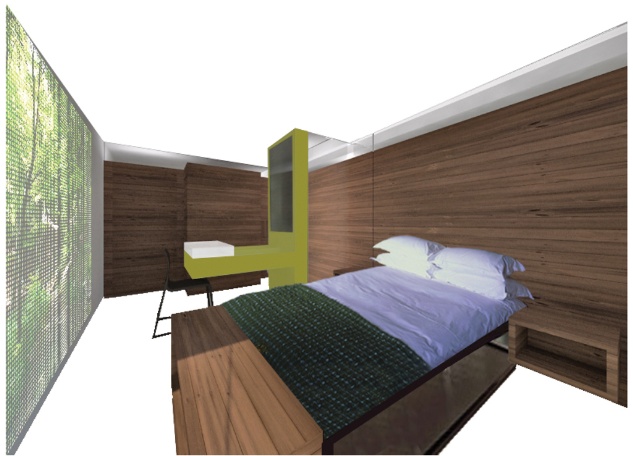 De Matos Ryan
Make a Room deconstructs the boundaries between "relax", "work", "sleep" and "wash" spaces to create a generous hotel room without unnecessary subdivision and clutter. The room juxtaposes areas of wet and dry, calm and vibrant, soft and hard, with durable but comfortable materials.
G1 Architecture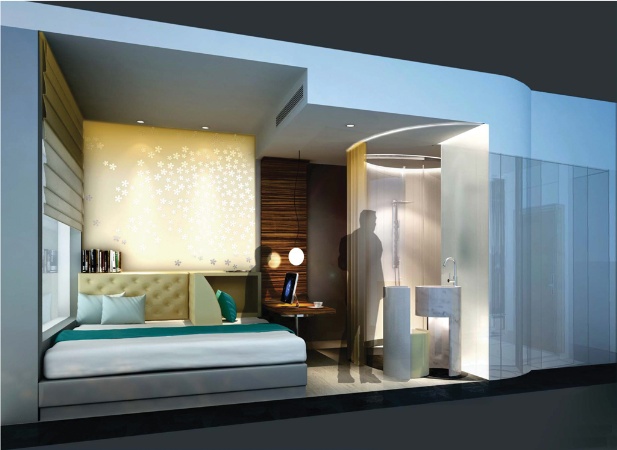 G1 Architecture
G1 Architecture has developed a concept around the principle of the three "E"s: Elegance, Experience and Economy. Elegance comes with the simplicity of the design, while experience is defined by the adaptability of the room. An oval space in the middle of the room contains washing facilities that can be configured to vary the level of privacy and the amount of free space.
Andrew Mulroy Architects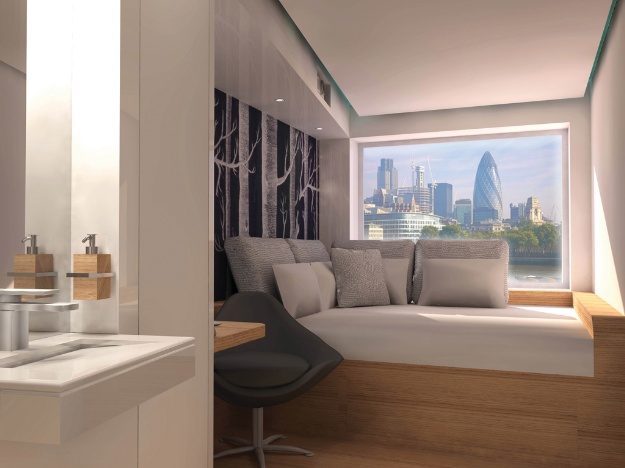 Andrew Mulroy Architects
This proposal minimises the apparent width of the bathroom and maximises that of the bedroom when viewed from the entrance.
A 2m-wide bed can be used as a lounge area, while creating an open floor space at the heart of the room that is not solely for circulation.
Ninian MacQueen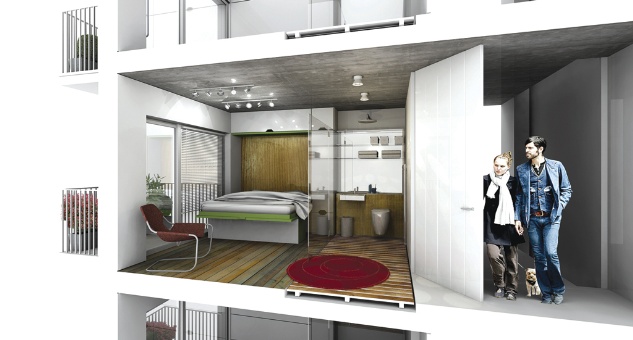 Ninian McQueen
Ninian MacQueen's project reverses the trend of low-ceilinged budget hotel rooms, by utilising a square plan and a more generous amount of headroom.
The room is laid out with a standardised storage wall that contains a fold-out bed and a glass screen wet room that can be hidden away when not in use.
CTHM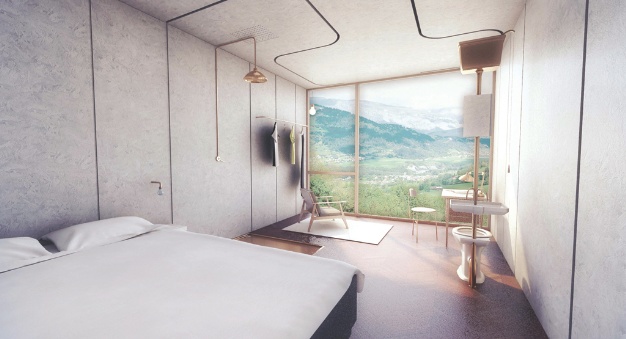 CTHM
CTHM's enchanting project seeks to tackle the anonymity of the hotel room by enabling occupants to put their own stamp on a space.
A prefabricated box made out of orientated strand board can be flexibly divided up into sleep, wash and work areas by a pair of floor-to-ceiling curtains.
Michael Trentham architects
Michael Trentham architects
Hotel Obscura deals with the problem of a windowless room by using large interactive screens that show realtime views of the city, even if the hotel is not located in a prime city centre. The interactive screen is not only a window to the city but a platform for internet and entertainment.
The space of the hotel room is transformed for working, relaxing and sleeping. For example, the screen can be used simply as a background, or more interactively as a computer.
See the winner at Sleep 2012
The winning design in the Small Hotel competition will be unveiled at a seminar chaired by BD's editor in chief, Amanda Baillieu, at Sleep on November 22.
Creating a Small and Beautiful Hotel Room will take place at 10am in the Seminar Theatre, upstairs in the Design Gallery at the Business Design Centre, London.
Further details are available from: www.thesleepevent.com