AHMM puts Kentish Town Health Centre in the picture
Allford Hall Monaghan Morris has helped realise a pioneering medical practice's ambition for a centre where health, medicine and art come together
Today the residential streets bordering the Kentish Town Health Centre appear every bit the middle-class enclave they were when they were laid out in the mid-1800s. The freshly-painted fronts of the semi-detached villas seem to suggest centuries-long, continuous prosperity. But the adjacent main road's faint grubbiness recalls a more mixed history. Carved up by railway lines from the 1860s onwards, this precinct of north-west London became suddenly impoverished, and the once-genteel dwellings soon began to house increasing multiples of families.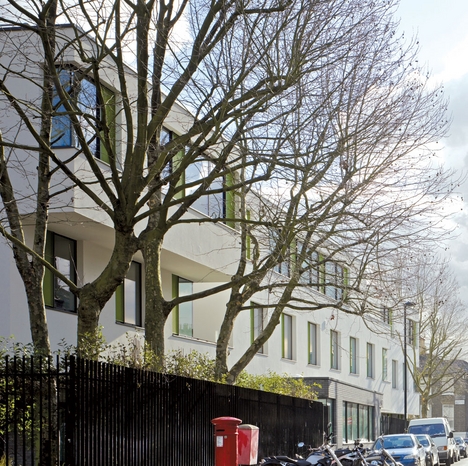 It was for the poor in this neighbourhood that, in 1887, James Wigg created a pioneering medical practice offering free local healthcare, which prefigured the ideals established by the NHS six decades later. Continuing its founder's progressive spirit, in the 1960s the practice started to promote the idea of a new-build health centre for Kentish Town, which would unite the two largest local practices with a range of other services — from chiropody, physiotherapy, and dentistry to clinics for child health, ante-natal and family planning, and even a student teaching centre and library.
Camden Council was won over and cleared a triple-frontage site to the east of the well-connected Kentish Town Road. Aside from a few notable exceptions, such as Lubetkin at Finsbury, health centres were still a fairly novel concept — fewer than 20 were completed in England in the 15 years after the NHS was founded.
So what would be the most appropriate form for this emerging hybrid typology? And how should it be expressed within this quiet residential context? The answer, according to the council architects department, was an uncompromising two-storey L-shaped concrete block.
The Kentish Town Health Centre that opened in 1974 was unsatisfactory in both small and large ways. One reviewer noted that the covered entrance pergola afforded views into the clear-glazed infants' lavatory; and the reception, on first glance, was too small with patients spilling into adjacent areas. Fitting everything into this unyielding envelope often meant spaces were the wrong size, and not infrequently in the wrong place. But the building's biggest failing, as yet unseen, lay underground: over the coming decades the surrounding tree roots would desiccate the underlying clay, destabilising the shallow strip foundations and rendering one wing structurally unsound. By the end of the last century demolition was the only option.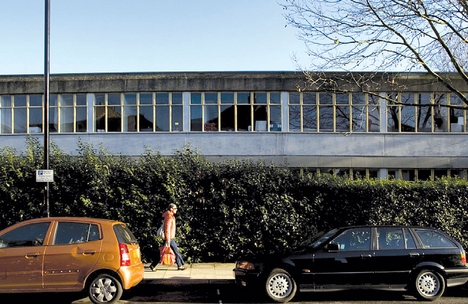 In 2002 a senior partner of the James Wigg medical practice, Roy Macgregor, initiated an RIBA-sponsored competition with the ambition of creating a new health centre "where not only medicine, but health and art come together for the community". The brief contained the old centre's myriad functions alongside newer roles, such as exercise spaces and x-ray facilities. Macgregor acted as the "design champion", with Camden & Islington Community Solutions as the developer, and funding coming through the Local Improvement Finance Trust (Lift), the programme launched by the government the previous year. 
Interviews with a dozen practices produced a shortlist of four. Penoyre & Prasad, Edward Cullinan and Van Heyningen & Haward, the three runners-up, all proposed U or H shaped buildings, with a central main entrance facing west towards Kentish Town Road, and accommodation arranged in two wings either side — plans, in fact, not dissimilar to Finsbury. If it were feared that such alphabetical schematics might face similar problems to their predecessor, then Allford Hall Monaghan Morris's bold proposal, simultaneously more simple yet complex, provided the natural winner.
The site would be occupied by a single block; but instead of trying to decant the brief into a rigid container, the practice used the programme's complexity to manipulate this initial form, scaling and shifting functions until everything was placed and proportional. To sell this idea — quite a hard one to communicate to the public in plans and sections alone — the practice likened it to the game of Jenga, where you take it in turns to remove wooden blocks from a stack (until it falls down).
Thankfully this analogy only describes the process and not the product, and the health centre, which opened at the end of last year, far from looking like a collapsed pile of sticks, is a coolly composed arrangement.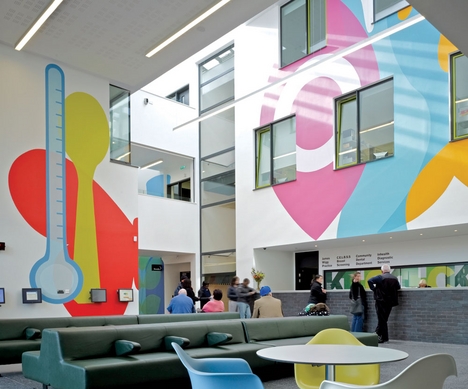 Picking up the rhythm of the adjacent streets, the building's massing and fenestration are meted out to the scale of the local villas. Roughly as tall as these domestic neighbours, the building is on three storeys, with the top two floors cantilevering over a dark-brick plinth. The projecting upper volumes are finished in a white render, a modernist treatment which, in this context, signals allegiance with its stuccoed surroundings. 
AHMM's great ingenuity has been in keeping the plans comparatively simple but really going to town on the sections. The ground level is underpinned with a symmetrical and almost formal logic. A 5m-wide "internalised street" runs the full length of the building, with entrances to the north and south, the latter, with its angled approach from the main road, given prominence by a decorative light-box. At the mid-point the street widens to create a triple-height waiting area, where a reception desk is flanked by a pair of stair cores which are vertically glazed to make the circulation immediately apparent. Here, also, is a café, kitted out with colourful Eames-designed furniture, and this leads on to a garden, which has the promise of becoming a welcoming outdoor space by the summer. 
"We wanted to avoid ghettoising services," says Macgregor, wary of the old building's deficiencies. "While keeping them separate, we wanted to create a sense of connection."
With the street acting as an axial route through the building, cross-circulation is provided by intersecting bridges and terraces to the upper floors, so that sectionally all levels are stitched together. Internal windows conjoin more private spaces to the public areas, while the considered placement of skylights modulates the natural light so it never becomes oppressively bright. 
Just sitting before an appointment reveals the interrelationships of the centre's constituent parts. But the building is best experienced on the move: as you walk around it yields frequent surprises, with the bridges, windows and voids offering welcome glimpses into unexpected areas. Additionally the bridges allow informal communication between staff, while elsewhere little hatches have been included so they can call down to a colleague without resorting to the stairs.
As well executed as this all is, it could have become just another good modernist space had it not been for Studio Myerscough's hand-painted murals, where icons loosely themed on health —fish, feet, thermometers — are layered as if pieces of coloured film. Like a cat between firmly-planted legs, these curvaceous shapes weave around the rectilinear architecture, emphasising its inter-connectedness. On a tour of the building, AHMM's Paul Monaghan commented on a few instances where the services weren't exactly in the right place (it was a design-and-build contract) but the murals are so powerful that these slight imperfections, like a distant alarm bell, only annoy if someone brings them up. 
Corridors to all the other areas run off the street and here, too, Studio Myerscough has assisted by bringing clarity to the way-finding. All the clinical rooms, found on the ground and first floors, have large painted identification numbers, which slide off the doors on to the frames and walls. Interchangeably for clinical and counselling, these cellular rooms have magnetic signage that practitioners can easily and neatly move around. A Vitsoesque hanging rail system lets various occupants customise their surroundings, and GPs or counsellors can select from one of three modes of lighting to best suit the patient.
The stair cores — with level changes announced by large painted Gs, 1s and 2s — lead up to diagnostic imaging, podiatry, dentistry, and x-ray on the first floor, and the private staff areas on the second. Half a dozen little terraces are thoughtfully slotted into the gaps between rooms on these upper levels, framing views of the villas' fronts, while the staff room's more generous rooftop terrace is fully enclosed, so as not to overlook nearby gardens.
Macgregor rejects the view that poor quality design in healthcare projects is a result of procurement routes. "Lift can deliver excellent design," says the doctor. "We've created this building because of the fixed contract mechanisms, rather than in spite of their perceived inflexibility."
AHMM's Kentish Town Health Centre stands as proof of that. But — no disrespect to the photographers — the images really struggle to capture a project where the real enjoyment comes from how the volumes unfold as you move through the building. You actually have to be there to appreciate it.
If you're involved in delivering a Lift project yourself, it's well worth a visit.
AHMM's top five health centre references
Jenga
Leslie Scott, 1974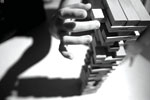 The building's diagram was inspired by the game Jenga: the complex inter-relationships of the building's programme and services were rigorously adjusted to create a flexible internal space where staff and users feel connected and part of a whole. We found it useful during early consultation to draw this analogy, which described our approach to resolving the complexities of the building's professional interrelations. Volumes were rearranged until the desired spatial relationships were achieved with voids to provide light, air and outdoor spaces.
Sunial Pulp Mill
Kotka, Finland,
Alvar Aalto, 1937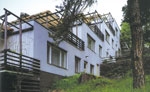 The Aalto scheme for a terrace of five houses is not only analogous in material terms — a white rendered volume punctured with standardised metal casement windows and suspended on a masonry base — but was volumetrically interesting. Rooted to its landscape and topography, the volumes create a series of private terraced gardens and gives the composition of the scheme identity and articulation. Aalto's ideas about flexible standardisation have also been influential: "the purpose is not to aim at identical types, rather to aim at change and creative richness".
Chester-le-Street Civic Centre
County Durham,
Faulkner Brown, 1983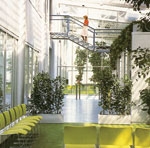 Chester-le-Street Civic Centre was once considered to be a radical public building for bringing the public realm into the heart of the scheme and, as such, eliminating institutional barriers. Giving a community access to the centre of a public building has also been a central theme to our design. The Civic Centre's generous public route, or arcade, welcomes users and leads them to the reception at the centre of the building from where all district council services in County Durham are accessed.
Wisley Gardens
Surrey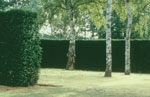 Like at Wisely, we wanted to provide different types of garden spaces.
In this urban setting, the new landscape elements were designed to relate to the residential scale of gardens and pockets of green in surrounding streets. Flowing off of the main waiting room is a more formal, public garden. While higher up the building are secret terraces and a large rooftop terrace accessed from the staff room, large enough for social occasions in the summer. We have retained as many existing trees as possible.
Olympics graphics
Munich, Otl Aicher, 1972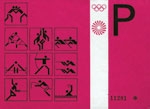 The way-finding system and the graphic language of the building have been carefully considered in response to the complexity of the building's programme. Studio Myerscough has developed a series of visual icons and way-finding graphics that communicate complex information in a direct and clear way. An inspiration has been Aicher's pictograms for the 1972 Munich Olympics, which have become almost a universal system of visual communication. The visual themes are repeated within the main circulation spaces, exaggerating the sectional qualities of the volume.
Sustainability Q&A with elliott wood partnership
How have you approached the building's sustainability?
By using cantilevers to minimise the footprint we've retained as many trees as possible. Where appropriate we've used recycled materials. And as part of the green travel plan there are electric vehicle charging points and folding cycles for the doctors to use for visits.
How is the centre ventilated?
By a combination of mechanical and natural. Natural ventilation is through openings at the building perimeter and roof lights. At night cooling is by bespoke, manually operable mesh-panel/window openings, which also offer security and protection from rainfall. The main street is ventilated through openings that automatically adjust to allow natural stack and cross-flow ventilation to the inner core. A digital control system monitors temperatures, and determines the optimum opening.
What about the other spaces?
For the internal areas of the top floor there are top-hung north light openings, which provide some protection from rain and good high-level ventilation. For internal rooms without north lights, there are roof-mounted passive ventilation devices, incorporating booster fans powered by photovoltaic cells. Artificial lighting is controlled in areas with north lights. For those rooms without sufficient external openings to provide enough natural ventilation, we've used mechanical ventilation from a central air handling plant located on the roof.
Specification
Bricks & Mortar
Taylor Maxwell supplied Staffordshire blue engineering bricks from Baggeridge Brick to the ground floor base. They were also used for external floor finishes to entrances and garden area, the main reception desk and external benches. Ground floor openings occur between slabs, eliminating lintels and secondary supports. In the single instance where one was needed (opening to the ground floor hot desk area) a bespoke lintel was fabricated by Harvey Steel Lintels, concealed by a brick course. A Tarmac ready-mix coloured mortar created recessed joints. www.taylor.maxwell.co.ukwww.baggeridge.co.ukwww.lintels.co.uk www.tarmac.co.uk
Windows, Screen & Doors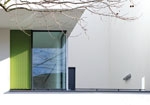 Windows are aluminium thermally-broken Sapa 65 sections with tilt-and- turn casements. A bespoke fixed mesh to the external side allows windows to be opened during unoccupied times exploiting night-time cooling. Expanded Metal Company supplied bespoke panels and fabricated the mounting frame and fastenings. Facade Engineering supplied and installed the window assemblies, doors, sliding entrance doors and curtain walling. The junction between the cills of corner windows and adjacent external terraces was a key detail. For the capping to appear as a seamless continuation of the cill, bespoke cills and cappings were fabricated. www.sapabuildingsystems.co.uk; www.facade-engineering.co.ukwww.expandedmetalcompany.co.uk
Render
The envelope of the upper floors is comprised of an insulated render system supplied by Envirowall. Volumetric massing of the upper floors is defined by recesses and external terraces enabling light and shadow to articulate the building's form. The structure is mainly reinforced concrete but the second floor is constructed from a lightweight steel frame to reduce the weight on first floor cantilevering slabs. The insulated system to the first floor is applied to a concrete frame with block infill. A substrate of aluminium Metsec and cementitious boards (which infill the steel frame) occurs on the second floor. www.envirowall.co.uk www.metsec.com
Rubber Flooring
A non-slip rubber floor supplied by Freudenberg (Noraplan) is in clinical and circulation spaces. The robust flooring system has accessories (integral skirting upstands and pre-moulded stair nosings) and specialised specifications, for example, non-static versions. www.nora.de
Terrazzo Flooring
In the main internal street, reception and waiting area 300 x 300mm terrazzo tiles provide a hard-wearing surface. The staggered bond helps give the flooring a directional quality. Quiligotti supplied the flooring with a specification of cement and marbles that aligns with the bricks and mortar. A standard Isocrete Standard K-screed (Flowcrete UK) contains an underfloor heating system. www.pilkingtons.com www.flowcrete.com
Stairs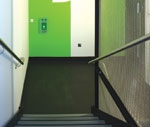 The main circulation stairs are bespoke metalwork incorporating PPC stringers, landings, goings and treads supplied and installed by Caldwell Metalwork Fabrication. Continuous stainless-steel handrails incorporate brail floor indicators. A mesh screen supplied by Potter & Soar is within the stairwell that runs from the top of the stair enclosure to the base making conven-tional balustrades and guardings unnecessary. www.wiremesh.co.uk
Timber Sprung Floor
Flooring to the gym and actively managed space needs to be hardwearing and appropriate for many uses. Tarkett Sommer's Reflex M oak timber sprung floor was used as it is easy to clean and maintain, and also sprung for clinical use. www.tarkett.com
Top-Rail
All the clinical rooms and staff areas are supplied with a top-rail system allowing furniture and fittings to hook on to an easy to install rail without further fixings. Shelving, cabinets, pin boards and mirrors can be interchanged. www.toprail.com
Light-box

Working alongside Wood & Wood Signs and Studio Myerscough, AHMM developed a design for an entrance light-box integrated within the main entrance wall. It was constructed off-site by Wood & Wood under a bespoke design & build contract and assembled on-site. In contrast to a traditional back-lit box, the light-box is top and bottom lit by LED tubes. The artwork within is sealed by toughened glass. www.wwsigns.co.uk
Ironmongery
Laidlaw supplied internal door ironmongery including door handles, locks and escutcheons. www.laidlaw.net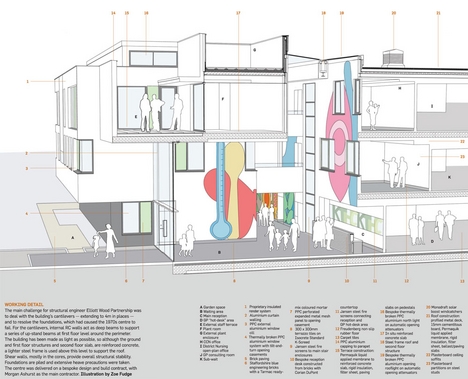 Credit: Zoe Fudge
See attached files below for full Working Detail and plans.
Postscript:
Photographs: Tim Soar and Rob Parrish